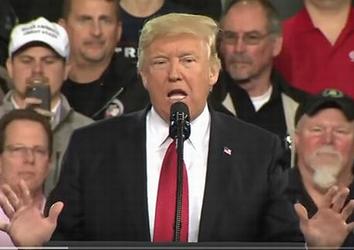 DETROIT, Michigan, March 15, 2017 (ENS) – President Donald Trump said today that he will cancel an Obama-era EPA determination that federal fuel efficiency standards through model year 2025 are feasible and have his administration conduct its own review, bowing to the wishes of auto industry executives.
But Trump stopped short of removing California's authority to set its own vehicle fuel efficiency rules. California has a waiver under the Clean Air Act that allows the state to set its own vehicle rules and California officials have vowed to fight any attempt to revoke it.
A White House official briefing reporters earlier said the Trump administration will review the 2022-25 model-year standards but has not decided whether or not the standards should be revised.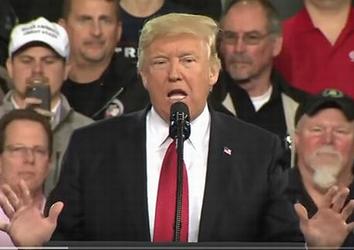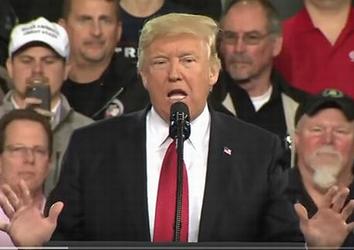 Trump made his remarks at the American Center for Mobility at Willow Run, a former Ford military aircraft plant now being redeveloped as a center for testing, education and product development of connected and automated vehicles.
While in Michigan, Trump met with CEOs from General Motors, Ford and Fiat Chrysler Automobiles and top U.S. executives from Toyota, Daimler and others. He addressed hundreds of autoworkers who attended the rally-like event.
Trump told the audience at Willow Run that auto industry executives have explained to him that the previous administration promised a "so-called mid-term review" of the federal fuel efficiency standards.
"It was necessary because the standards were set far into the future – way, way into the future. If the standards threatened auto jobs, then commonsense changes could have and should have been made," Trump said.
"Just days before my inauguration, the previous administration cut short the promised mid-term review in an 11th-hour executive action. Today, I am announcing that we are going to cancel that executive action," the president said. "We are going to restore the originally scheduled mid-term review, and we are going to ensure that any regulations we have protect and defend your jobs, your factories."
In the last months of the Obama administration, the Environmental Protection Agency expedited its ongoing review of the carbon dioxide emission and fuel efficiency standards for light-duty vehicles.
Central to the Obama Climate Action Plan, the standards had been issued in 2012. At that time, the EPA committed to a mid-term evaluation of the technological feasibility and costs of the emission limits for model years 2022-2025.
Despite expectations that the review would continue into 2018, the EPA announced on November 30, 2016 that it had completed the evaluation and was proposing to keep the emission standards for these model years intact.
After public comment, the agency affirmed this decision on January 13, 2017, but did not publish its determination in the Federal Register. In his first day in office, President Trump put a freeze on all regulations not published in the Register.
The California Air Resources Board, or CARB, welcomed the EPA administrator's determination that the light-duty vehicle greenhouse gas emission standards for model years 2022-2025 are appropriate.
But the EPA took criticism from the auto industry, which claimed that the EPA's assessment was "flawed" and that it "violated critical procedural safeguards at every turn," and has relied on "a host of problematic assumptions and technical analyses."
On February 21, the 18 major automakers sent a letter to EPA Administrator Scott Pruitt requesting that the EPA withdraw its determination.
Today, Mitch Bainwol, President and CEO of the Alliance of Automobile Manufacturers, applauded Trump's decision to redo the review of the 2022-2025 standards.
"By restarting this review, analysis rather than politics will produce a final decision consistent with the process we all agreed to under 'One National Program' for greenhouse gas and fuel economy standards," said Bainwol.
"Auto manufacturing is highly competitive, so seldom do the world's automakers come together. But they did in February, when 18 automakers wrote President Trump. They were united in their support for putting 'the process back on track' without pre-determining any outcome. Checking prior assumptions against new market realities. Driven by current data."
"President Trump agreed, and now we will get back to work with EPA, NHTSA [National Highway Transportation Safety Administration], CARB and other stakeholders in carefully determining how we can improve mileage and reduce carbon emissions while preserving vehicle safety, auto jobs and affordable new cars and trucks," Bainwol said.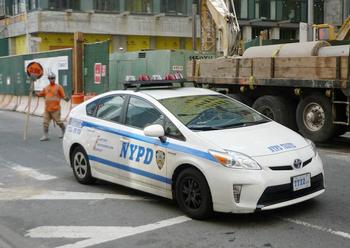 "After all," Bainwol said, "these decisions impact the more than seven million Americans dependent on autos for employment, as well as the driving public seeking affordable transportation. Our industry is committed to producing even safer and more energy-efficient vehicles in the future and that's what this process is all about."
But Los Angeles County Supervisor and South Coast Air Quality Management District Governing Board Member Sheila Kuehl expressed outrage at President Trump's call for a review of vehicle fuel efficiency rules.
"This administration's blatant attempts to roll back fuel efficiency standards will not only make average Americans poorer by forcing them to spend more on gas but will also, like so many other moves by the President, worsen their health by exposing them to dirtier air," said Kuehl.
"We oppose this new wrong-headed move by the White House because fuel efficiency standards are a critical strategy in saving our planet from the multiple threats of climate change," she fumed.
Kuehl supports California's demand that it retain its right to set its own fuel efficiency standards in order to protect Californians' health and welfare.
"California's clean tech sector has really lifted up our state's economy. As we've greened our state, we've also seen huge growth in green jobs," Kuehl said. "I will be asking the LA Board of Supervisors to commit to more aggressive purchases of electric vehicles for the County's fleet in solidarity with cities around the country to counter this attempt to return us to the smoggy 1970s.
Bill Becker, executive director of the National Association of Clean Air Agencies who represents state and local air pollution control agencies, says the technology needed to meet the 2022-2025 standards approved by the EPA are already installed in today's vehicles.
"Just weeks ago, the smartest vehicle experts in the world, including staff from EPA and the California Air Resources Board, confirmed the overwhelming evidence upon which the 2012 vehicle standards were based," Becker said. "They concluded that technologies needed to meet the 2022-2025 standards are cost-effective and already available and in use today."
"It is hugely disappointing that the technological advancements that have occurred since 2012 to reduce greenhouse gases from light duty vehicles have suddenly, and regrettably, receded, at least according to the Trump Administration," Becker said today.
He said, "States and localities are concerned that today's announcement to re-open the mid-term evaluation could lead to unnecessary delays and possible weakening of important greenhouse gas and other air pollution requirements."
Copyright Environment News Service (ENS) 2017. All rights reserved.