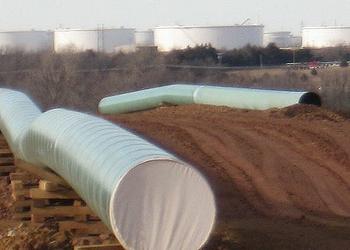 WASHINGTON, DC, March 24, 2017 (ENS) – The Under Secretary of State for Political Affairs has issued a Presidential permit to TransCanada Keystone Pipeline, authorizing the Canadian company to construct, connect, operate, and maintain pipeline facilities at the U.S.-Canadian border in Phillips County, Montana for the importation of crude oil from Canada's tar sands.
The permit reverses former President Barack Obama's November 2015 decision to reject the pipeline. "America is now a global leader when it comes to taking serious action to fight climate change, and frankly, approving this project would have undercut that leadership," Obama said then.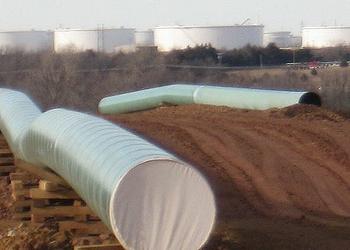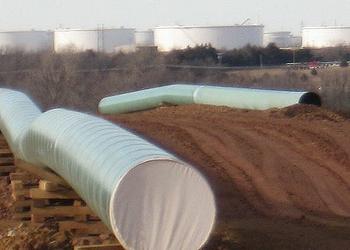 The Keystone XL permit was signed by Under Secretary of State for Political Affairs Thomas A. Shannon, Jr. The Trump Administration's State Department is headed by former ExxonMobil CEO Rex Tillerson, who backs a permit for the pipeline.
But Tillerson recused himself from the decision after environmental groups objected that it would be a conflict of interest for Tillerson to decide the pipeline's fate.
The Department of State reviewed TransCanada's application in accordance with Executive Order 13337 of April 30, 2004, signed by President George W. Bush and President Donald Trump's January 24, 2017 Presidential Memorandum Regarding Construction of the Keystone XL Pipeline.
In making his determination that issuance of this permit would serve the national interest,  Under Secretary Shannon said he considered "a range of factors, including but not limited to foreign policy; energy security; environmental, cultural, and economic impacts; and compliance with applicable law and policy."
With this determination, needed for pipelines that cross international borders into the United States, the Trump Administration has overturned Obama's decision that the pipeline is not in the U.S. national interest.
The approval flies in the face of many years of public demonstrations against the pipeline, which would carry diluted bitumen, a thick black form of oil from the Canadian tar sands town of Hardisty, Alberta south 1,700 miles to Steele City, Nebraska.
There it will connect with other pipelines to carry the diluted bitumen to Gulf Coast refineries.
Russ Girling, TransCanada's president and chief executive officer, said this morning, "This is a significant milestone for the Keystone XL project. We greatly appreciate President Trump's Administration for reviewing and approving this important initiative and we look forward to working with them as we continue to invest in and strengthen North America's energy infrastructure."
Girling says the timing of pipeline construction is not yet set. TransCanada must secure a route permit in Nebraska and acquire additional federal permits and authorizations.
The $8 billion project still faces litigation over the route brought by Native American tribes, landowners and environmental group.
Environmentalists who have fought the construction of this pipeline for years are again warning of disastrous consequences for the climate, for water sources and for wildlife.
"The Keystone XL pipeline is a disaster for people, wildlife and the planet," said Kierán Suckling, executive director of the Center for Biological Diversity. "The Trump administration is taking us dangerously off course by approving this dirty, dangerous pipeline. We don't have four years to wait to reduce greenhouse gas pollution and avoid a climate catastrophe."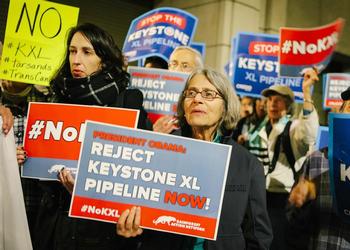 Keystone XL would carry up to 35 million gallons of oil every day from Canada's tar sands — one of the dirtiest, most carbon-intensive energy sources in the world – to refineries in Texas.
The 1,700-mile pipeline would cross rivers, streams and wetlands that are a source for drinking water for people and provide habitat for at least 20 rare and endangered species, including whooping cranes, pallid sturgeons, interior least terns and piping plovers.
Since 1986, pipeline accidents have spilled an average of 76,000 barrels per year, or more than three million gallons of oil and other substances.
TransCanada promises, "Safety is our number 1 priority, and our goal always is zero incidents."
"Modern technology will be built into the pipe to continuously monitor product flow. Regular aerial and land inspections will occur to supplement digital monitoring," TransCanada says. "In each country specific emergency protocols will be set up and routinely practiced."
The company emphasizes the jobs that will be created and the money that will flow into the U.S. economy from pipeline construction and operation.
"The total estimated property tax from the proposed project in the first full year of operations would be about $55.6 million spread across 27 counties in three states," TransCanada states on its website.
Additionally, sales and use taxes revenue from the construction of the proposed project would be approximately $66 million. These revenues could help to ease the tax burden on ordinary Americans. Construction of KXL is also expected to contribute approximately $3.4 billion to the U.S. GDP.
But environmentalists warn that the planet is already dangerously overheating and burning the tar sands oil carried by the Keystone SL pipeline would worsen climate change.
Rhea Suh, head of the Natural Resources Defense Council, NRDC, writes, "From the time it's drilled, steamed, and gouged out of the ground until it's refined and burned, tar sands fuel generates at least 17 percent more climate-disrupting carbon pollution than fuels from conventional crude oil. The U.S. State Department calculated that the incremental carbon pollution from crude shipped in the Keystone XL tar sands pipeline would be as much as putting up to 5.7 million additional cars on the road – €about as many as are in the state of Pennsylvania."
Suh says NRDC's legal team is already preparing to file suit in federal court. "This permit was issued illegally," she said, "without any attempt to produce a current and proper environmental impact assessment."
Author, educator and activist Bill McKibben, who founded the environmental nonprofit 350.org, tweets today, "Somehow predictable that State's undersecy for Political Affairs will be the one to sign #KXL permit. Fight goes on."
Later this morning, McKibben said, "When this fight began, the danger Keystone posed to the climate was clear. Since then we've had the three hottest years ever measured on our planet. That clearly means little to Donald Trump, but it means a lot to the millions of us who will continue to gather in resistance to an overheated future."
Copyright Environment News Service (ENS) 2017. All rights reserved.
© 2017, News Editor. All rights reserved.