LIHUE, Kauai, Hawaii, March 23, 2017 (ENS) – Hawaii's first utility-scale solar farm that stores solar energy in giant battery packs and delivers it to homes after sunset has opened on the island of Kauai.
The solar power array enables a Kauai utility to increase its renewable energy generation to more than 40 percent due to high-capacity Tesla storage batteries.
"Storage is a challenge for us here in Hawaii," said Governor David Ige at the blessing ceremony earlier this month. "I want to congratulate the residents of Kauai. Renewable energy sources are the future and we're committed to making that happen."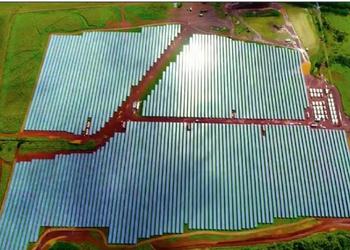 Dignitaries from throughout the state were on hand for the blessing ceremony.
The project, commissioned by Kauaʻi Island Utility Cooperative and owned by Tesla, Inc., is located on 50 acres of land north of Lihue in Kapaia owned by Grove Farm.
The Kauai Island Utility Cooperative increased its solar capacity by connecting Tesla lithium-ion battery storage systems called Powerpacks to the solar farm. Each Powerpack can store 52 megawatts of power.
The solar storage system will feed up to 13 megawatts of electricity into Kauai's grid to meet peak demand in the evening hours.
The Powerpacks store enough energy to service 4,500 homes during peak night demand. Before this system was built, Kauai's grid had reached the maximum amount of solar power it could handle.
"The importance of this project for the member-owners of KIUC can't be overstated," said the coop's president and chief executive David Bissell. "By using solar energy stored in the battery after the sun goes down, we will reduce our use of imported fuels and our greenhouse gas emissions significantly."
Tesla's chief technical officer and co-founder J.B. Straubel attended the blessing event. He remarked that this is a "future" project that enables communities to reach 100 percent renewable energy.
"For the first time, solar power can deliver 24 hours a day and follow the load when it is needed by the utility," Straubel said.
Tesla will turn on the massive solar system in phases.
Bissell estimates that the project will displace the use of 1.6 million gallons of diesel annually for the Kauaʻi Island Utility Cooperative, and will bring the cooperative to more than 40 percent renewable generation.
He said the project also makes financial sense for KIUC. Under the terms of the 20-year contract, KIUC will pay Tesla 13.9 cents per kilowatt hour, which is less than the current cost of oil.
Tesla is diving into solar energy following its acquisition of SolarCity last November. The company also is powering nearly the entire island of Ta'u in American Samoa with solar power and its Powerpacks.
Copyright Environment News Service (ENS) 2017. All rights reserved.
Environment News Service (ENS) © 2017 All Rights Reserved.