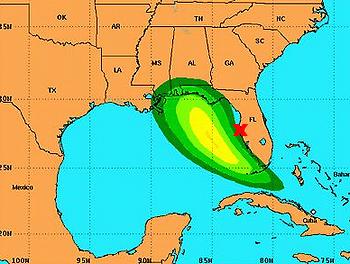 TAMPA, Florida, August 26, 2012 (ENS) – The Republican National Convention, scheduled to open Monday in Tampa, will be postponed by at least a day and a half, as Tropical Storm Isaac blows into the Gulf of Mexico heading for Florida's west coast.
Florida Emergency Management officials say the storm is expected to become a Category 1 hurricane with winds higher than 74 miles per hour as it approaches South Florida and the Florida Keys.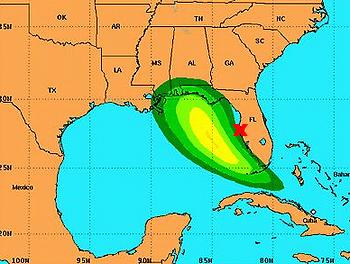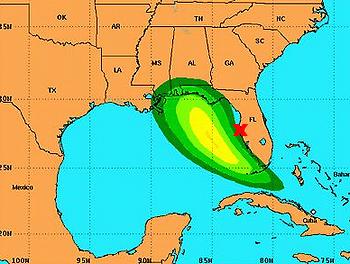 Republican National Committee Chairman Reince Priebus said today the convention will open Monday and immediately recess until Tuesday afternoon.
"Our first priority is ensuring the safety of delegates, alternates, guests, members of the media attending the Republican National Convention, and citizens of the Tampa Bay area," Priebus said. Nearly 50,000 people were expected to come to the Tampa Bay area for the event.

Hurricane and Tropical Storm Watches and Warnings are now in effect for much of the Florida coast. Governor Rick Scott this morning declared a statewide State of Emergency.

Isaac is forecast to move near or over the Florida Keys on Sunday or Sunday night and over the southeastern Gulf of Mexico by early Monday.  Heavy rain, thunderstorms, gusty winds and flooding are forecast, and weather officials predict people traveling to Tampa for the convention will encounter severe transportation difficulties.
The approaching storm has forced the closure of two airports in the Florida Keys – Key West International and Marathon. They were closed on Saturday and the date and time when they will reopen "is not known" according to the Federal Aviation Administration.
"The Republican National Convention will take place and officially nominate Mitt Romney and Paul Ryan, and the Party has other necessary business it must address," said Priebus. "We also are remaining in constant contact with state and federal officials and may make additional schedule alterations as needed."
Now rated a Tropical Storm, Isaac is moving north of Cuba on a northwest track at about 20 mph. Maximum sustained winds are 65 mph and strengthening is forecast over the next 48 hours. Isaac is a large storm whose effects will be felt far from the center, according to the Florida Division of Emergency Management

A Hurricane Warning is in effect for the Florida Keys and the West Coast of Florida from Bonita Beach south to the tip of the Florida peninsula, says the National Weather Service. The storm is expected to strike a glancing blow on Tampa, about 150 miles north of Bonita Beach.
Alex Sosnowski, senior meteorologist for AccuWeather.com, said, "Rainfall totals in excess of four inches are expected to inundate Tampa Sunday night into Tuesday. The steadiest rain will pour down on Monday with spottier, yet still soaking showers and thunderstorms to follow Monday night into Tuesday."
Tropical storm-force wind gusts of around 50 mph will be felt in Tampa Monday into Monday night. Winds of this strength could down tree branches and fling loose items about.
Isolated tornadoes will become a concern Monday night into Tuesday as the center of Isaac passes by to the north, on a path to strike the northern Gulf Coast as a Category 2 or stronger hurricane around Tuesday night, Sosnowski said.
"People from the Florida Panhandle to coastal Mississippi should be preparing for a possible direct hit from a Category 2 or stronger hurricane at this time," he advised.
Building seas and rip currents and above-normal tides are expected on a large part of Florida's western coastline, which includes Tampa.
By the middle of next week, weather forecasters say Isaac will make a second landfall on the northern Gulf Coast. As it moves north heavy rain, windy conditions, and a threat for isolated tornadoes will exist across most of the state.
"RNC Convention officials and the Romney campaign are working closely with state, local and federal officials, as well as the Secret Service, to monitor Tropical Storm Isaac," said Priebus.
He said convention staffers are working to ensure that delegations housed in storm-impacted areas have alternative housing if needed.
"The Committee on Arrangements will provide additional information to delegates and alternate delegates who are affected by Isaac by Sunday morning. We will also provide guidance to those delegates and alternate delegates who may encounter travel difficulties due to the storm," said Priebus. "The most important concern is safety, but our Convention program will proceed."
Copyright Environment News Service (ENS) 2012. All rights reserved.