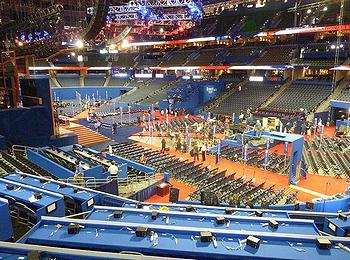 TAMPA, Florida, August 27, 2012 (ENS) – Tropical Storm Isaac has turned northwestward over the Gulf of Mexico, heading for the central Gulf states and striking only a glancing blow at Tampa on Florida's west coast, where the Republican National Convention was supposed to kick into high gear today.
Because of the storm, RNC Chairman Reince Priebus will officially open the convention at the Tampa Bay Times Forum today at 2 pm then recess until late Tuesday. Convention organizers rescheduled ahead of Isaac, cutting the event from five days to three-and-a-half. Some 50,000 visitors are expected in the Tampa area for the event.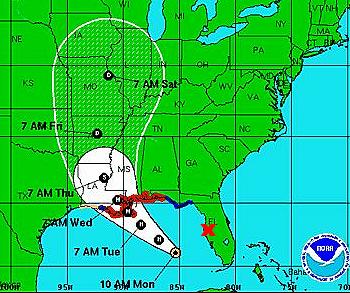 Isaac is expected to strengthen throughout the day Monday. The storm is forecast to become a hurricane and make landfall in the central Gulf region late Tuesday or early Wednesday. The National Weather Service has issued a Hurricane Warning for the entire central Gulf Coast as Isaac approaches.
Today, the National Weather Service discontinued all Tropical Storm warnings east and south of Aucilla River, in Florida's so-called armpit where the state's peninsula turns into the panhandle.
Still, patches of heavy rain and windy gusts are blowing across the Tampa Bay area as the outer bands of Tropical Storm Isaac come ashore. Tampa Bay is expected to experience tropical storm force winds of about 65 mph over the next 24 hours.
Flooding in coastal and low-lying parts of the Tampa Bay area is expected over the next two days. Flooding forced closure of several main roads in South Tampa early Monday including three roads near the downtown area. Those roads have now reopened.
At least 10 arriving flights and nine departing flights at Tampa International Airport were cancelled early Monday and more than two dozen others were delayed. Most of the cancelled flights were to and from destinations within Florida.
Congressman Paul Ryan will fly to Tampa on Tuesday, a day later than expected, to accept the GOP vice presidential nomination.
A protest march against the Republican agenda organized by Students for a Democratic Society and others went ahead in the rain today. Rain ponchos were handed out by March on the RNC protest organizers and police temporarily closed most of the streets in downtown Tampa to accommodate several hundred marchers.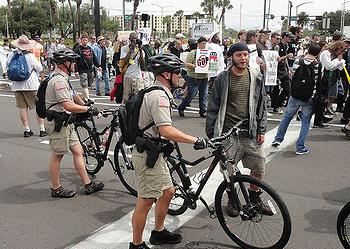 South Florida is beginning to recover from Tropical Storm Isaac today, although tens of thousands remain without power throughout the region.
Fewer than 50 people have lost power in the Tampa Bay area, according to Tampa Electric, but on Florida's east coast and across the southern part of the state the situation is much worse.
Florida Power and Light spokesman Bill Orlove says that out of the company's out of 4.5 million customers, 71,610 were without power at noon Monday.
"We are restoring power now, but we are still experiencing severe weather all along our eastern coast. We restore power to customers, then weather knocks it out again," Orlove said. "We have 4,000 line crews in the affected areas and restoring power safely and as quickly as possible."
Florida Governor Rick Scott declared a State of Emergency on August 25; people in flood prone areas of Escambia County have been ordered to evacuate. The American Red Cross is sheltering more than 560 Floridians displaced by the storm.
The central Gulf states are bracing for hurricane force winds and all preparations are being rushed to completion. The National Weather Service warns that as a hurricane Isaac will bring the risk of storm surge flooding, inland flooding, damaging wind, tornadoes and beach erosion to parts of the central Gulf Coast.
AccuWeather.com Hurricane Expert Dan Kottlowski said, "The angle at which Isaac could come ashore could still drive a substantial amount of water inland quickly over southeastern Louisiana and southern Mississippi."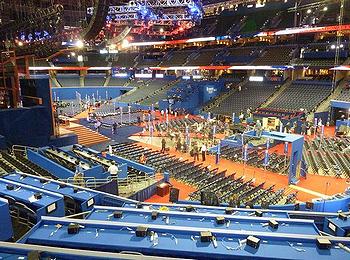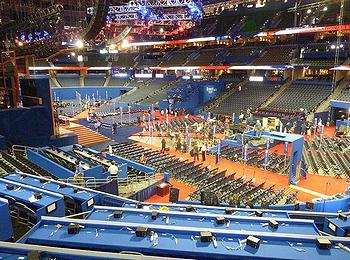 Isaac's winds extend out more than 200 miles from the storm's center. "Because significant hazards extend well away from the center, it is important not to focus on the exact forecast track," warns the National Hurricane Center.
Alabama Governor Robert Bentley on Sunday declared a statewide State of Emergency and issued mandatory evacuation orders for Baldwin and Mobile counties ahead of Isaac's expected landfall.
"I am urging everyone to take precautions now, monitor weather warnings, and be prepared for whatever Isaac may bring," Governor Bentley said. "By declaring this state of emergency, I am mobilizing the resources our communities need as the storm approaches."
Mississippi Governor Phil Bryant declared a State of Emergency on Sunday and has ordered mandatory evacuations for flood prone areas. The Mississippi National Guard is deploying 10 members of its civil support team to the coastal counties. A spokesman said Governor Bryant may not attend the Republican National Convention.
Louisiana Governor Bobby Jindal, once considered a contender for the GOP vice-presidential nomination, will not attend the Republican National Convention, saying that he is needed in his own state as Isaac approaches.
Governor Jindal declared a state of emergency in Louisiana on Sunday. Emergency officials have ordered mandatory evacuations for flood prone areas of St. Charles, Jefferson, Plaquemines parishes – all in the New Orleans area.
Governor Jindal said today that 4,126 Louisiana Army and Air National Guard troops have been activated ahead of the storm.
© 2012, News Editor. All rights reserved.