Tropical Storm Hermine Formed Over Warm Gulf Waters
MIAMI, Florida, September 7, 2010 (ENS) – Tropical Storm Hermine formed quickly over the very warm waters of the Gulf of Mexico during the Labor Day weekend and blasted across northeastern Mexico and southeastern Texas on Tuesday.
Now classed as a tropical depression, Hermine is gradually weakening as the storm moves farther inland over central and northern Texas, according to the National Hurricane Center in Miami.
Hermine formed quickly in the extreme western Gulf of Mexico on Labor Day. On Friday, forecasters were watching a low pressure area, and within two days, even close to the coast, a tropical depression formed and rapidly strengthened into a tropical storm.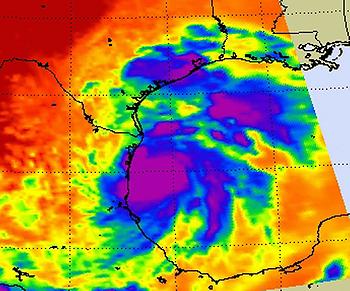 Infrared imagery from NASA's AIRS instrument captured Tropical Storm Hermine right after she formed on September 6. (Image by Ed Olsen courtesy NASA/JPL)
"Infrared imagery from NASA's Aqua satellite instrument the Atmospheric Infrared Sounder (AIRS) captured Tropical Storm Hermine right after she formed on September 6 at 19:53 UTC (3:53 pm EDT), said Rob Gutro at NASA's Goddard Space Flight Center in Greenbelt, Maryland.
Infrared imagery from NASA's AIRS instrument showed a quick organization of strong thunderstorms around Hermine's center of circulation and very warm Gulf waters that powered her up, Gutro said.
AIRS data showed that that sea surface temperatures where Hermine formed Monday were about 86 degrees Fahrenheit, way above the 80 degrees F threshold needed to power a tropical cyclone.
"She showed strong convection and strong, high thunderstorms around the center of circulation, indicating an organized tropical storm," Gutro said.
At 9 pm local time on Monday, Hermine made landfall as a strong tropical storm, producing heavy rains over northeastern Mexico and south Texas.
By Tuesday morning a tropical storm warning was in effect from Bahia Algodones, Mexico northward to Port O'Connor, Texas as Hermine moved inland in a north-northwest direction at 17 miles per hour.
Hermine's maximum sustained winds have decreased from their peak of 60 mph to 35 mph over land in south Texas.
The storm brought between four and eight inches of rain with isolated totals up to 12 inches from southern Texas northward into central and eastern Oklahoma.
In the San Antonio area, many roads are closed due to Hermine's flooding rains and in Corpus Christi power outages forced school closures. Dallas is among the cities expecting heavy rain tonight and the Dallas-Fort Worth area is under a flash flood watch through Thursday morning.
Storm surge levels along the Texas coast will remain above normal for the day or so according to the National Hurricane Center. Meanwhile, isolated tornadoes are possible across parts of southeast Texas through Wednesday.
The rains are forecast to continue spreading northeastward into Kansas, northwestern Arkansas and Missouri over the next few days and could cause life-threatening flash floods, the Hurricane Center says.
The visible satellite image from the GOES-13 satellite early this morning, showed the large extent of Tropical Storm Hermine's clouds stretching north into Oklahoma, Missouri and Arkansas, and south into northern Mexico.
GOES-13 is one of the Geostationary Operational Environmental Satellites operated by the National Oceanic and Atmospheric Administration. The GOES Project at NASA's Goddard Space Flight Center creates images and animations from GOES satellite data.
Copyright Environment News Service (ENS) 2010. All rights reserved.