Australia's New Government a Brighter Shade of Green
CANBERRA, Australia, September 7, 2010 (ENS) – Australian Prime Minister Julia Gillard's Labor Party has won another term of government, as two of the three Independent MPs who held the balance of power announced today that they will back the Labor Party. Gillard made a deal with the Greens last week that assures her of their support.
On a nationally televised news conference in Canberra on Tuesday, rural Independents Tony Windsor and Rob Oakeshott made the announcement that ends weeks of speculation about the outcome of the August 21 election, which produced a hung Parliament.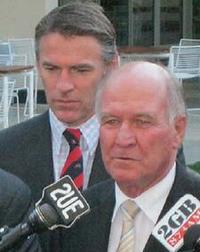 Independent MPs Rob Oakeshott, left, and Tony Windsor face the media (Photo courtesy Office of MP Windsor)
Labor now holds the reins of government by a slim two-seat majority, with 76 seats in the 150-seat lower House to the Liberal-National Coalition's 74.
Independent Bob Katter said he will support the opposition Coalition led by Liberal Tony Abbott.
Prime Minister Gillard said, "The events of the past fortnight show us unequivocally that our democracy is very, very strong indeed. Labor is prepared to deliver stable, effective and secure government for the next three years. Ours will be a government with just one purpose, and that's to serve the Australian people."
Gillard was first sworn in as the 27th Prime Minister of Australia on June 24, 2010, the first woman to hold the country's highest elected office.
Calling the result "disappointing," Coalition Leader Abbott said, "The Coalition won more votes and more seats than our opponents, but sadly, we did not get the opportunity to form a government."
On September 1, the Australian Greens and the Labor Party signed an agreement to ensure stability for Labor in government. The Greens agreed to oppose any motion of no confidence in the government from other parties or Members of Parliament.
Labor agreed to work with the Greens to deliver improved transparency and integrity to Parliament and pursue policies that promote the national interest and address climate change.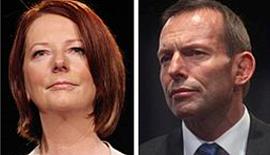 Prime Minister Julia Gillard tells the country she is ready to lead. MP Tony Abbott takes the opposition role (Photos courtesy Australian Labor Party, Australian Liberal Party)
As part of the agreement there will be regular meetings between Prime Minister Gillard and Australian Greens Leader Senator Bob Brown and newly-elected Lower House MP Adam Bandt.
"There will be a Climate Change Committee resourced as a Cabinet Committee, an investment in dental health care in the next budget and completion of a $20 million study into high speed rail by July 2011," said Senator Brown.
Addressing the National Farmers' Federation Congress today, Australian Greens Deputy Leader Senator Christine Milne urged farmers to seize this "tremendous opportunity to shape their own future."
"What a great opportunity that our parliament is getting a renewed focus on rural and regional Australia just as the vital issues of climate change, peak oil and food security are triggering a global rethink," Senator Milne said.
But opposition National Party Leader MP Warren Truss said the formal alliance between Gillard Labor and the Brown Greens "will send a shiver down the spine of regional Australia."
Calling the new alliance "a Labor – Green beast," Truss said the regions will be threatened by Greens policies such as a bigger mining tax, a new emissions trading scheme imposed on agriculture, an end to fishing in many marine areas, and an end to coal extraction and other mining.
"There will be food and fiber shortages in Australia as the Greens pursue their policies to end intensive agriculture and stop irrigation in the Murray Darling Basin," warned Truss.
"In Labor's first Budget, $1 billion was slashed from regional programs," Truss fumed. "In the second, even more was cut and Labor gave us an emissions trading scheme. In the third Budget, Labor gave us a mining tax."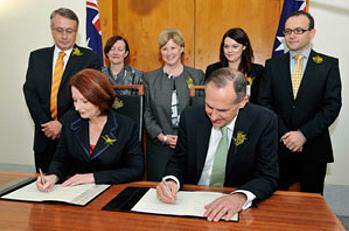 Prime Minister Julia Gillard and Greens Leader Senator Bob Brown sign cooperation agreement. Back row from left: Deputy Prime Minister and Treasurer Wayne Swan; Greens Senators Rachel Siewert, Christine Milne, Sarah Hanson-Young; MP Melbourne Adam Bandt. September 1, 2010 (Photo courtesy Australian Greens)
Environmental groups are pleased with the new alliance.
The Australian Conservation Foundation Executive Director Don Henry said today, "ACF looks forward to working with the new Parliament to tackle the environmental challenges facing the country, including those in rural and regional Australia."
"The independents' statements of support for effective action on climate change and renewable energy, which complement the agreement between the Government and the Greens, provide a solid foundation for progress," said Henry.
"We particularly welcome the recognition by Tony Windsor and Rob Oakeshott of the enormous opportunities for regional Australia that come from investing in renewable energy," Henry said.
"I urge the new government to move quickly to establish the promised climate change committee, because cutting pollution will need a carbon price," the ACF leader said. "This committee should be set up in the next 30 days and the timetable for its work should be established to allow for a price on pollution to be legislated in 2011."
"Australians want this government to invest in our vital life support systems and lead the nation on the transition from a pollution-dependent economy to a clean economy," Henry said.
Trish Harrup of Greenpeace Australia Pacific said on the group's website, "It became clear that the two big winners out of this extraordinary election are the environment and future generations. The Independents made it clear they support action on climate change and renewable energy. They recognised the enormous opportunities that exist for regional Australia if we invest at scale in renewable energy."
The day after the election, The Wilderness Society said the rise of "the Green voter" puts Australian leaders on notice about the importance of environmental issues that affect us all.
"Whoever forms government will have to address pressing issues such carbon pollution and climate change, management of rivers and water, and protection and management of our natural resources and heritage," said Anthony Esposito, spokesperson for the Wilderness Society, which is politically non-aligned.
Esposito said, "The Greens' Senate and Lower House success, and the fact that they received the third largest portion of the popular vote, means we will now have a strengthening leadership in Parliament that will stand up to protect and manage our environment."
For the first time, the Greens won a Senate seat in each of Australia's nine states, including the party's first Greens Senators in Queensland and Victoria. The Greens will gain the balance of power in the Senate when the newly elected senators take their seats on July 1, 2011. The Greens also won their first ever Greens Member of Parliament in the Lower House – Adam Bandt who won the city of Melbourne.
The largest vote swing in this election was to the Greens – 3.7 percent nationally. This was much larger than the swing from Labor to the Coalition; which was 1.9 percent.
The Australian Conservation Foundation is calling on the new government to act quickly on election commitments to:
implement a scientifically robust Murray-Darling Basin Plan and continue the program of water buybacks to restore the river system to health
establish a network of marine parks based on good science and consultation
develop a national green corridors plan to build environmental resilience to climate change
make it a legal offence to import timber products that cannot be verified as having been legally harvested
incorporate the Indigenous lands of Koongarra, near Nourlangie Rock, into Kakadu National Park to ensure this land can never become a uranium mine
develop a sustainable population policy by 2011
introduce Sustainability Impact Assessments for Cabinet submissions
In an effort to satisfy the regions, Prime Minister Gillard said she has offered a regional affairs ministry to Oakeshott. He is the only crossbencher to be offered an executive position, she said. Environment Minister Peter Garrett is considered likely to lose his position.
Copyright Environment News Service (ENS) 2010. All rights reserved.