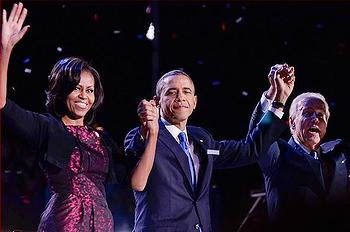 CHICAGO, Illinois, November 7, 2012 (ENS) – President Barack Obama did not forget the environment in his victory speech early this morning, after his win over Republican nominee Mitt Romney to take up the challenges of a second term in The White House.
"Despite all our differences, most of us share certain hopes for America's future," the President told an exuberant crowd at McCormick Place in his hometown of Chicago.
"We want our children to live in an America that isn't burdened by debt; that isn't weakened by inequality; that isn't threatened by the destructive power of a warming planet," declared Obama to applause.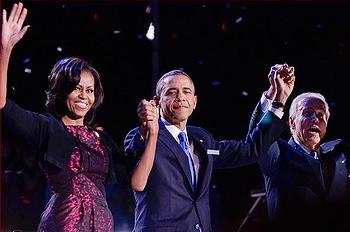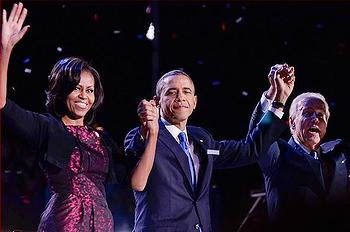 President Obama won the popular vote by over 2.5 million votes and he surpassed the 270 electoral college votes needed to win the election with 303, although the results from Florida are still too close to call. Romney took 206 electoral college votes.
During his first term, Obama invested in renewable energy to an unprecedented extent – licensing offshore wind development along the Atlantic Outer Continental Shelf, solar and wind energy on both public and private lands and investing in electric cars and the batteries to power them, although not every company the government backed went on to be successful.
The Obama administration has met the President's goal of authorizing 10,000 megawatts of large-scale renewable power on public lands by the end of 2012 with 33 renewable energy projects, including 18 utility-scale solar facilities, seven wind farms and eight geothermal plants, with connections to the power grid.
Climate change was not mentioned during the presidential debates, although several hundred thousand people signed petitions asking that the topic be addressed by the candidates.
Many environmentalists and most recently, people living in East Coast states devastated by superstorm Sandy on October 29, are calling for the federal government to take action now to limit the burning of fossil fuels. Burning coal, oil and gas emits greenhouse gases that blanket the Earth, raising the planetary temperature and triggering extreme weather events.
Today, the head of The Ceres Coalition, a Boston-based group of more than 130 institutional and socially responsible investors, environmental and social advocacy groups and other public interest organizations, called on the Obama administration to "move America toward a more sustainable economy."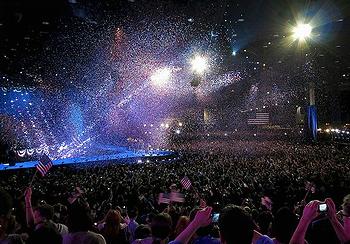 Ceres President Mindy Lubber said, "Critical to this agenda is a bold plan to reduce and manage the risks of climate change. Inaction is too expensive. The U.S. must act swiftly to enact strong policies to address the climate challenge. Only the market certainty provided by clear policies will spur the growth of the clean energy economy at the necessary scale."
Ceres called on President Obama and Congress to expand clean energy with the goal of 20 percent renewable energy by 2020 and 30 percent by 2030.
The group wants the government to "reduce greenhouse gas emissions to levels that avoid the worst impacts of climate change" and "build the resilience of our communities as they prepare for more pronounced extreme weather, such as last week's devastating Hurricane Sandy."
Fred Krupp, president of the Environmental Defense Fund, took note of Obama's mention of climate change in his victory speech, and said his group looks forward to working with the President and Congress "to solve our country's most pressing environmental problems, including global climate change."
"Exit polls confirm that for millions of American voters, Hurricane Sandy and climate change were decisive factors in this election," said Krupp.
"As the historic storm just reminded us, we have no time to waste; we must get serious about climate solutions in order to protect our loved ones and communities from terrible impacts – extreme weather disasters, droughts, heat waves, and other dangerous consequences of global warming," Krupp warned. "Especially in the wake of Sandy, which demonstrated that doing nothing about climate change is much costlier than taking action, this issue clearly should be a top priority for our leaders in government."
This morning the Federal Emergency Management Agency is standing ready to deploy additional resources if needed to respond to the Nor'easter that is forecast to impact the same region devastated by Sandy beginning after midnight Tuesday with impacts continuing Wednesday and into Thursday.
FEMA announced today, "We have senior-level emergency management experts in operations, logistics, and recovery embedded, side-by-side with state and local emergency managers throughout New York and New Jersey to ensure clear lines of communication and immediately bring to bear the full resources of the federal government, as needed to respond to the Nor'easter or continue to the recovery efforts from Sandy."
Copyright Environment News Service (ENS) 2012. All rights reserved.