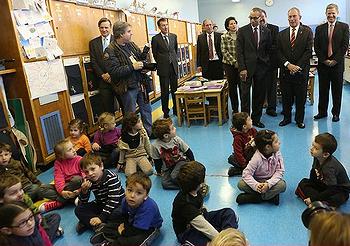 NEW YORK, New York, November 5, 2012 (ENS) – Classes resumed for nearly one million New York public school students Monday as schools opened for the first time since Hurricane Sandy brought the city to a standstill one week ago.
About 90 percent of the schools are open, except for eight schools serving as emergency shelters and 57 schools that sustained major damage during the storm. Also, any schools without power Monday morning are not open. About 96 percent of school buses are running today.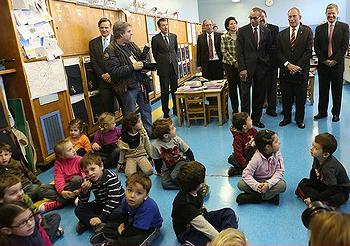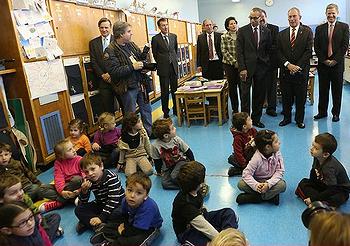 Information on which schools are open is available by dialing 311 and online at nyc.gov.
The schools will not be open Tuesday, Election Day but will reopen on Wednesday.
Election Day
"This weekend, our office and the Governor's office, working together, sat down with the Board of Elections to go through the poll site list, site by site," said New York Mayor Michael Bloomberg. "We've determined which sites could be open, and helped them find alternative sites for those that couldn't. There are a total of something like 61 of the alternate sites; three in Manhattan, three in the Bronx, two on Staten Island, 28 in Queens, and 25 in Brooklyn."
"The list of poll sites should be available on the website of the Board of Elections. They have updated their on-line poll site finder so that people can find out if their poll sites have been changed.
"The Board of Elections tells us that about 143,000 voters in all five boroughs will be assigned to poll sites different from their usual site. Our NYC Service volunteers are letting many New Yorkers know about their temporary polling places.
"Over the next day, it's going to be critical that the Board of Elections communicate this new information to their poll workers. Unfortunately, as you know, the Board has had a history of not opening all poll sites on time, and they're going to work hard to make sure that poll workers and voters know where they're supposed to go on Election Day.
Mayor Bloomberg faulted the Board of Elections for its past inefficiency. "As you know, the Mayor's Office does not run the Board of Elections," he said. "I've always believed that the Board of Elections should be overhauled to increase its accountability and efficiency. The fact that the Board has been unable to agree on selecting a new executive director for two years shows just how dysfunctional it is. The difficulties they've had in planning for Tuesday I think further underscores that."
For its part the New York City Board of Elections said today its staff  "has been working diligently around the clock to make sure that we are prepared for Election Day."
"Our phone banks are now fully operational, and available to answer any voter questions on poll site changes, shuttles to poll site locations for displaced voters, and any other voting-related questions. Our phone bank number is 1.866.VOTE.NYC, and will be fully staffed today and tomorrow, November 6, Election Day," said the Board.
Seeking Shelter, Light and Warmth
The catastrophic storm claimed the lives of more than 40 New Yorkers.
Many residents of areas flooded by the storm such as Staten Island, the Rockaways and Coney Island saw their homes and businesses reduced to rubble by the storm surge. People are returning home to find that everything they've ever known is completely destroyed.
For others, the problems have been the disruption of mass transit, widespread loss of power, lack of shelter, the suspension of public schools, and the drop in temperatures, which are forecast to be just above freezing tonight.
Mayor Michael Bloomberg said, "One of the great fears we have is with cold weather coming, we have to make sure that people can stay warm. Among hardest hit are the Rockaways and Staten Island, a lot of places that don't have electricity but are going to experience the cold."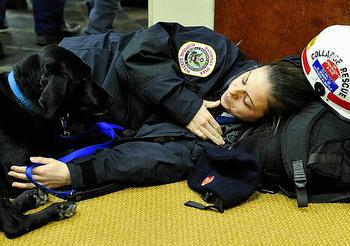 "Some 45,000 public housing residents, you should know, live in the coastal areas designated as Zone A; many of them live in the Rockaways. Over the past two days we've been going block-by-block to identify the issues that are blocking power from being turned back on," said the mayor. "We're resolving issues one block and even one house at a time."
"Even when power can be turned back on, some of buildings are going to be out of commission for a long time because of damage to boilers and electrical systems," he said. "And that's not just public housing; it's private apartments and individual houses that have been impacted as well."
"So we're working to take care of the immediate needs of food, water, warmth, and safety, and we've also started to address the process of long-term recovery.
Today services were restored today, but are by no means normal. Con Edison crews, working around the clock, have restored electric service to more than 800,000 customers, or nearly 84 percent of those who lost their power from the storm.
As of 10 a.m. today, Con Edison said about 156,800 customers were without electricity, out of an estimated 950,000 affected. That includes 3,500 out in Manhattan, 40,800 in Queens, 22,800 in Brooklyn, 15,000 in Staten Island and 6,700 in the Bronx. In Westchester County, the company reports 68,000 customers still out of service, while about 150,700 customers have had service restored.
Con Edison expects to have most customers who lost power back on line by the weekend. More than 2,400 utility workers from as far away as California are working in New York City and Westchester to restore power, clearing trees and handling more than 100,000 downed power lines.
New York City also has 40 emergency generators in place or on the way to hospitals, nursing homes, public housing developments and other critical locations that still lack power.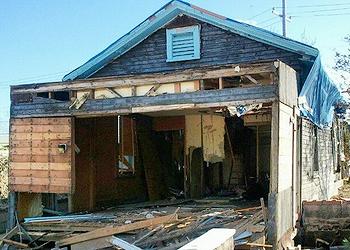 The Long Island Power Authority said its goal is restoring power for 90 percent of all customers by November 7.
In the hard-hit Rockaways out on Brooklyn's southern edge, LIPA has mobilized more than 100 restoration crews and established an operation center in Rockaway Beach.
Teams made up of LIPA and National Grid employees, fire marshals, police, electricians, and plumbers are performing door-to-door electrical and plumbing inspections to determine if power can be restored or if repairs are needed first.
LIPA is working closely with New York policy and fire departments and the New York City Housing Authority to provide power for traffic safety and streetlights.
On Long Island, power has been restored to over 700,000 customers as of last night, said LIPA.  Restoration work continues around the clock, seven days a week, with over 11,000 workers dedicated to this effort.  This includes more than 7,000 linemen and tree trim crews from all over the country, some of whom have been airlifted in by the National Guard.
Transportation Eases
"The subway system has largely been brought back on line," said Mayor Bloomberg on Sunday. MTA chief Joe Lhota said there are not as many trains on tracks as usual, but people got to work using mass transit, but more slowly than normal. City buses are operating normally for the most part.
MTA NYC Transit restored several more subway lines to limited service Monday, as efforts continue to dry out flooded tubes, track, signals and other components damaged in last week's storm. All service is operating with very limited capacity, and some routes are truncated, or operate differently due to ongoing work to restore full service.
MTA Long Island Rail Road is operating on a modified schedule on all branches except the Long Beach branch.
MTA Metro-North Railroad is operating regular train service on the Hudson, Harlem and New Haven Lines, with branch service resuming as well. The New Canaan Branch has bus service in effect, with buses leaving stations 20 minutes before the scheduled train time.
All MTA Bridges remain open. The Cross Bay Veterans Memorial and Marine Parkway-Gil Hodges Memorial Bridges are operating toll-free. Workers are continuing to pump out the Hugh Carey Brooklyn Battery Tunnel, the Queens Midtown Tunnel and the New Jersey PATH Tunnel, as well as the Montague Tunnel that carries the N and R trains between Brooklyn and Manhattan.
Food and Water
On Sunday, 3,700 volunteers coordinated by New York City's volunteer program, NYC Service, and partner agencies, distributed food and water door to door and at the 12 food and water distribution centers.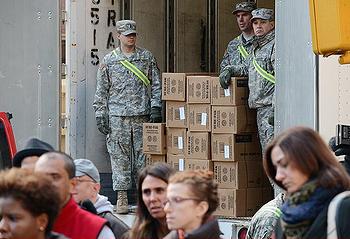 Twelve distribution sites are set up in the hardest-hit areas of the city, providing food, water, blankets, baby formula, diapers, flashlights, batteries and more. Each person can take three meals and five bottles of water at these sites. On Sunday 600,000 meals and 100,000 liters of water were distributed to some 200,000 residents.
Hand warmers, gloves and ear muffs are also being distributed.
"Helping people keep warm without power on these chilly nights has also become a focus of the food distribution centers we're operating in communities without electric power," said Mayor Bloomberg, thanking the volunteers, some of whom have been working for 48 hours straight.
Find distribution locations here. Going forward, they will be open from noon to 4:00 pm.
They will be kept open for as long as is needed, and no one who shows up for food and water will be turned away, said Mayor Michael Bloomberg.
U.S. Senators Charles Schumer and Kirsten Gillibrand of New York today announced the U.S. Department of Agriculture has approved New York State's request for emergency food resources. Roughly 1.1 million pounds of household-size USDA food items will be distributed to households through 1,000 designated emergency feeding outlets in the areas of Westchester and Rockland counties, New York City, and Long Island from now through November 30.
Additionally, the USDA also approved New York State's request to extend certification periods for ongoing Supplemental Nutrition Assistance Program, SNAP, households due to recertify in October and November.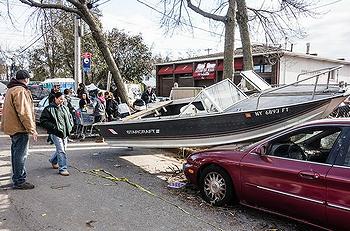 "The damage I have seen and the destruction of whole communities is just devastating," Senator Gillibrand said. "Too many families are still struggling with basic necessities like food, heat and shelter. The federal government will stand with these families at every step of the way to meet these basic needs and rebuild. The Obama Administration promised no red tape in this effort, and I am thankful to the USDA for backing up those words by acting as quickly as they could to put food on the ground in communities where families need it most."
The private sector is helping too. Last week Walgreens delivered four semi-trailer truckloads of bottled water – three to the American Red Cross and one to the City of New York. Two additional truckloads are on the way.
Prudential Financial today said it is donating $3 million through The Prudential Foundation to non-profit organizations, including the Community FoodBank of New Jersey, The Salvation Army, the American Red Cross. Prudential also will match employees' personal contributions to non-profit organizations delivering relief.
Fuel
Under order of President Barack Obama, the Defense Logistics Agency purchased up to 12 million gallons of unleaded fuel and up to 10 million gallons of diesel fuel for distribution in areas impacted by the storm to supplement ongoing private sector efforts. Tanker trucks have distributed fuel in New York, New Jersey and other communities hit by the storm. There are currently 10 fuel sites in New York and New Jersey where residents can refuel their cars and get gas for generators.
Financial Assistance from FEMA
There are 15 Disaster Recovery Centers throughout the New York and Long Island area set up by the Federal Emergency Management Agency. According to FEMA, over 69,000 people in New York have already registered for disaster assistance and more than $75 million in assistance has been approved.
In New Jersey, over 49,000 people have registered and more than $31 million in assistance has been approved.
In Connecticut, more than 2,400 people have registered and more than $368,000 in assistance has been approved.
Senator Schumer today called on FEMA to mobilize additional Disaster Recovery Centers throughout New York City and Long Island.
"While touring neighborhoods across New York City and Queens, I heard time and time again that people do not have easy access to these important centers," said Schumer. "Many of the residents, who are in need of this assistance, either do not have gas to drive to the DRC or do not have phone service to call FEMA and ask questions and that's why today I am calling on FEMA to provide additional centers for New Yorkers."
Six centers that provide information about applying for emergency social and economic benefits are open. These facilities are being operated by the City's Human Resources Administration in cooperation with FEMA. They will be open from 10:00 am to 7:00 pm, seven days a week. The list of sites is found here.
Medicine
Mayor Bloomberg announced today that mobile medical vans staffed with primary care providers who will be able to provide medical care and distribute commonly prescribed drugs are now at several of the City's Disaster Assistance Service Centers in the Rockaways and Coney Island, as well as two additional high-need locations in the Rockaways. There is a particular need for pharmaceuticals in the Rockaways because of a limited number of pharmacies still open and able to fulfill prescriptions. Starting Tuesday, the medical vans will also be in Staten Island.
Debris Removal
The Department of Homeland Security today announced it is authorized to reimburse state and local governments for the salaries and benefits of employees involved in debris and wreckage removal cleanup efforts for any major disaster or emergency declared by the President on or after October  27, 2012, in response to Hurricane Sandy for up to 30 days.
Parks and Trees
Volunteers and city staff have been working to clean city parks and most parks and playgrounds are now open again. But dozens of city parks are still closed. See the list here.
The Parks Department is asking people to avoid New York City's beaches and boardwalks, which have suffered extensive storm damage and remain closed.
The Centers for Disease Control and Prevention has important instructions for people as they go about recovering from the storm.
Drink clean, safe water and eat safe, uncontaminated food
Keep generators outside at least 25 feet from doors, windows and vents.
Do not grill inside your home, the fumes can kill.
Never touch a downed power line or anything touching one.
To remove mold, use one cup of bleach for each gallon of water.
Never mix bleach and ammonia, the fumes can kill.
Washing your hands prevents illness.
Seek help if having trouble coping.
For more life-saving health-related information call: CDC at 800-232-4636. TTY 888-232-6348. http://emergency.cdc.gov/disasters
Construction and Reconstruction
New York Governor Andrew Cuomo today announced that construction work at the World Trade Center site has resumed and that some 750 construction workers have returned to continue their work at Ground Zero now that more than 95 percent of the storm surge at the 16-acre site is pumped out. Today is also the first day since Hurricane Sandy that major cranes are being used at One World Trade Center and at the PATH transit hub.
The governor announced the successful completion of the massive pumping operation that has been underway at the National September 11 Memorial and Museum at Ground Zero. Approximately seven feet of water flooded the Museum Monday night during the storm.
New York ports reopened today. The Port Authority of New York & New Jersey received its first cargo vessel at the Red Hook Container Terminal in Brooklyn this morning. The New York Container Terminal on Staten Island also reopened today, with the first ship scheduled to arrive Tuesday night.
Longshoremen are now back at work at Red Hook loading approximately 180 containers onto the vessel Conrad S and more ships are scheduled to arrive throughout the week.
Workers are also on the job at the New York Container Terminal where Port Authority expects the first container ship late Tuesday night, with four additional vessels scheduled to arrive this week.
Port Authority staff, engineers and their partners are working 24 hours a day to restore the ports to full service.
Governor Cuomo said, "They faced unprecedented challenges as a result of Hurricane Sandy, with the storm surge."
Crews now have repaired damaged roadways, fixed hundreds of displaced shipping containers, rail lines and electrical systems.
Copyright Environment News Service (ENS) 2012. All rights reserved.