TransCanada to Build Oklahoma-Gulf Coast Section of Keystone XL Pipeline
WASHINGTON, DC, February 27, 2012 (ENS) – TransCanada Corporation today informed the U.S. State Department that what had been the Cushing, Oklahoma to U.S. Gulf Coast portion of the Keystone XL pipeline "has its own independent value to the marketplace and will be constructed as a stand-alone Gulf Coast project."
This section of the proposed pipeline would not cross an international border into the United States, and so would not be part of the Presidential Permit process. On January 18, President Barack Obama denied TransCanada's application for the construction of the Keystone XL Pipeline that would have carried oil 1,700 miles from the Canadian tar sands in northern Alberta across the border to refineries on the Texas Gulf Coast.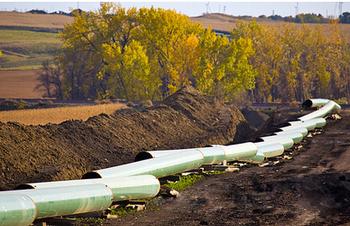 Pipeline staged in North Dakota (Photo credit unknown)
The approximate cost is US$2.3 billion and subject to regulatory approvals, TransCanada anticipates the Gulf Coast Project to be in service in mid to late 2013.
"The Gulf Coast Project will transport growing supplies of U.S. crude oil to meet refinery demand in Texas," said Russ Girling, TransCanada's president and chief executive officer. "Gulf Coast refineries can then access lower cost domestic production and avoid paying a premium to foreign oil producers. This would reduce the United States' dependence on foreign crude and allow Americans to use more of the crude oil produced in their own country."
The White House issued a statement supportive of TransCanada's latest plan, saying, "The President welcomes today's news that TransCanada plans to build a pipeline to bring crude oil from Cushing, Oklahoma, to the Gulf of Mexico."
"As the President made clear in January, we support the company's interest in proceeding with this project, which will help address the bottleneck of oil in Cushing that has resulted in large part from increased domestic oil production, currently at an eight year high," the White House said. "Moving oil from the Midwest to the world-class, state-of-the-art refineries on the Gulf Coast will modernize our infrastructure, create jobs, and encourage American energy production."
The White House said, "We look forward to working with TransCanada to ensure that it is built in a safe, responsible and timely manner, and we commit to take every step possible to expedite the necessary federal permits."
Cushing is a major oil supply hub, holding up to 10 percent of the total U.S. crude inventory. Signs made of a pipe and valve on the major highways near town proclaim Cushing to be the "Pipeline Crossroads of the World," and the town is surrounded by several tank farms.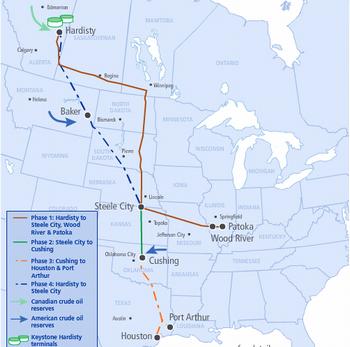 Map showing the proposed Keystone XL pipeline (Map courtesy TransCanada)
Separately, TransCanada gave the State Department advance notice of its intention to submit a new application for the cross-border segment of the Keystone XL pipeline, from Canada to Steele City, Nebraska, once a route through Nebraska has been identified.
TransCanada said it will continue to work with the State of Nebraska on determining an alternative route for Keystone XL that avoids the Sand Hills, which overlie the Ogllala aquifer, source of drinking and irrigation water for much of the Great Plains.
TransCanada has been working on assessing the Nebraksa route since November 2011, following the State Department's notice to delay a decision on a Presidential Permit until an adjusted route that avoids the Sand Hills is developed. The original route would extend 254 miles of the pipeline through Nebraska directly over the Ogallala Aquifer.
"Our application will include the already reviewed route in Montana and South Dakota," said Girling. "The over three year environmental review for Keystone XL completed last summer was the most comprehensive process ever for a cross border pipeline. Based on that work, we would expect our cross border permit should be processed expeditiously and a decision made once a new route in Nebraska is determined."
Current state law does not allow Nebraska to study routes of the TransCanada Keystone XL pipeline. Since TransCanada's permit was denied, the company no longer falls under a law passed during the Pipeline Special Session of the Legislature last year, that gave the Nebraska Department of Environmental Quality the authority to study alternative routes in conjunction with the State Department and at the expense of $2 million Nebraska taxpayer dollars.
A new bill in the Nebraska Legislature would provide a special exception for TransCanada to have their new route analyzed before Nebraska gets regulations in place at the Public Service Commission.
TransCanada does not want to wait for the Public Service Commission to put their oil pipeline study regulations in place, which could take up to a year asthe Commission is seeking expert and public input.
Nebraska Governor Dave Heineman wrote to President Obama in August 2011 asking him to "disapprove TransCanada's pending permit request."
"I want to emphasize that I am not opposed to pipelines," wrote the governor. "We already have hundreds of them in our state. I am opposed to the proposed Keystone XL Pipeline route because it is directly over the Ogallala Aquifer. Therefore, I am asking you to disapprove TransCanada's pending permit request. Do not allow TransCanada to build a pipeline over the Ogallala Aquifer and risk the potential damage to Nebraska's water."
Environmental groups, farmers and ranchers have been up in arms against the Keystone XL pipeline and are opposed to TransCanada's new plan to build the pipeline section by section.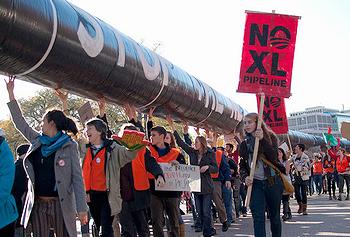 Protesters carry a mock Keystone XL pipeline in front of the White House, November 6, 2011 (Photo by Greenpeace USA)
Sierra Club Executive Director Michael Brune said today, "TransCanada is hell bent on bringing tar sands, the world's dirtiest oil, through America to reach foreign markets. They can't wait for a fair, scientific environmental review they know their pipeline would fail. So we see dirty political tricks, dirty PR tricks, and, now, this dirty trick to build the pipeline piecemeal."
"With TransCanada it's safety last. The first U.S. Keystone pipeline averaged a leak a month. But the company can't wait to divert tar sands crude oil from the Midwest to the Gulf, raising American oil prices and, likely, also gasoline prices. This Oklahoma to Texas segment of the Keystone XL pipeline will mean more tar sands converted to diesel and available for export overseas," said Brune.
Bill McKibben of 350.org, who organized last year's anti-Keystone XL demonstrations in front of the White House, says "this revival attempt will be met with fierce opposition."
"Transcanada's decision to build its pipe from Oklahoma to Texas is a nifty excuse to steal some land by eminent domain," said McKibben. "It doesn't increase tar sands mining because there's still no pipe across the Canadian border, but it's the usual ugly power grab and land grab by the fossil fuel industry – we'll do what we can to stand by our allies in that arid and beautiful land."
"While TransCanada does not require a presidential permit for the southern half of the pipeline, it still must secure land along the proposed route. Since few people are eager for a pipeline carrying corrosive tar sands oil to run through their backyard, the company has resorted to using eminent domain to grab land away from property owners," said McKibben.
Girling said TransCanada's commitment is "to treat landowners with honesty, fairness and respect. The company has negotiated over 99 percent of voluntary easements in Texas and close to 100 percent in Oklahoma.
Easements make up the route of a pipeline and are similar to an easement for water, sewer and utility lines. Residents maintain ownership of the land and landowners receive a payment equal to or greater than the land's market value.
Copyright Environment News Service (ENS) 2012. All rights reserved.