Obama Administration Strengthens Environmental Justice Efforts
WASHINGTON, DC, February 27, 2012 (ENS) – Federal agencies today released environmental justice strategies, implementation plans and progress reports, outlining steps they will take to protect communities facing serious health and environmental risks, particularly low-income, minority and tribal populations.
Led by the White House Council on Environmental Quality and the U.S. Environmental Protection Agency, the agency heads say these strategies will integrate environmental justice into federal decision making and transportation, labor, health services and housing programs.
"Working together we have been able to make environmental justice a focus not just for EPA, but for agencies across the administration," said U.S. Environmental Protection Agency Administrator Lisa Jackson. "Each of our federal partners plays a unique role in serving the American people, and each has a unique opportunity to ensure that our communities get the health and environmental protections they deserve."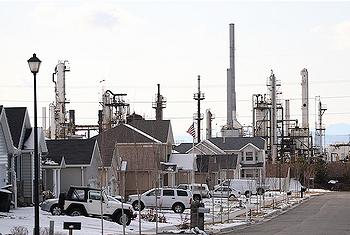 Residential neighborhood beside one of two refineries in Woods Cross, Davis County, Utah (Photo by authalic)
"If we aspire to build an economy and a society that works for every American, we can't allow the heaviest burdens of pollution and health threats to fall on our poorest citizens," said Jackson. "Bringing together our federal partners to tackle these challenges is a major step toward health, environmental and economic benefits in communities across the nation."
"We know that all too often, low-income and minority families live in the shadows of some of the worst pollution, leading to higher rates of diseases and threatening the economic potential of their communities," said Nancy Sutley, who chairs the Council on Environmental Quality. "With these environmental justice strategies, federal agencies are following through on the Obama Administration's commitment to reduce public health threats."
Federal agencies have reviewed their portfolios to assess how their programs, policies, and activities may have disproportionately adverse health and environmental effects.
Through this review, they have identified strategies, programs and initiatives, to reduce environmental or health hazards, ensure access to beneficial programs, and increase community participation in agency decision-making.
The Department of Transportation's Federal Transit Administration is finalizing an environmental justice circular to help grantees determine whether there are any minority or low-income populations that may be adversely affected by a transit project or decision. The Federal Highway Administration is working with the National Highway Institute to revamp their course on environmental justice and Title VI.
The U.S. Department of Labor is translating educational materials and hazard alerts into Spanish, Chinese and Vietnamese to ensure that minority workers have access to information they need to avoid environmental hazards on the job.
The U.S. Department of Energy's Pueblo Project in Los Alamos, New Mexico, provides four tribal governments the opportunity to run pollution monitoring programs and provide technical input on National Nuclear Security Administration decisions.
The U.S. Department of Veterans Affairs is helping to provide green jobs and workforce development opportunities for veterans in minority and low-income communities.
The U.S. Department of Health and Human Services' Centers for Disease Control and Prevention is working with communities to use Health Impact Assessments, to help proactively address the potential impacts a policy or project might have on minority and low income populations. For example, in Baltimore, Maryland work is under way to evaluate the human health impact of a vacant property redevelopment program.
"Communities that have historically been the reluctant hosts to the country's environmental burdens have endured the consequence of poor public health, housing, employment and education inequities to name a few," said Elizabeth Yeampierre, executive director of the United Puerto Rican Organization of Sunset Park and chair of EPA's National Environmental Justice Advisory Council. "The administration deserves praise for recognizing that these complex problems require a holistic approach."
The release of these strategies and implementation progress reports is a part of a broad effort the administration has undertaken to reinvigorate the federal commitment to environmental justice.
After more than a decade of inaction, the administration reconvened the Environmental Justice Interagency Working Group and engaged more than 100 environmental justice leaders at a White House Forum on Environmental Justice.
Throughout 2011, federal agencies participated in 15 listening sessions across the country to learn from stakeholders how the federal government can better partner with overburdened communities to reduce environmental and health burdens.
Then, in August 2011, 16 federal agencies committed to finalizing environmental justice strategies and releasing annual implementation progress reports.
Federal agencies releasing new environmental justice strategies by February 2012 include: the Department of Agriculture, Department of Labor, Department of Health and Human Services, Department of Housing and Urban Development, Department of Transportation, Department of Interior, Department of Veterans Affairs and General Services Administration.
Click here for more about agency strategies and implementation plans.
Copyright Environment News Service (ENS) 2012. All rights reserved.