Trade Controls Imposed on South American Aromatic Trees
DOHA, Qatar, March 19, 2010 (ENS) – Two trees from South America used in the perfume and cosmetics industries will be protected from most commercial trade, governments at the triennial meeting of the Convention on International Trade in Endangered Species, CITES, have decided.
Trade controls will enter into force in 90 days for holywood, Bulnesia sarmientoi, proposed for listing by Argentina; and Brazilian rosewood, Aniba rosaeodora Ducke, proposed for listing by Brazil.
Both trees will be listed on CITES Appendix II, which allows international commercial trade only under a strict permit system.
"The holywood is a tree of great cultural and economic value praised for its aromatic properties and the texture of its wood," said CITES official John Donaldson.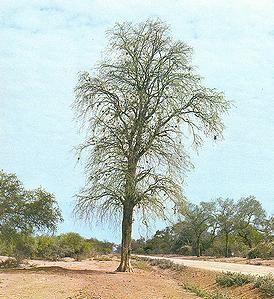 Holywood tree, Bulnesia sarmientoi (Photo by Jorge Vallmitjana)
This tree only grows in the Gran Chaco ecosystem in the center of South America, around the Argentina-Bolivia-Paraguay border and a small part of southwestern Brazil.
One of the last and also the largest unexploited subpopulations grows in the newly established Kaa-Iya del Gran Chaco National Park in southeastern Bolivia.
The holywood tree is classed as Lower Risk/conservation dependent by the International Union for the Conservation of Nature, IUCN, on its Red List of Threatened Species.
Historically, this species has been used for handicrafts, wood-turned items, posts, and tools.
With its attractive colors and delicate aroma, this wood now is used to produce walking sticks, cigar boxes, ashtrays, fine pens, drinking vessels, napkin rings, cigarette cases, fans, chests, candy boxes, sewing boxes, flower holders, sculpture pedestals, and many other decorative objects.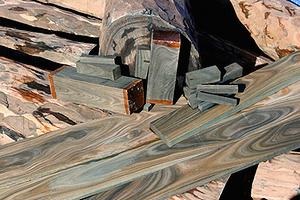 Trade in holywood will now be controlled by the CITES permit system. (Photo courtesy Cook Woods)
Recently, holywood timber also has been used in flooring and fine furniture that fetches high prices on international markets.
Holywood essential oil, known as guayacol, guajol or guayaco, is obtained by distillation. It is widely used in the perfume industry because of its mild and pleasant fragrance, which is similar to the rose or the violet.
The ethyl acetate of holywood is used as a natural fixative in rose aromatic compositions. It can also be used to perfume luxury soap by masking the unpleasant smell of synthetic components and as an excipient in the manufacturing of cosmetics. It is also mixed with pyrethrum to make mosquito coils.
Residual sawdust, a by-product, is treated with solvents to produce palo santo resin, which can be used to manufacture varnish and dark paints.
Palo santo is valued for the skin-healing properties of its essence and also because it provides good charcoal and a high quality timber. It ignites easily despite being so dense, and produces a fragrant smoke.
Natives of the Chaco region employ holywood bark to treat stomach problems. Small pieces of the wood are also used as a form of natural incense in spiritual rituals.
Called Brazilian rosewood, Aniba rosaeodora actually is native to Colombia, Ecuador, French Guiana, Guyana, Peru, Suriname, and Venezuela as well as Brazil. It is classed as Endangered on the IUCN's Red List.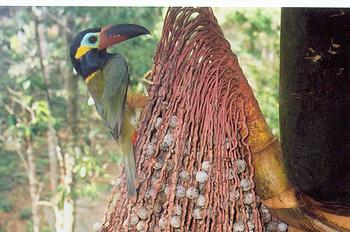 Toucan feeds on the seeds of a Aniba rosaeodora tree in Brazil. (Photo by Wilson Spironello courtesy Government of Brazil)
Brazilian rosewood has been subject to unsustainable exploitation to obtain linalool-rich essential oil from its timber. The essential oil is used as a fragrance ingredient in fine perfumes and as a fixative for perfumes. Linalool also is used to produce several valuable compounds for the perfume and fragrance industry.
Between 18 tons and 20 tons of timber are needed to produce one 180 kilogram drum of essential oil, requiring the harvest of about nine to 10 trees.
Brazil exported close to 13,000 tons of rosewood essential oil between 1937 and 2002. But in the 1990s production of this commodity dropped sharply after decades of unsustainable harvest, and in 1994, Brazil produced only 59 tons of essential oil.
The main importing countries were the United States, France, Spain, the Netherlands and the United Kingdom.
The sole producer at present is Brazil, although the species was wiped out through exploitation over large areas in French Guiana between 1910 and 1930.
The IUCN says that now mobile distillation factories have moved deep into the forest, although "substantial wild stands are believed to exist in areas which are unlikely to be exploited."
Levels of exploitation have declined with increased use of synthetic oils, which the current world market consumes at the rate of about 100 tonnes per year.
Timber can also be used to make furniture and canoes but is rarely used for these purposes owing to the high commercial value of the essential oil.
This newly protected tree species, Aniba rosaeodora, is not to be confused with the Brazilian rosewood, Dalbergia nigra, which is prized for high-grade guitars and pianos.
Dalbergia nigra is already listed on CITES Appendix I, under which no commercial trade is allowed. Only plants, parts, products, or derivatives of Brazilian rosewood acquired prior to listing on June 11, 1992, may be used in commercial trade.
The CITES member states also voted to remove the trade controls for lipsticks and other products containing candelilla, Euphorbia antisyphilitica, a shrubby spurge native to southwest Texas and Mexico. Its name comes from an historic use of the sap to treat venereal diseases, but its effectiveness is questionable.
The many stems of candelilla are covered with a waxy coating that helps the plant conserve water in its desert habitat.
Candelilla wax is an essential raw material in a wide array of cosmetics, inks, dyes, adhesives, coatings, emulsions, polishes, pharmaceutical products and gum base.
Candelilla wax is also used as separation agent or mould in the production of candles, chocolates, cakes and jellies.
Relaxing the current controls on finished products containing candelilla will allow enforcement officers to focus on the smuggling of illegal timber and other endangered plants, CITES delegates decided.
To date, Mexico appears to be the only country exporting candelilla wax. However, some of the wax is exported to the United States, from where traders re-export it to Europe or the Far East, sometimes without the previously mandatory CITES re-export certificates.
Copyright Environment News Service (ENS) 2010. All rights reserved.