NuStar Pipeline Fined for Lack of Oil Spill Response Plans
OMAHA, Nebraska, March 19, 2010 (ENS) – Failure to prepare and maintain proper facility response plans to deal with spills and environmental accidents at some of the nation's largest oil storage terminals has cost a Texas-based pipeline company upwards of $1.2 million.
NuStar Pipeline Operating Partnership LP of San Antonio, Texas has agreed to pay a $450,000 civil penalty to the United States government to settle allegations that it did not have facility response plans for eight of its oil storage terminal facilities in Iowa, Kansas and Nebraska.
The settlement filed Thursday in U.S. District Court for the District of Nebraska in Omaha indicates that NuStar also has agreed to spend $768,000 on a supplemental environmental project to install and operate tank volume monitoring and alarm systems at several of its facilities.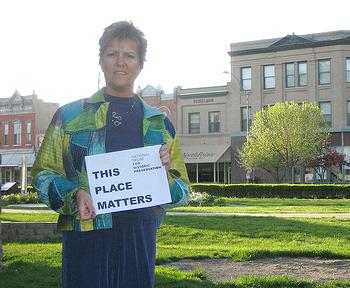 Lori Loontjer, director of Revitalize Geneva, Nebraska where one of NuStar's oil storage terminals is located. (Photo by Nebraska Main Street)
Nustar's affected facilities include those in LeMars, Milford and Rock Rapids, Iowa; Hutchinson and Salina, Kansas; and Columbus, Geneva and Norfolk, Nebraska.
The eight facilities have a combined storage capacity of more than 71 million gallons of oil.
The U.S. EPA discovered several NuStar facilities did not have facility response plans during inspections in 2006. The company subsequently prepared plans for each of the facilities after EPA initiated an investigation.
The Clean Water Act requires facilities that store large quantities of oil to develop response plans that outline procedures for addressing "worst-case" discharges of oil. The point is that by being prepared and by conducting required response drills, facilities are better situated to prevent environmental harm from such releases.
"These are some of the largest oil storage terminals not just in the region, but in the United States," said Karl Brooks, EPA regional administrator for Region 7.
"The importance of complying with requirements for spill responses and emergency preparedness cannot be overstated," Brooks said. "Proper preparation for spills and emergencies can help avoid large-scale environmental disasters."
"Protecting Nebraska surface water is achieved by this settlement and a strong message is sent that we will not tolerate disregard for compliance with the Clean Water Act," said U.S. Attorney for the District of Nebraska Deborah Gilg.
NuStar Energy is a publicly traded, limited partnership based in San Antonio, with 8,417 miles of pipeline, 82 terminal facilities, four crude oil storage tank facilities and two asphalt refineries.
The second largest independent liquids terminal operator in the United States, NuStar also has operations in the Netherlands Antilles, Canada, Mexico, the Netherlands and the United Kingdom.
Ignacia Moreno, assistant attorney general for the Justice Department's Environment and Natural Resources Division, said, "The penalty imposed reflects the serious nature of non-compliance with these important requirements. We are pleased that NuStar has come into compliance with the law and that it will be upgrading its emergency control equipment," she said. "We call upon other companies to do the same."
Copyright Environment News Service (ENS) 2010. All rights reserved.