'Towering' Conservationist Edgar Wayburn, Dies at 103
SAN FRANCISCO, California, March 9, 2010 (ENS) – Honorary Sierra Club President and Presidential Medal of Freedom winner, Dr. Edgar Wayburn died late Friday night at his home in San Francisco in the presence of his family. He was 103.
The environmental community is mourning the death of the five-term president of the Sierra Club who spearheaded the preservation of millions of acres of natural lands in California and Alaska.
Sierra Club Deputy Executive Director, Bruce Hamilton said, "Ed Wayburn was one of the towering figures on the national and world stage of conservation. He was the 20th Century John Muir."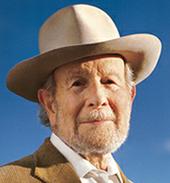 Edgar Arthur Wayburn (1906-2010) (Photo courtesy Sierra Club)
"Ed would take a vision such as protecting 100 million acres of Alaska or protecting the Marin Headlands as a national park and run with it until he accomplished what seemed impossible," said Hamilton. "He enlisted the help of Presidents, Cabinet members, powerful members of Congress, mayors, and millions of Americans and would not take no for an answer."
"When you or your grandchildren marvel at the wilderness in Redwood National Park, Alaska, or the Marin Headlands you will be witnessing the living legacy of Ed Wayburn. It is his lasting gift to all of us."
Former Earthjustice Executive Director Buck Parker said, "We were privileged to work with Dr. Wayburn during his decades of leadership of the Sierra Club and of many national conservation campaigns to establish and protect national parks, wilderness areas, and the magnificent landscapes of Alaska."
"He was also a key supporter for creating Earthjustice, originally the Sierra Club Legal Defense Fund, and maintained a life-long interest in the organization and its work," said Parker. "The efforts of Ed and his late wife Peggy inspired the work of thousands of citizen activists, including many Earthjustice staff, board and supporters, in protecting our public lands and resources."
Edgar Arthur Wayburn was born September 17, 1906 in Macon, Georgia. He graduated from the University of Georgia in 1926 and from Harvard Medical School in 1930. He arrived in San Francisco by train in 1933.
He inspired the establishment of the nation's largest urban park, the Golden Gate National Recreation Area. Included in the park's 76,000 acre expanse are San Francisco's beaches, Alcatraz and the Presidio and open space in south and west Marin County.
Years of travel in the Alaskan backcountry with Peggy inspired his work to achieve passage of the 1980 Alaska National Interest Lands Conservation Act, which protected over 100 million acres of Alaskan wild lands and created 10 new national park units, doubling the size of America's National Park system.
He lobbied and worked for decades for the creation of Redwood National Park, and then the doubling of the park's size 10 years later.
He advocated increasing the area of California's Mount Tamalpais State Park from 870 to 6,300 acres. Mount Tamalpais is now among the state's 10 most-visited state parks.
He helped to establish the Point Reyes National Seashore, and to set aside wilderness areas throughout the American West.
"Ed Wayburn was never a full-time conservationist," wrote Pat Joseph, executive editor of "California" magazine, in a 2006 article honoring Dr. Wayburn's 100th birthday. "A practicing physician and a family man, he dedicated his spare hours and weekends to the health of the planet."
"Neither was he well-known, even within the environmental movement, having never gained the wide recognition of such contemporaries as David Brower and Ansel Adams. The low profile suited him fine," wrote Joseph. "Dr. Wayburn preferred to do his work quietly, behind the scenes. He was a born facilitator and diplomat, someone who exuded the kind of authority and integrity that gets people – even powerful people – to listen."
When Dr. Wayburn was awarded the Presidential Medal of Freedom in 1999, President Bill Clinton said of him, "He has saved more of our wilderness than any person alive."
In his 2004 memoir, "Your Land and Mine: Evolution of a Conservationist," Dr. Wayburn wrote, "It wasn't enough simply to add a few acres here and there; nature doesn't divide herself into measured plots. A watershed encompasses the chain of life; if any part is developed, the integrity of the whole ecosystem is threatened."
Copyright Environment News Service (ENS) 2010. All rights reserved.
Environment News Service (ENS) © 2010 – 2012 All Rights Reserved.