Green Chemistry Breakthrough in Plastics Recycling
SAN JOSE, California, March 10, 2010 (ENS) – Scientists at IBM and Stanford University said Tuesday that they have developed a new method of making plastics that will permit more than one recycling cycle.
While plastics are recyclable today, the resulting materials have been limited to second generation reuse only. This means things made from recycled plastic bottles are disposed in landfills.
Landfills are overflowing with plastics. Globally, 13 billion plastic bottles are disposed of each year. In the United States, up to 63 pounds of plastic packaging per person is disposed of each year, instead of being repeatedly recycled.
"We're exploring new methods of applying technology and our expertise in materials science to create a sustainable, environmentally sound future," said Josephine Cheng, IBM Fellow and vice president at the Almaden Research Center in San Jose.
"The development of new families of organic catalysts brings more versatility to green chemistry and opens the door for novel applications, such as making biodegradable plastics, improving the recycling process and drug delivery," said Cheng.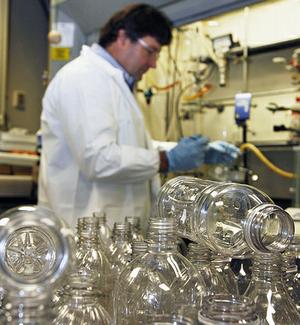 IBM scientist Jim Hedrick works on new formulas that could help recycle the 13 billion plastic bottles thrown away annually. (Photo by Monica M. Davey/Feature Photo Service for IBM)
The researchers expect the new greener plastics to be useful in the food packaging, health care and microelectronics industries.
Disposable plastic bottles are among the most stubborn of environmental challenges. Plastics are typically polymers and may contain other substances to improve performance or reduce costs.
The IBM-Stanford breakthrough reverses the polymerization process to regenerate monomers in their original state, reducing waste and pollution.
IBM also is collaborating with scientists from King Abdulaziz City for Science and Technology, the Saudi Arabian national science agency, to develop the recycling process for polyethylene terephthalate (PET) plastic. This common plastic is used in containers for food, beverages and other liquids.
The discoveries are detailed in a paper published in the current issue of the American Chemical Society journal, "Macromolecules."
The paper outlines the development of several new families of highly active, environmentally benign organic catalysts for the conversion of renewable resources to products that exhibit cost and performance characteristics comparable to existing materials.
The paper also describes recycling or degradation strategies that would enable a "closed-loop" life cycle for materials that meet the needs of the marketplace while helping to minimize the environmental footprint left for future generations.
Additionally, the team has developed a new strategy for the synthesis of high molecular weight cyclic polyesters and the generation of new families of biocompatible polymers for biomedical applications.
As an example of a biomedical application, many effective drugs that are designed to target cancer cells are often so potent that they attack cancerous and healthy cells alike. The use of organocatalysis could help in the design of custom polymers that may aid in delivering drugs to a specific cell or region.
Dr. Robert Waymouth is the chemistry professor at Stanford whose research team worked with IBM to design new biodegradable and biocompatible macromolecules – very large molecules.
"In collaboration with Jim Hedrick of IBM laboratories, we have developed an extensive platform of organic catalysts for the controlled ring-opening polymerization of lactones," Waymouth explains. "These efforts combine elements of mechanistic organic and organometallic chemistry, polymer synthesis, and homogeneous catalysis to rationally design new macromolecular structures."
Copyright Environment News Service (ENS) 2010. All rights reserved.
Environment News Service (ENS) © 2010 – 2012 All Rights Reserved.