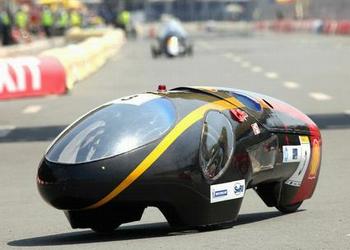 MANILA, Philippines, March 4, 2015 (ENS) – Driving the equivalent of 1,572 kilometers on one liter of fuel, the Thai team Virgin from Sakonnakhon Technical College claimed the top prize at this year's Shell Eco-marathon Asia – an event that saw five new records set.
Thailand was the overall victor for the second year running at the competition for automotive fuel efficiency and innovation that took place at Luneta Park in Manila from February 26 to March 1.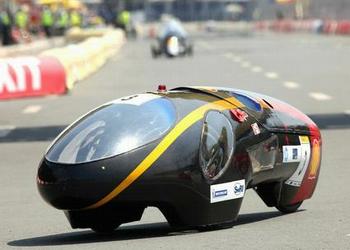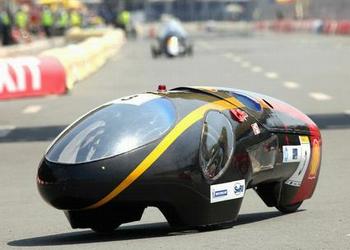 The winning team with their car Thao Pha Dang Nang Ai were entered in the Prototype alternative fuel category.
Last year the Thai team won in the Prototype gasoline category by driving 1,796 kilometers on a liter of fuel. In 2015, they switched to ethanol for a new challenge, and built a new vehicle with a lighter carbon fiber body.
Another Thai team breaking mileage records was Prototype Battery Electric champion Team NSTRU Eco-Racing from Nakhon Si Thammarat Rajabhat University Thailand with a score of 451 kilometers per kilowatt hour.
This year's winners bested more than 120 student teams from 17 countries across the Asia Pacific region, the Middle East and Africa, including new entrants from Australia, Bangladesh, Oman and Saudi Arabia.
Teams submitted vehicle entries in either the UrbanConcept or Prototype category in any of the seven different energy types.
Results are measured on who can drive the furthest on the equivalent of one kilowatt hour (kWh) of electricity, one cubic meter of hydrogen (m3) or one liter of fuel.
Clean Diesel Team from Hyogo Prefectural Tajima Technical Institute, Japan clinched first place in the Prototype Shell FuelSave Diesel category with a new record mileage of 1,245 km/l at the street circuit, more than double last year's winning score.
Also doubling last year's result was ITS Team 2 from Institut Teknologi Sepuluh Nopember Indonesia, who recorded 153 km/l in the UrbanConcept Shell FuelSave Diesel category.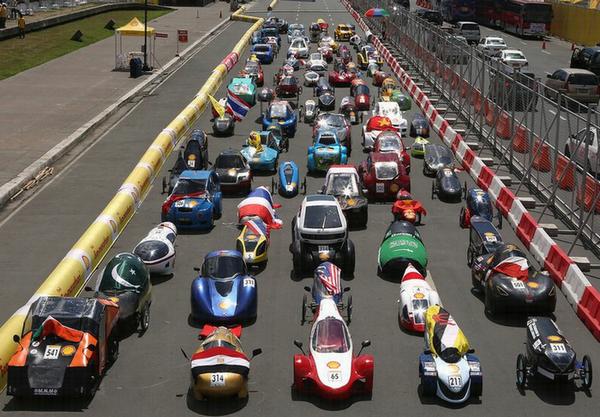 A new mileage record was set by Team LH – Gold Energy of Lac Hong University, Vietnam who won the UrbanConcept Alternative Fuel category with 164 km/l on ethanol.
"We are very happy to be the first Vietnamese team ever to win at a Shell Eco-marathon Asia event. We are honored to represent Vietnam and proud that we are bringing our university to a regional competition," said Le Phuong Long, team leader of LH – Gold Energy.
And from Malaysia, team UiTM Eco-Sprint from Universiti Teknologi Mara Shah Alam Malaysia bettered their own winning result last year to champion the Prototype Hydrogen Fuel Cell category again with a record mileage of 315 km/m3.
With their solar electric car, students from Nanyang Technological University (NTU Singapore) beat more than 124 other teams from 16 countries in their debut at the Eco-Marathon.
NTU Venture 9, a slick three-wheeled racer with unique contoured solar panels that enable maximum harvesting of solar energy at every angle, won an off-track award for technical innovation for the engineering at the core of the aerodynamic vehicle.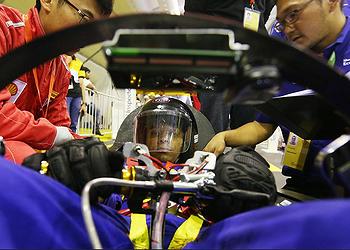 The NTU Venture 9 has a unique tilting ability that allows the vehicle to take-on sharp corners with little loss in speed.
Team manager of the three-wheeler team Winston Tan, an electrical and electronic engineering student, said, "The streamlined car's unique tilting mechanism adopted from motorcycle racing where racers would lean left or right during sharp turns to maintain their handling and speed won the judges over."
The competition also saw its first ever 3D-printed eco-car – the NTU Venture 8 – developed by students using 3D printing instruments.
It is Singapore's first urban solar electric car, which has over 150 3D-printed parts mounted on a carbon fiber single shell chassis.
Ilmi Bin Abdul Wahab, a computer engineering student who led the development of 3D-printed car, said, "We are delighted to unveil the competition's first 3D printed car, which attracted a lot of attention from the public, the media, fellow competitors and the even the awards jury."
Edgar Chua, country chairman of the Shell companies in the Philippines, said, "Shell Eco-marathon is about inspiring the youth to come up with solutions for the future. This innovation will help us look at smarter mobility, and explore new types of fuel which can be more sustainable."
Shell Eco-marathon Technical Director Norman Koch said, "I'm proud to see more teams and nations than ever joining the Shell Eco-marathon family this year. It's very impressive that new starters from countries like Australia, Saudi Arabia, Oman and Bangladesh have made successful runs and recorded results in their first year, and I look forward to welcoming more newcomers in the next edition."
Copyright Environment News Service (ENS) 2015. All rights reserved.