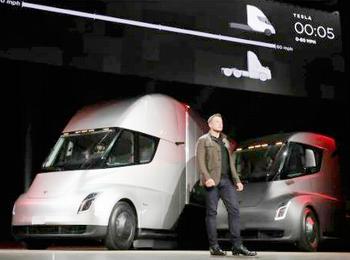 ATLANTA, Georgia, December 21, 2017 (ENS) – The United Parcel Service of America, Inc., widely known as UPS, today announced it has placed a reservation for 125 of Tesla's new fully electric semi tractors. J.B. Hunt Transport Services Inc., Wal-Mart Stores Inc., and Ryder, which operate many thousands of trucks, say that they, too, have reserved Tesla's electric semis.
UPS, which operates one of the largest commercial trucking fleets in the world, says the new tractors will join the company's extensive alternative fuel and advanced technology vehicle fleet. This includes vehicles that are all-electric, hybrid electric, hydraulic hybrid, ethanol, compressed natural gas, liquefied natural gas, propane, and renewable natural gas/biomethane.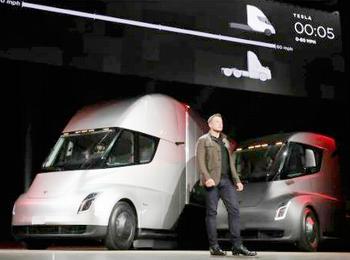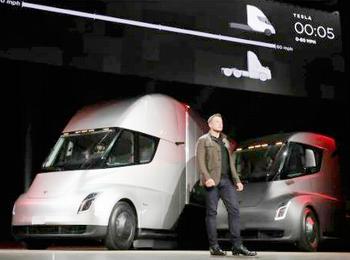 The company unveiled its new electric semi-tractor-trailer November 16 near its design center in Hawthorne, California.
Tesla CEO Elon Musk said the electric semi is capable of traveling 500 miles on a single electric charge, even with a full 80,000-pound load. He said will cost less than a diesel semi considering fuel savings, lower maintenance and other factors.
"We're confident that this is a product that's better in every way from a feature standpoint," Musk told a crowd of Tesla fans at the unveiling.
Four independent motors on each Tesla semi provide maximum power and acceleration with the lowest energy cost, Musk claims.
The truck will have Tesla's Autopilot system, which can maintain a set speed and slow down automatically in traffic. It has a system that keeps the vehicle in its lane automatically. Musk said several self-driving Tesla semis will be able to travel in a convoy.
Musk said Tesla plans to establish a global network of solar-powered "megachargers" that could give the trucks 400 miles of range after charging for just half an hour.
Although he did not mention a price, Musk said customers can put down a $5,000 deposit to reserve the semis now and production will begin in 2019.
Tesla does say, "Electric energy costs are half those of diesel. With fewer systems to maintain, the Tesla Semi provides $200,000+ in fuel savings and a two-year payback period."
J.B. Hunt Transport Services Inc. and Wal-Mart Stores Inc., which operate thousands of trucks, say that they, woo, have reserved Tesla's electric semi trucks.
"Reserving Tesla trucks marks an important step in our efforts to implement industry-changing technology," said John Roberts, president and chief executive officer at J.B. Hunt. "We believe electric trucks will be most beneficial on local and dray routes, and we look forward to utilizing this new, sustainable technology."
Truck leasing and fleet management company Ryder System Inc. "is in the process of placing its initial order for a fleet of Tesla semi trucks," Dennis Cooke, the company's president of global fleet management solutions, told the "Wall Street Journal." Ryder did not specify the size of its order.
UPS will be among the first companies to put the electric heavy haul vehicles on the road.
"For more than a century, UPS has led the industry in testing and implementing new technologies for more efficient fleet operations. We look forward to expanding further our commitment to fleet excellence with Tesla," said Juan Perez, UPS chief information and engineering officer.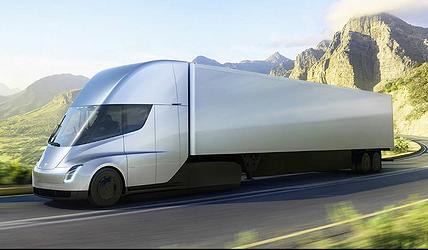 "These groundbreaking electric tractors are poised to usher in a new era in improved safety, reduced environmental impact, and reduced cost of ownership," said Perez.
UPS has provided Tesla real-world UPS trucking lane information as part of the company's evaluation of the vehicle's expected performance for the UPS duty cycle.
UPS often partners with suppliers of emerging vehicle technologies to help them develop solutions that prove ready for stringent UPS use-cases.
Musk says Tesla's Semi offers "an unparalleled cabin experience for drivers, enhanced on-road safety and reduced long-term cost of ownership."
Safety features include: automatic emergency braking, adaptive cruise control, automated lane guidance, and brake-by-wire and steer-by-wire with redundancy.
Tesla's driver-assistance features have been found by the U.S. government to reduce crash rates by 40 percent.
UPS's pre-order of Tesla vehicles complements and advances the company's overall commitment to reduce its absolute greenhouse gas emissions from global ground operations 12 percent by 2025, a goal developed using a methodology approved by the Science Based Targets initiative.
UPS has established a goal for 25 percent of the electricity it consumes to come from renewable energy sources by 2025.
In addition, by 2020 UPS plans that one in four new vehicles purchased annually will be an alternative fuel or advanced technology vehicle, up from 16 percent in 2016.
The company also set a new goal that by 2025, 40 percent of all ground fuel will be from sources other than conventional gasoline and diesel, an increase from 19.6 percent in 2016.
UPS says it operates one of the world's safest commercial fleets, and has invested more than US$194 million in global health and safety training in 2016.
Copyright Environment News Service (ENS) 2017. All rights reserved.