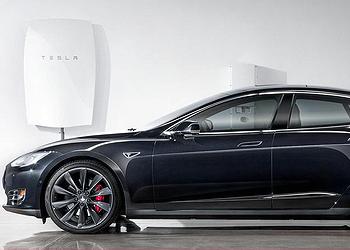 HAWTHORNE, California, May 1, 2015 (ENS) – Tesla Motors, maker of luxury electric cars, is expanding to become the first manufacturer and distributor of rechargeable lithium-ion batteries that store solar power for use in homes and businesses.
"This entire night has been powered by batteries. This entire night, everything you are experiencing, is stored sunlight," said Tesla chief executive Elon Musk Thursday evening, introducing Tesla Energy, the new rechargeable solar battery division.
Musk explained to the crowd at Tesla Motors' Hawthorne, California design facility near Los Angeles, that the new Powerwall Home Battery and the business system, called the Powerpack, will help to move the world away from fossil fuels and toward sustainable energy.
"This is within the power of humanity to do," Musk told the gathering. "We have done things like this before. It is not impossible."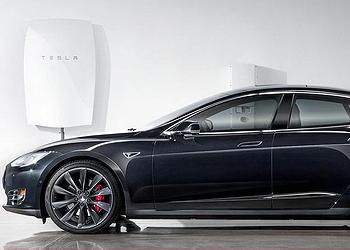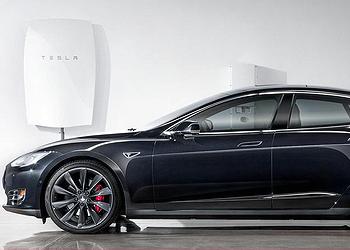 To this end, Tesla Energy is offering a suite of solar rechargeable batteries for homes, businesses and utilities based on the powertrain architecture and components of Tesla electric vehicles.
"Tesla is not just an automotive company, it's an energy innovation company. Tesla Energy is a critical step in this mission to enable zero emission power generation," the company says in a statement.
Powerwall is a wall-mounted battery for the home that charges using electricity generated by solar panels, or when utility rates are low.
The Powerwall lithium-ion battery "inherits" Tesla's automotive battery technology, the company says on its website.
Usually, the energy generated by solar panels that exceeds the power needed right away would be fed into the power grid for a rebate from the utility company. The home or business owner would buy the power back again when it's needed.
The Powerwall and Powerpack batteries can power homes and businesses when the sun is not shining and protect against power outages by providing an emergency backup electricity supply.
The solar battery systems also can provide power to homes, businesses and other installations that are off the utility grid.
Powerwall can reduce home power bills by storing electricity when rates are low and powering the home at peak usage times when rates are high.
Powerwall comes in 10 kilowatt-hour weekly cycle and 7 kWh daily cycle models. Both are guaranteed for 10 years and are sufficient to power most homes during peak evening hours. Multiple batteries can be installed together for homes with greater energy needs.
Musk said he will have several Powerwall batteries mounted in his own home.
Powerwall will go on sale this summer in the United States, to be followed by overseas sales.
TreeHouse, a sustainable home improvement store, is collaborating with Tesla to sell the Powerwall home battery.
"For the first time, running your home on a battery will be affordable and easy," says TreeHouse co-founder and president Jason Ballard. "I think in the near future, having a battery in your home will be as normal as having a water heater or a dishwasher."
"This just takes us one step closer to being able to power homes completely without the use of fossil fuels," said Ballard.
The basic 10 kWh Powerwall home system will sell for US$3,500 and the 7 kWh system for $3,000.
Completely automated, the Powerwall battery installs easily and requires no maintenance, but it does require installation by a trained electrician. The Powerwall systems provide 92 percent DC efficiency, but the needed AC-DC inverter not included in the purchase price.
Early businesses adopters include Target stores, Amazon Web Services and Jackson Family Wines.
"As part of Target's support to our communities, we're excited to partner with Tesla on a pilot test at select Target stores to incorporate Tesla Energy Storage as part of our energy strategy," said David Hughes, senior group manager, Energy Management, Target.
"Tesla's cutting-edge technology offers unique benefits to powering these stores, most importantly relieving stress from the electrical grid at peak times, furthering Target's investment in designing and operating energy-efficient and sustainable buildings," said Hughes.
For utility scale systems, 100kWh battery blocks are grouped to scale from 500kWh to 10MWh+. These systems are capable of two hour or four hour continuous net discharge power using grid tied bi-directional inverters.
Systems support a variety of grid services at utility scales. Tesla Utility Storage is designed to support renewable power generation by reconciling the intermittency of power from renewable sources and storing excess capacity to deliver when needed.
Battery production will eventually be moved to the Tesla "Gigafactory" now under construction on the outskirts of Reno, Nevada.
Musk told reporters he expects the Tesla Energy division to become profitable sometime next year.
Copyright Environment News Service (ENS) 2015. All rights reserved.