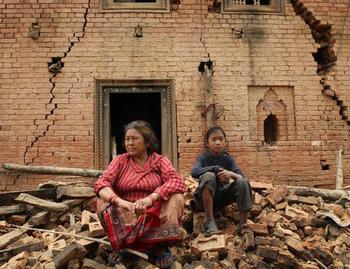 KATHMANDU, Nepal, May 2, 2015 (ENS) – At least 7,040 people have lost their lives and 10,000 others are injured as a result of the magnitude-7.8 earthquake that devastated the Nepal on April 25, the country's National Emergency Operation Centre said today.
The earthquake destroyed thousands of homes in addition to businesses, temples and World Heritage monuments throughout the Kathmandu Valley.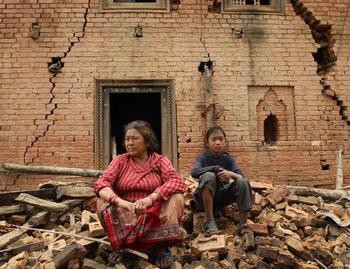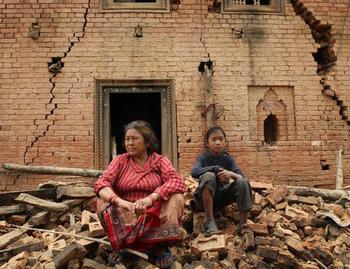 Felt from Tibet to Bangladesh, the quake toppled more than 160,000 homes and left three million people in need of food assistance.
Some 500,000 people were left homeless, and many remain in the open, braving the rainy, cold weather. An estimated 24,000 people are huddled in 13 camps in the capital city, Kathmandu.
Emergency health services and medical supplies and hospitals, safe drinking water and sanitation facilities are urgently needed for up to 4.2 million people, says the UN Office for the Coordination of Humanitarian Affairs, OCHA.
In total, UN agencies and partners have launched a US$415 million emergency appeal to address Nepal's most urgent needs.
Now, a week after the quake, people are dying in the streets of Kathmandu and in remote villages due, in part, to a delay in relief distribution.
US$68 million in aid has been pledged by donor countries, private and NGO organizations, and some of that has been sent, but the flow of aid has been held up by customs officials trying to handle the influx of tonnes of food, water, tents and medical supplies.
UN Resident Representative for Nepal Jamie McGoldrick said the government must loosen its normal customs restrictions to deal with the increasing flow of relief material.
But the government, saying some of the supplies being sent are not suitable, insisted Nepali customs agents had to inspect all emergency shipments.
After the main opposition party UCPN (Maoist) accused the ruling coalition of attempting to handle rescue and relief works without consulting the opposition parties, all of Nepal's political parties joined together to tackle the country's enormous problems resulting from the earthquake.
The pledge to put aside their differences to help those in urgent need came at an all-party meeting Friday to address ongoing relief and rescue operations, Nepal Republic Media reports.
Prime Minister Sushil Koirala promised to intensify relief efforts. He called on all political parties to support and cooperate with the government to tackle the crisis.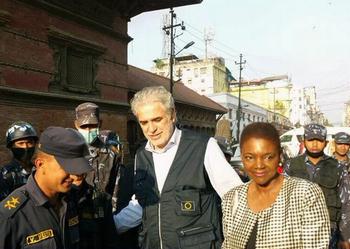 "So many people have lost everything," said Valerie Amos of the United States, who heads OCHA. She spoke at a joint news conference on Friday with the European Union's Commissioner for Humanitarian Aid and Crisis Management, Christos Stylianides. Together they appealed to the international community to continue its support to the more than eight million people affected by the massive earthquake, the most severe to strike Nepal in over 80 years.
"I am heartened and encouraged by the generosity and solidarity shown to date," said Amos, "but I am also conscious of the urgent need to provide emergency shelter and basic goods and services to people affected as the monsoon season rapidly approaches."
The United Nations Childrens Fund, UNICEF, says many thousands of children have been left homeless, in deep shock and with no access to basic care.
With the monsoon season only a few weeks away, children will be at heightened risk of diseases like cholera and diarrhoeal infections, as well as being more vulnerable to the threat of landslides and floods, the agency warned.
"The earthquake has caused unimaginable destruction," said Rownak Khan, UNICEF deputy representative in Nepal. "Hospitals are overflowing, water is scarce, bodies are still buried under the rubble and people are still sleeping in the open. This is a perfect breeding ground for diseases."
"We have a small window of time to put in place measures that will keep earthquake-affected children safe from infectious disease outbreaks – a danger that would be exacerbated by the wet and muddy conditions brought on with the rains," said Khan. "That's why it's so crucial to get essential medicine, medical equipment, tents and water supplies out to these areas now."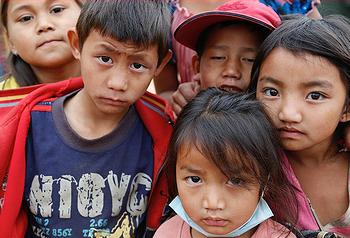 In a country where more than 40 percent of children are stunted, fears for children's nutrition are rising. At least 15,000 children with severe acute malnutrition require therapeutic feeding.
There is also an urgent need for children in the 12 most affected districts to get back to their normal routine by setting up child-friendly spaces, opening schools and providing access to basic services, such as health and water.
"As days become a week, we must focus our attention on continuing to save the lives of the children in Nepal who survived this devastating earthquake. Many of them, along with their families, are scared to go home for fear of their homes collapsing. So they are living outside where the threat of water-borne disease is heightened," said UNICEF Canada President and CEO David Morley.
Farmers too are in need of emergency financial support if they are to feed the country during the next years. Some US8 million is urgently needed to help disaster-struck Nepalese farmers prepare for the imminent rice sowing season, the UN Food and Agriculture Organization, FAO, said Friday.
"There is a critical window of opportunity to help crop producers plant in time to have a rice harvest this year and regain their self-sufficiency," FAO Representative in Nepal, Somsak Pipoppinyo told reporters.
Farmers who miss the planting season expected to start later this month will be unable to harvest rice, the country's staple food, again until late 2016. About two-thirds of all Nepalis rely on agriculture for their livelihoods.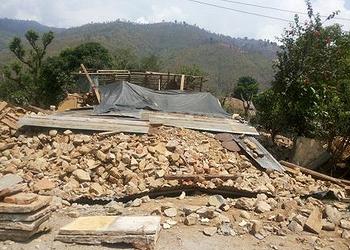 Farmers who miss the planting season expected to start later this month will be unable to harvest rice, the country's staple food, again until late 2016. About two-thirds of all Nepalis rely on agriculture for their livelihood.
"Not only my home, but nearly all the villagers have lost their homes," said Ram Chandra Neupane, general secretary of the National Micro Entrepreneurs' Federation of Nepal, a national federation of micro entrepreneurs trained with UN Development Program support.
A poultry farmer in the village of Bidur, Neupane was buried up to his neck when his house collapsed in the earthquake. He sustained only minor injuries, but the quake also ruined his poultry business, killing 600 of his 1,000 chickens.
Neupane said that over 60 percent of the 2,100 micro entrepreneurs in the district also have lost their livelihoods.
Animals injured or abandoned as a result of the quake are receiving emergency veterinary aid and care from Humane Society International's Animal Rescue Team. HSI is working with partners such as Animal Welfare Network of Nepal in Kathmandu to provide veterinary medicines, vaccinations, surgical equipment, and looking into providing shelter and food for thousands of sick, injured, lost and abandoned animals.
Rahul Sehgal, director of HSI Asia, said: "There is complete devastation in many areas for people and animals alike, and we're helping both. For many people, their animals are all they have left, so HSI's animal aid is a vital lifeline."
In every village HSI has visited so far, animals are getting sick from exposure in the heavy rain; many are too sick to eat, and most of the animal feed is buried in the rubble. Complicating matters is that many of these villages are remote and reached only by mountainous dirt roads. It is a desperate situation, and HSI veterinarians have been the first responders on the ground to provide aid in many of these villages.
Copyright Environment News Service (ENS) 2015. All rights reserved.
Environment News Service (ENS) © 2015 All Rights Reserved.