Taiwanese Couple Admits Smuggling Black Coral Into U.S. Virgin Islands
ST. THOMAS, U.S. Virgin Islands, March 11, 2010 (ENS) – A Taiwanese couple pleaded guilty today in federal court in the U.S. Virgin Islands to conspiracy to smuggle internationally protected black coral into the United States from Asia.
Gloria Chu and Ivan Chu of Taipei, Taiwan, each pleaded guilty to nine counts including conspiracy, false statements, and violations of both the Endangered Species Act and the Lacey Act.
The Lacey Act makes it a felony to falsely label wildlife that is intended for international commerce.
The Endangered Species Act is the U.S. domestic law that implements the Convention on International Trade in Endangered Species, CITES. Each of the species of black coral is listed in Appendix II of CITES, so trading is allowed only with strictly regulated permits.
Black coral is a precious coral that can be polished to a high shine, worked into artistic sculptures and used in jewelry. The Chus pleaded guilty to selling nearly $200,000 worth of the coral to a jewelry maker on St. Thomas, who was named only "Company X" by the Justice Department. The Justice Department has declined to explain why the jeweler remains unnamed.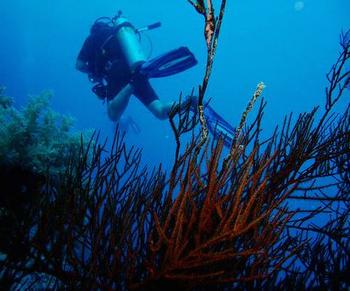 Black coral grows slowly and lives long (Photo by David Caplin)
Black coral grows slowly in deep waters, and many species have long life spans. One specimen was reported by scientists to be more than 4,200 years old with a growth rate of only five micrometers per year.
Using deep sea submersibles, scientists have observed that fish and invertebrates tend to accumulate around the black coral colonies. In the last few decades, pressures from overharvesting, due in part to the wider availability of scuba gear, have threatened this group of corals.
According to plea agreements filed with the court, the Chus ran a business named Peng Chia Enterprise Co. Ltd. that supplied materials including black coral to customers outside of Taiwan for jewelry design and manufacture.
At times before 2007, the Chus were issued CITES export permits by the Taiwanese government to ship black coral overseas. Since 2007, they have been unable to obtain permits because they are unable to produce a legitimate certificate of origin for the coral.
Both Chus admitted that in order to supply a company based in the Virgin Islands with black coral, they would falsely label shipments to conceal the coral from U.S. Customs authorities.
The conspiracy included travel to a warehouse in mainland China to choose coral from a Chinese supplier and the use of an intermediary to ship the black coral from Hong Kong to "Company X" in St. Thomas.
The shipments took place for at least two years before the customs seizure of a shipment headed for "Company X."
On August 19, 2009, Peng Chia sent a shipment of 10 boxes of black coral that were labeled "plastic of craft work." A U.S. Customs Contraband Enforcement Team became suspicious and contacted U.S. Fish and Wildlife officers from San Juan, Puerto Rico.
As a result, USFWS, National Oceanic and Atmospheric Administration and Immigration and Customs Enforcement opened a joint investigation, dubbed "Operation Black Gold," that led to the arrest of the Chus in January 2010.
Analysis by the U.S. Fish and Wildlife Service's National Forensics Laboratory in Ashland, Oregon, revealed that shipment seized by Customs contained internationally protected black coral.
"Stopping the illicit trade and depletion of protected species such as black coral is critical to preserving a healthy and viable marine environment," said U.S. Attorney Ronald W. Sharpe for the District of the U.S. Virgin Islands.
"The U.S. Attorney's Office will continue to work closely with its domestic and international law enforcement partners to detect, investigate and prosecute those who plunder and traffic in endangered species for their selfish gain," said Sharpe.
According to the plea agreements, Ivan Chu has agreed to serve 30 months in prison and pay a $12,500 fine. Gloria Chu has agreed to serve 20 months in prison and pay a $12,500 fine. Both defendants would also be prohibited from shipping coral and other wildlife products to the United States for three years after their release from prison. Fines and prison time will be finalized in a formal sentencing hearing on June 23.
Copyright Environment News Service (ENS) 2010. All rights reserved.