Summit on the Summit Moves Clean Water to Center Stage
WASHINGTON, DC, March 11, 2010 (ENS) – Actors, musicians, ambassadors and under-secretaries of state mingled in the plush Ben Franklin room at U.S. State Department Headquarters March 8 in a reception to honor a climb of Africa's highest peak to dramatize the need for life-saving clean water.
The idea, conceived by Ethiopian-born Grammy nominated musician Kenna, brought Hollywood stars, PhD's and DC-based advocates together to celebrate the trek up Mount Kilimanjaro in Tanzania to raise worldwide awareness about the critical need for clean drinking water.
As a child in Ethiopia, Kenna's uncle died and his father nearly lost his life of a water-borne disease from drinking contaminated water. This motivated the singer to organize the Kilimanjaro climb – called Summit on the Summit.
Kenna, American actress Jessica Biel, Australian actress Isabel Lucas, American singer-songwriter and producer Santigold, rapper Lupe Fiasco, actor Emile Hirsch, conservationist and explorer Alexandra Cousteau, environmentalist Kick Kennedy, award-winning photographers Michael Muller and Jimmy Chin and the UN Foundation's Elizabeth Gore, 45 people in total, climbed Africa's highest peak in January.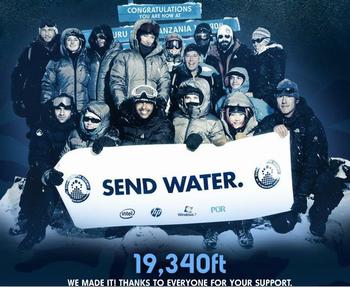 Smiling for the camera are 16 of the 45 summiteers atop Mt. Kilimanjaro's Uhuru Peak. January 12, 2010. (Photo courtesy Summit on the Summit)
They took five days to make the 19,340-foot climb of Uhuru Peak, summited on January 12, and took two days to descend. Despite a snowstorm the day before they headed for the top, altitude sickness and fatigue, everyone who started, finished the climb.
After descending, they visited nearby villages and refugee camps to see the toll the global water crisis is taking on these communities, and the relief efforts being used to help.
A documentary about the expedition will air on MTV on Sunday, March 14.
Kenna, Fiasco, and Hirsh as well as Under Secretary of State for Democracy and Global Affairs Maria Otero and Ambassador-at-Large for Global Partnerships Elizabeth Frawley Bagely were on hand at the State Department reception.
The climb raised funds to be distributed through the UN Foundation to the UN High Commission on Refugees, the Children's Safe Drinking Water Programme, Water For People and Playpumps International.
Dr. Greg Allgood of Proctor & Gamble, founder and director of the Children's Safe Drinking Water program, joined the climb as one of the Summit on the Summit team's water experts.
P&G's PUR water filtration company took part in the expedition as a sponsor. Since 2004, PUR and the Children's Safe Drinking Water Program have worked together to prevent water-related diseases with tiny packets of PUR water purification powder. Developed by a P&G engineer, the powder can transform potentially deadly water into clear, purified drinking water within 30 minutes.
The Children's Safe Drinking Water Program and its partners distribute these PUR sachets throughout the world and, to-date, have delivered over 1.6 billion liters of clean drinking water to those in need.
"Clean, healthy drinking water is a basic need for people everywhere but unfortunately many go without," said Dr. Greg Allgood. "By joining forces with others who share a common goal, we can bring major attention to the global water situation and provide even more people with access to clean drinking water – whether it's abroad or right in their own kitchens."
Anyone in the United States can join the clean drinking water cause by purchasing a PUR pitcher or faucet mount system, which donates a week's worth of clean drinking water to a small child in a developing country, says Allgood.
"It only makes sense to partner with PUR Water Filtration brand for Summit on the Summit," said Kenna, who originally approached the company for support. "PUR is a part of the solution both domestically and abroad. I am thankful to have such generous and focused partners for Summit on the Summit. Together we will bring awareness to the global clean water crisis and save lives."
Of the more than 6.8 billion people in the world today, over one billion have no access to improved drinking water, a basic necessity for human life, and about 2.6 billion people do not have access to improved sanitation.
The UN children's agency UNICEF, says that polluted water and lack of basic sanitation claim the lives of over 1.5 million children every year, mostly from water-borne diseases.
The World Health Organization says about one-tenth of the global disease burden could be prevented by increasing access to safe drinking water; improving sanitation and hygiene; and improving water management to reduce risks of water-borne infectious diseases.
Estimates by UNICEF and the World Health Organization find that developing nations need at least 11.3 billion dollars a year to meet low-cost basic levels of service for both drinking water and sanitation by the year 2015.
Copyright Environment News Service (ENS) 2010. All rights reserved.