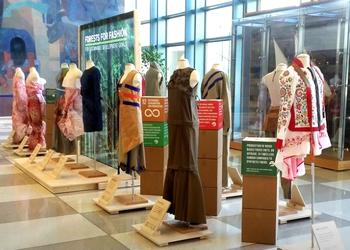 NEW YORK, New York, July 17, 2018 (ENS) – New York City is a magnet for America's fashion designers, but fashion hasn't been a feature in the sober halls of United Nations headquarters. That changed this week as the High Level Political Forum on Sustainable Development held its annual meeting there.
A fashion exhibit at the Delegates Entrance and in the Secratariat Lobby of the UN building showcases the work of many designers, all inspired to use forest-derived materials for their creations.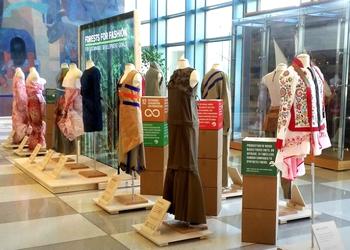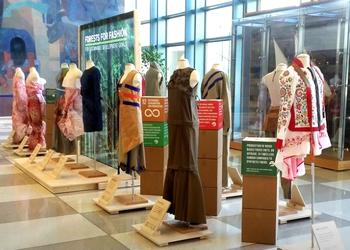 Information on the links among between forests, fashion and the Sustainable Development Goals, SDGs, is part of the show.
In an attempt to steer the global fashion industry onto a more sustainable path, 10 different UN organizations got together at the Forum and agreed to establish a UN Alliance on Sustainable Fashion.
The side event was hosted by the UN Economic Commission for Europe, UNECE.
UNECE Executive Secretary Olga Algayerova told participants that "now is the time to make sustainability the next fashionable trend."
The fashion industry has seen a spectacular growth in the early 21st century. UNECE data shows it is now valued at more than US$2.5 trillion and employs over 75 million people worldwide.
Between 2000 and 2014, global clothing production doubled. The average consumer now buys 60 percent more individual garments compared to 15 years ago, says UNECE. Yet, each clothing item is now kept half as long. The industry has entered the era of what the UN agency calls "fast fashion."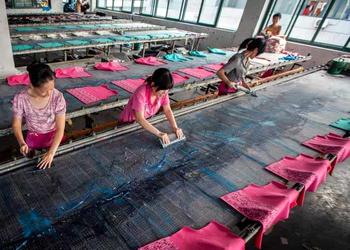 Despite an increase in jobs, this development comes at a price. The current state of the fashion industry can be described as an environmental and social emergency.
Nearly 20 percent of global waste water is produced by the fashion industry, which also emits about 10 percent of global carbon emissions.
The textiles industry has been identified as a major contributor to plastic entering the ocean, which is a growing concern with negative environmental and health implications.
Fast fashion also is linked to dangerous working conditions due to unsafe processes and hazardous substances used in production.
Sustainable Development Goal 15 is the one associated with forests. It says, "Protect, restore and promote sustainable use of terrestrial ecosystems, sustainably manage forests, combat desertification, and halt and reverse land degradation and halt biodiversity loss."
Malaysian-born film star and UNDP Goodwill Ambassador Michelle Yeoh, a sustainable fashion champion, opened the Forum's Ministerial Segment on Monday, and launched her new video "Made in Forests," a sustainable fashion story.
"The connection between our clothes and our impact on the environment doesn't immediately come to mind," said Yeoh. "If a jacket or a skirt or a dress looks good, and we can afford it, we buy it. But the environment pays the price."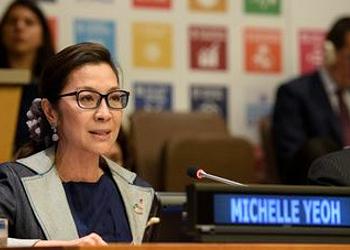 In her video, Yeoh sets out to find out "…what sustainable fashion could look like, without compromising the beauty of our clothes."
One answer: high-fashion produced with certified sustainable new generation forest-based fabrics.
Following Yeoh on her journey to find an outfit that does not harm the planet, the video takes us to Italy's Cittadellarte Fashion B.E.S.T. – an art foundation that promotes sustainable fashion design through art and education.
Here young design talent Tiziano Guardini creates a beautiful dress for her entirely made of certified sustainable wood-based fibres. Michelle wore the dress in New York today at the launch of the movie.
"Given its ecological footprint, today's fashion is an environmental emergency," said Algayerova. "We need to move from a fashion sector with a high impact on the planet to one that is inspired and uses natural resources sustainably. Forests can help this transition.
Generally, the Earth's forests are doing better these days, according to the UN Secretary-General's most recent report.
"The net loss of forest continues to slow and forest biomass stock per hectare is stable," reports Secretary-General Antonio Guterres. "More forests are being protected and areas under long-term management plans and voluntary certification have increased. From 2010 to 2015, the annual net loss of forest area globally was less than half that of the 1990s."
Still, the UN is committed to changing the path of fashion, reducing its negative social, economic and environmental impact and turning it into a driver for the implementation of the Sustainable Development Goals.
The importance of this commitment was highlighted by Marie Chartadová, president of the UN Economic and Social Council, who said "the fashion industry needs to change gear."
UN Environment will host the UN Alliance on Sustainable Fashion during its first year, and will formally launch it at their next Environment Assembly in March 2019.
The High-level Political Forum, the UN's central platform for follow-up and review of the 2030 Agenda for Sustainable Development and the Sustainable Development Goals, provides for the full and effective participation of all States Members of the United Nations. "The 2030 Agenda is our roadmap and its goals and targets are tools to get there," said Guterres.
The theme of this year's Forum is "Transformation towards sustainable and resilient societies."
During the Forum's ministerial meetings, which conclude Wednesday, 47 countries are carrying out Voluntary National Reviews of their performance on all sustainability metrics, not just those from the fashion industry. An outcome document will be released on July 18.
On July 10,  the Chapman Perelman Foundation and the New York Academy of Sciences sponsored the Change Fashion Forum and Workshop in tandem with the Forum's emphasis on sustainable fashion.
The event gathered leaders from the fashion industry, academia, and nonprofit organizations to begin the development of a prioritized sustainable fashion research agenda and roadmaps for the priority areas identified in the agenda.
Anna Chapman, president of the Chapman Perelman Foundation, is preparing to go public in the fall. "We look forward to bringing the ideas generated at this meeting to a wider audience when we launch the public-facing component of the Change Fashion initiative in Fall 2018."
Copyright Environment News Service (ENS) 2018. All rights reserved.
Environment News Service (ENS) © 2018 All Rights Reserved.