Super Bowl XLIV Powered With Renewable Energy
MIAMI GARDENS, Florida, February 7, 2010 (ENS) – The National Football League has teamed up with NextEra Energy Resources to power the 2010 Pro Bowl and Super Bowl with renewable energy.
NextEra Energy Resources, through its EarthEra initiative, will supply Green-e certified Renewable Energy Certificates to match the electricity consumption during the NFL's preparations leading up to the Pro Bowl and Super Bowl as well as usage during both games at Sun Life Stadium.
This is the fourth year in a row that the NFL will use renewable energy to power the Super Bowl and its related events and the first year for the Pro Bowl.
For the first time since 1980, the Pro Bowl was played somewhere other than Honolulu. The annual contest between the AFC's and NFC's best took place Sunday, January 31, 2010 at Sun Life Stadium.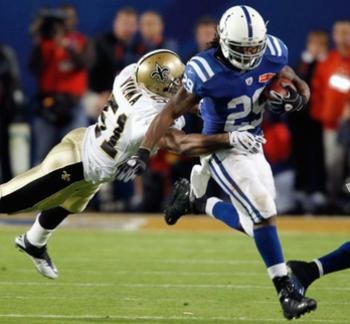 Indianapolis Colts running back Joseph Addai (29) runs the ball against the defense of New Orleans Saints linebacker Jonathan Vilma (51) during Super Bowl XLIV at Sun Life Stadium in Miami Gardens, Florida (Photo by Kevin Terrell courtesy NFL)
"As you can imagine, the power demands of an NFL stadium are huge, and this year we are holding two games at one venue," said Jack Groh, director, NFL Environmental Program. "One way to reduce the carbon footprint of such an event is by using renewable power."
NextEra Energy Resources and EarthEra are also giving fans the opportunity to follow the example set by the NFL. By visiting www.earthera.com/superbowl people can learn how personal actions contribute to climate change and take steps to minimize or offset their impacts, as the NFL is doing by using renewable energy to power the 2010 Pro Bowl and Super Bowl.
"Leading companies and organizations, such as the NFL, are actively addressing the environmental impacts of their activities and taking steps to make a difference for future generations," said Nate Hanson, vice president of NextEra Energy Resources, part of the FPL Group, the largest wind and solar energy producer in North America.
"Through our EarthEra initiative, we partner with leading organizations to mitigate their impacts on climate change, promote sustainability initiatives and provide them the ability to join us in building a clean energy future."
The NFL Environmental Program has developed a series of initiatives to minimize the impact of Super Bowl activities on the local and global environment.
Decorative materials, building materials, office supplies and other reusable items will be recovered and donated to local nonprofit organizations. Some materials are appropriate for reuse while others will be used as fundraising auction items.
The NFL will donate all leftover food from Super Bowl events to local agencies under the leadership of Daily Bread Food Bank, which specializes in feeding South Florida. A mountain of food will be offered. Over 65,000 pounds of leftover prepared food was donated after last year's Super Bowl.
Super Bowl's 19th Annual Taste of the NFL was held last night at the Broward County Convention Center in Fort Lauderdale. The star-studded evening of food, football and live entertainment by the band Barenaked Ladies raised money for Feeding South Florida, which will receive high percentage of the proceeds to support its efforts to serve food to hungry people in this community.
Since it began in 1992, Taste of the NFL has raised more than $8 million to help tackle hunger. Proceeds from Taste of the NFL benefit food banks in every NFL market.
"Taste of the NFL is extremely thankful that this event has been able to provide so many food banks with additional support for their programs," said Wayne Kostroski, founder of Taste of the NFL. "Each year we strive to increase our donation amount with the ultimate goal of tackling hunger in the United States."
In a separate project, the Super Kids-Super Sharing Sports Equipment and Book Donation project worked throughout January to collect used sports equipment and books from local kids for donation to under-served schools throughout the South Florida area.
Copyright Environment News Service (ENS) 2010. All rights reserved.