EPA Reveals High Hazard Potential at More Coal Ash Ponds
WASHINGTON, DC, February 5, 2010 (ENS) – Twenty-two electric utility facilities with coal ash impoundments have written action plans to make them safer. But on Thursday, as the U.S. EPA made these plans public, the agency also released engineering assessments of 40 more coal ash impoundments showing they have the "high" or "significant" potential to cause loss of human life, environmental damage, or damage to infrastructure.
Simultaneously, a national organization of government employees claims that the EPA has been running interference for the coal ash industry against states that seek to regulate ash storage in the absence of federal regulations.
Coal-fired power plants generate more than 130 million tons of fly ash, bottom ash, boiler slag, and flue gas desulfurization gypsum each year.
Coal ash came to national attention on December 22, 2008 when an impoundment holding disposed ash waste generated by the Tennessee Valley Authority Kingston power plant in Tennessee broke, spilling 5.4 million cubic yards of ashy sludge over land and rivers. It is regarded as one of the worst environmental disasters of its kind in history.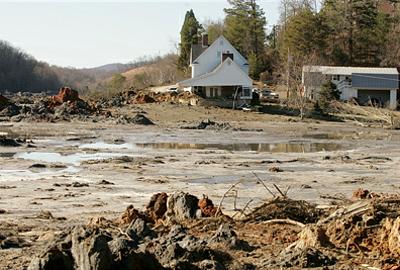 Homes and farmland are buried in ashy sludge that spilled from a containment pond at the Kingston Fossil Plant in Harriman, Tennessee. (Photo courtesy Greenpeace USA)
EPA has been overseeing the cleanup at the Kingston power plant. The TVA says it expects to get the spilled coal ash removed from the Emory River by spring 2010 and to have the 2.4 million cubic yards that spilled on site contained by 2013. The cleanup has cost $231 million to the end of 2009.
The Kingston spill triggered an EPA investigation of the structural integrity of impoundments across the country where coal ash waste is stored.
"EPA is committed to making communities across the country safer places to live," said Mathy Stanislaus, assistant administrator for EPA's Office of Solid Waste and Emergency Response. "The information we are releasing today shows that we continue to make progress in our efforts to prevent future coal ash spills."
EPA released the results of the Root Cause Analysis of the TVA's Kingston dam failure conducted by the geo-technical engineering firm AECOM for the TVA, a federal government owned and operated utility.
AECOM determined the unit may have failed because of a combination of four factors: 1) the presence of an unusually weak slimes foundation, 2) the fill geometry and setbacks, 3) increased loads due to higher fill, and 4) hydraulically placed loose wet ash. Based on this analysis, EPA directed its contractors to examine each power plant unit for these characteristics.
Since May 2009, EPA has been conducting on-site assessments of coal ash impoundments and ponds at electric utilities. EPA provides copies of the structural integrity assessment reports to each facility, and requests the facilities implement the reports' recommendations and provide their plans for taking action.
The action plans released Thursday address recommendations from assessments of 43 impoundments at 22 facilities. The EPA says many of these facilities have already begun implementing the EPA recommendations.
In addition to the action plans, EPA released assessment reports on the structural integrity of 40 more coal ash impoundments at 16 facilities across the country.
Most of the 40 impoundments have a rating of "high" or "significant" hazard potential.
A high hazard potential rating means if an impoundment fails, it can cause loss of human life.
A significant hazard potential rating means impoundment failure can cause economic loss, environmental damage, or damage to infrastructure.
The assessment reports were written by firms under contract to EPA, who are experts in the field of dam integrity, and who EPA says reflect the best professional judgment of those engineering firms. A draft of these reports has been reviewed by the facilities and the states for factual accuracy. The comments on the draft reports are posted on EPA's website.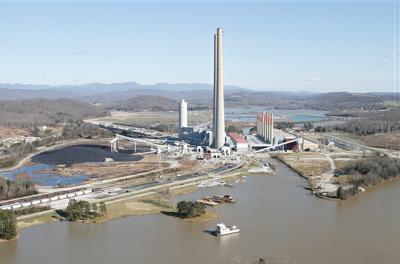 TVA's Kingston power plant at the confluence of the Clinch and Emory Rivers (Photo courtesy Greenpeace USA)
EPA said in a statement Thursday that the agency is continuing to review the reports and technical recommendations, and is working with the facilities to ensure that the recommendations are implemented in a timely manner.
If companies fail to take sufficient measures, EPA says the agency will take further action and provide additional information to the public on the impoundments and facilities as it becomes available.
But Public Employees for Environmental Responsibility, PEER, says the coal ash industry has been working in concert with EPA behind closed doors to counter state proposals for stricter regulation of coal ash waste and help the industry market this waste as an additive to construction materials and to spread on agricultural land or use in land reclamation.
PEER says that in the absence of federal regulation of coal ash, states are struggling to regulate the tons of coal ash waste.
In arguing against federal regulation, industry has maintained that state regulation is best, PEER said in a statement February 2. Yet e-mails obtained by PEER under the Freedom of Information Act indicate that "industry worked in concert with EPA to counter state proposals for stricter regulation."
"Industry appears to have used EPA as its pet pit bull to keep state regulators at bay," said PEER Executive Director Jeff Ruch, pointing to EPA's Coal Combustion Products Partnership (C2P2), a formal promotional partnership between EPA and industry to increase use of coal ash in consumer products, agriculture and construction, that is still in effect.
"Significantly, EPA officials in these exchanges did not exhibit the slightest interest in scientifically exploring any of the public health and environmental uncertainties raised by their state partners," Ruch said.
PEER takes issue with the way EPA has developed an industry-approved "risk assessment" in hopes that it "will be attractive to state agencies" (in the words of an industry lobbyist) for state adoption in lieu of tougher regulation.
PEER released a message on this topic from a coal ash industry lobbyist that reads, "Personally, I can't thank OSW [EPA's Office of Solid Waste] staff members enough for the efforts they have provided our industry…"
Ash from burned coal contains arsenic and heavy metals but labeling coal ash as hazardous could lead to a federal disposal standard to replace varying state regulations. The federal standard could ban impoundments like the one at Kingston and require costly liners, spill controls and groundwater monitoring at ash disposal sites.
The industry worries that a hazardous designation could destroy its ash recycling business that the Electric Power Research Institute says generates $5 billion to $10 billion a year in revenue for utilities.
The EPA promotes recycling fly ash and other byproducts of coal combustion through its Coal Combustion Products Partnership, a consortium of governmental and industry groups. The agency identifies recycling of these materials a "national priority."
The American Coal Ash Association said in January, "Decades of sound science and practical application confirm these materials are safe and pose no threat when managed properly."
"I am familiar with fly ash through my studies of coal combustion byproducts as both a toxicologist and a risk assessor," said Lisa Bradley, a senior toxicologist with AECOM. "Fly ash contains trace amounts of naturally occurring substances that only under certain conditions could be potentially toxic, conditions that are unlikely to occur as a result of good ash management or recycling practices. To characterize fly ash or other coal combustion byproducts as 'toxic' or 'hazardous' in all cases is misleading."
The industry says a hazardous waste listing would lead to an increase in carbon dioxide emissions of some 13 to 14 million tons per year. "This is because fly ash used for concrete does not require kilning," the ACAA said. "For every ton of fly ash used in place of traditional materials in concrete, a ton of carbon dioxide is prevented from entering the earth's atmosphere."
While the EPA has not declared coal ash to be hazardous waste, Ruch believes that it is hazardous. "EPA should stop acting as an industry agent for marketing hazardous waste," he said.
Ruch says the Coal Combustion Products Partnership is under investigation by the EPA Office of Inspector General.
"EPA Administrator Lisa Jackson, through a spokesperson, has indicated that the agency-industry pact is under review," Ruch said. "EPA should redirect its resources to work with states in addressing legitimate and growing public health concerns about spreading powerfully toxic ash throughout our stream of commerce."
Copyright Environment News Service (ENS) 2010. All rights reserved.