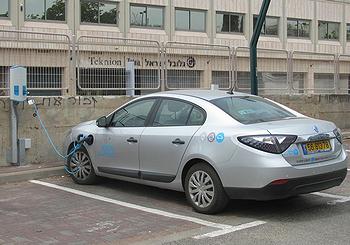 HERZELIYA, Israel, August 24, 2015 (ENS) – StoreDot is developing a new type of battery with innovative, synthesized organic compounds that the Israeli company promises will charge an electric car in five minutes, providing 300 miles (480 km) of driving distance.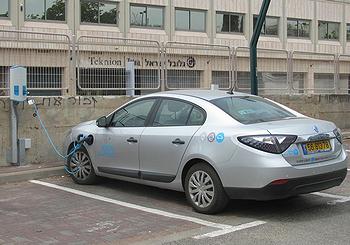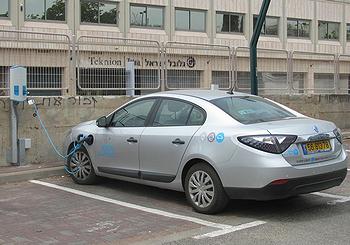 That's more than twice as fast as the quickest charger currently on the market. Today's ultra-fast charger can replenish lithium-ion, nickel-cadmium or nickel metal hydride batteries to 70 percent in 10 to 60 minutes, according to the Battery University website.
StoreDot CEO Dr. Doron Myersdorf says, "The fast-charge battery is the result of our focus on commercializing the materials we have discovered."
Other batteries contain toxic, polluting heavy-metals, while StoreDot's EV FlashBattery™ contains proprietary electrolyte, an ecologically-friendly material, while meshing polymers and metal oxide together – "materials that leave a minimal environmental footprint," the company explains on its website.
Using a unique hybrid multifunction electrode, the FlashBattery combines two types of energy storage solutions.
It incorporates the high-power rapid-charging capability of a supercapacitor with the high-energy storage ability and low self-discharge rate of a lithium-ion battery.
The innovative electrode structure contains proprietary organic polymers with legacy lithium metal oxide (LiMO) components on the cathode end that trigger oxidation-reduction reactions, known as redox reactions.
This solution causes ions to flow from a modified anode to a modified cathode at a speed that could not be attained through previously existing technologies.
Together with a proprietary separator and electrolyte, this new architecture delivers a high current and low internal resistance, with enhanced energy density and a prolonged battery life, the company says.
The FlashBattery is safer than lithium-ion batteries currently in electric cars, the company claims.
The electrolyte used in lithium-ion batteries is highly volatile and flammable, posing a severe safety risk to consumers, critical especially in electric cars, the company explains on its website.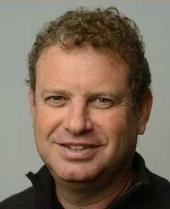 EV FlashBattery architecture is built with a highly stable electrode structure, says StoreDot. It contains materials that are "far less flammable and more stable at high temperatures than any other battery technology," the company says.
Founded in 2012, the Herzeliya-based company is still considered a startup, but it is not likely to be a startup for long.
At the International Cconsumer Electronics Show in Las Vegas, Nevada this past January, Dr. Myersdorf told a BBC reporter that at the 2016 CES, the company will show an EV battery that can charge up in three minutes.
"We are 100 percent sure we can deliver, because the knowhow of how you take one cell and combine thousands of them together has already been done by Tesla," he said.
"The user-experience would be exactly like refueling, but without fumes," Myersdorf said. "It would really boost adoption of electric vehicles. It would be a game-changer."
Copyright Environment News Service (ENS) 2015. All rights reserved.