States Use Stimulus Funds to Fit Workers for Clean Energy Jobs
WASHINGTON, DC, November 8, 2010 (ENS) – States are facing a shortage of clean energy workers, but many are working toward closing the gap with the help of federal funding, according to a new briefing paper from the National Governors Association.
To help states train and retrain workers for clean energy jobs, the National Governors Association Center for Best Practices is offering a look at strategies that states are using to meet the growing demand for clean energy.
"Several factors – including regulations, high costs of traditional fuels and consumer choice – have boosted the demand for clean energy technologies. At the same time, the demand for workers trained to install and service these technologies also has grown," said John Thomasian, director of the NGA Center.
The briefing paper, "Enhancing State Clean Energy Workforce Training to Meet Demand," was released Thursday. It showcases state efforts that have emerged with the help of billions in workforce development dollars provided by the American Recovery and Reinvestment Act, ARRA, the economic stimulus law enacted in February 2009.
The infusion of over $32 billion from ARRA has "increased the deployment of clean energy in all states," states the NGA's Issue Brief.
"This brief describes how states are working with their higher education systems, training institutions and private industry to equip workers to fill these existing and emerging positions," said Thomasian.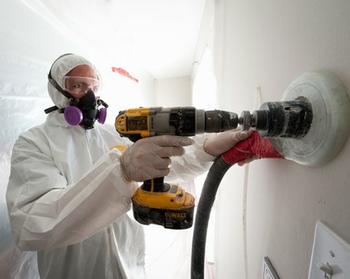 Joe Spreer with Veterans Green Jobs drills holes to blow cellulose insulation into the interior walls of this Lakewood, Colorado home. October 5, 2010. (Photo by Dennis Schroeder courtesy NREL)
Some states are developing statewide curricula and certification programs with community colleges. For example, the Colorado Governor's Energy Office, in partnership with its community colleges, is developing eight weatherization certificate programs to be delivered through a combination of online, classroom, and field teaching methods.
To coordinate state, local, and private sector workforce training efforts, Arkansas has created the Energy Sector Partnership, made up of representatives from several state agencies, workforce development nonprofits, and clean energy industries to help implement a statewide energy sector strategy for workforce development projects. The partnership will create a standardized curricula and set of training practices that replace a current patchwork of local and regional workforce standards.
Many states are improving access to available training. Wyoming, for instance, has simplified access to training by incorporating mobile labs equipped with computers, software, diagnostic equipment, and tool kits to provide weatherization and energy efficiency training to people living in remote or rural areas.
Using data to assist clean energy workforce development is working for some states. For example, seven states: Colorado, Iowa, Montana, Nebraska, South Dakota, Utah, and Wyoming, have formed the Northern Plains and Rocky Mountain Consortium to jointly survey employers in the clean energy industry about what they need and share the findings with employers and job-seekers.
States are leveraging private sector funding to build larger, longer-term training programs. For example, California's Clean Energy Workforce Training Program is leveraging over $23 million in private sector funding to create a $75 million investment program that will train more than 20,000 workers in the clean energy sector.
The California program combines funding from the ARRA State Energy Program and existing state resources, including the Alternative and Renewable Fuel and Vehicle Technology Program established by state legislation, and the governor's discretionary funds under the Workforce Investment Act.
Renewable electricity generation from the 31 states with binding renewable energy portfolio standards will grow from 137 terawatt-hours in 2010 to 479 TWh by 2025, an increase of 250 percent, according to a May 2010 study by the research firm Emerging Energy Research, based in Cambridge, Massachusetts.
"Surging power prices, state renewable portfolio standard policies, federal incentives, and a growing national desire to address the causes of climate change have all helped to create a strongly favorable climate for renewables," the EER study states.
But EER expects "low power demand in the near term" that could weaken the clean energy job market. Also, the research firm expects several states to weaken renewable portfolio standards "through increased flexibility for compliance, with a few stepping back from overly ambitious targets, particularly those with weak in-state renewable resources."
Still, in five years, EER projects, existing renewable portfolio targets will require an 80 percent increase in renewable power generation.
"While utilities in a very few states, led by Washington, Maine, Colorado, and New Hampshire, are already well on their way toward meeting their 2015 targets, the majority of states require rapid renewables growth if they are to meet near-term objectives," says the EER study.
Thomasian is confident that states are on the right path toward meeting the demand for clean energy workers.
"Many of the elements necessary for states to build robust clean energy workforces already exist," he said. "ARRA provided a stream of funding that enabled states to invest in clean energy workforce training programs. The challenge for states as ARRA funding winds down will be to develop strategies to carry these efforts into the future."
Copyright Environment News Service (ENS) 2010. All rights reserved.
Environment News Service (ENS) © 2010 – 2012 All Rights Reserved.