'India and America Are Indispensable Partners'
NEW DELHI, India, November 8, 2010 (ENS) – As leader of the world's oldest democracy, President Barack Obama today capped his three-day visit to India by delivering a message to the Parliament of the world's largest democracy.
"We are two strong democracies whose constitutions begin with the same revolutionary words – the same revolutionary words – 'We the people.' We are two great republics dedicated to the liberty and justice and equality of all people. And we are two free market economies where people have the freedom to pursue ideas and innovation that can change the world. And that's why I believe that India and America are indispensable partners in meeting the challenges of our time," President Obama said to applause.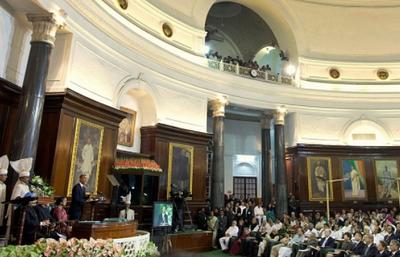 President Barack Obama addresses a joint session of India's Parliament. November 8, 2010. (Photo by Pete Souza courtesy The White House)
"As the world's two largest democracies, we must never forget that the price of our own freedom is standing up for the freedom of others," said President Obama.
During this, the President's first state visit to India, agreements were reached or affirmed in many environmental arenas: clean energy, climate change, food and agriculture, nuclear weapons and civil nuclear power, weather forecasting, Earth observation and space exploration.
On the margins of the President's trip, trade transactions were announced or showcased, exceeding $14.9 billion in total value with $9.5 billion in U.S. export content, supporting an estimated 53,670 U.S. jobs, according to a statement from the White House.
At a joint news conference in New Delhi this morning, Prime Minister Dr. Manmohan Singh said, "We have announced specific initiatives in the areas of clean energy, health and agriculture. These include a Joint Clean Energy Research and Development Centre, the establishment of a Global Disease Detection Centre in India and an agreement for cooperation in weather and crop forecasting."
Clean Energy and Climate Change
The concept of a joint clean energy R&D center to be located in India was first agreed during Prime Minister Singh's state visit to Washington in November 2009. During this visit a Memoradum of Understanding was signed, establishing the center.
The priority areas of focus for the U.S.-India clean energy center are likely to include: solar energy, energy efficiency, biofuels, clean coal technology and an integrated gasification combined cycle project that turns coal into synthesis gas.
It is the U.S. government's second joint clean energy R&D agreement, after that reached with China during President Obama's state visit to Beijing last November.
To further their rapidly growing clean energy cooperation, today, the United States and India signed an agreement of cooperation in the field of shale gas that will include a shale gas resource assessment in India to be conducted by the U.S. Geological Survey, technical studies on shale gas exploration in India and training of Indian personnel in shale gas exploration and development.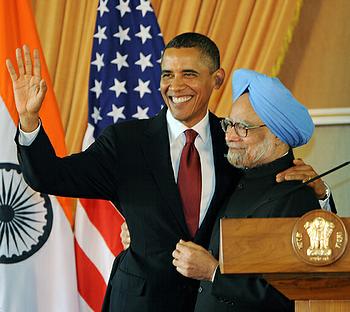 Prime Minister Manmohan Singh with President Barack Obama at their joint press conference, New Delhi, November 8, 2010. (Photo courtesy Office of the Prime Minister)
At a joint news conference in New Delhi, President Obama summarized the scope of the environmental agreements reached over the past three days. "As a result of this visit," Obama said, "we agreed to deepen our cooperation in pursuit of clean energy technologies, and this includes the creation of a new clean energy research center here in India, and continuing our joint research into solar, biofuels, shale gas, and building efficiency. And we agreed to new partnerships including forestry and sustainable development of land to help meet the commitments we made at Copenhagen to combat climate change."
President Obama told India's legislators in his address to Parliament, "We valued India's important role at Copenhagen, where, for the first time, all major economies committed to take action to confront climate change – and to stand by those actions."
"We can pursue joint research and development to create green jobs; give India more access to cleaner, affordable energy; meet the commitments we made at Copenhagen; and show the possibilities of low-carbon growth," the President said.
In their Joint Declaration issued today, Prime Minister Singh and President Obama "reaffirmed their countries' strong commitment to taking vigorous action to address climate change, ensure mutual energy security, and build a clean energy economy that will drive investment, job creation, and economic growth throughout the 21st century."
The two leaders "reiterated the importance of a positive result for the current climate change negotiations at the forthcoming conference of the United Nations Framework Convention on Climate Change (UNFCCC) in Mexico and affirmed their support for the Copenhagen Accord, which should contribute positively to a successful outcome in Cancun."
To that end, the leaders welcomed enhanced cooperation in the area of climate adaptation and sustainable land use, and welcomed the new partnership between the United States and India on forestry programs and in weather forecasting.
The weather forecasting partnership features a new agreement to study seasonal prediction of Indian summer monsoon rainfall. India's Ministry of Earth Sciences and the U.S. National Oceanic and Atmospheric Administration will cooperate to deliver a coupled ocean-atmospheric general circulation model to enhance current understanding of the monsoon system over India that floods vast parts of the country each year.
A jointly funded "Monsoon Desk" is being set up at NOAA's National Center for Environmental Prediction that will coordinate numerical model simulations and diagnostics with the Indian Institute of Tropical Meteorology and India Meteorological Department during the next five years.
The enhanced monsoon forecasting is expected to enable the transmission of detailed forecasts to farmers beginning with the 2011 monsoon rainy season.
Food Security
Prime Minister Singh and President Obama agreed to work together to develop, test, and replicate transformative technologies to extend food security in India as part of what they called an "Evergreen Revolution," extending the idea of cooperation between the two countries during the Green Revolution that improved yields in India from 1967 to 1978.
Transplanting the rice in the monsoon season, July 23, 2010, Goa, India. (Photo by Anomalily)
Efforts will focus on providing farmers the means to improve agricultural productivity. Collaboration also will enhance agricultural value chain and strengthen market institutions to reduce post-harvest crop losses.
President Obama told the Indian Parliament, "Together, we can strengthen agriculture. Cooperation between Indian and American researchers and scientists sparked the Green Revolution. Today, India is a leader in using technology to empower farmers, like those I met yesterday who get free updates on market and weather conditions on their cell phones. And the United States is a leader in agricultural productivity and research. Now, as farmers and rural areas face the effects of climate change and drought, we'll work together to spark a second, more sustainable Evergreen Revolution."
"Together, we're improving Indian weather forecasting systems before the next monsoon season," said the President. "We aim to help millions of Indian farmers – farming households save water and increase productivity, improve food processing so crops don't spoil on the way to market, and enhance climate and crop forecasting to avoid losses that cripple communities and drive up food prices."
"And as part of our food security initiative, we're going to share India's expertise with farmers in Africa," said Obama. "And this is an indication of India's rise – that we can now export hard-earned expertise to countries that see India as a model for agricultural development. It's another powerful example of how American and Indian partnership can address an urgent global challenge."
Nuclear Power and Nuclear Weapons
Addressing nuclear issues, Prime Minister Singh said today at the news conference, "As States possessing nuclear weapons, we have today put forth a common vision of a world without nuclear weapons, and decided to lead global efforts for non-proliferation and universal and non-discriminatory global nuclear disarmament. This is a historic and bold bilateral initiative."
"We have also decided to strengthen cooperation to tackle nuclear terrorism, and we welcome U.S. participation in the Global Center for Nuclear Energy Partnership which will be set up in India," the Prime Minister said.
In addition, said President Obama, India and the United States will now start cooperating on civil nuclear power.
"With my visit, we are now ready to begin implementing our civil nuclear agreement," President Obama told the Indian Parliament. "This will help meet India's growing energy needs and create thousands of jobs in both of our countries."
The United States and India signed a memorandum of understanding that provides a general framework for cooperative activities in working with India's Global Centre for Nuclear Energy Partnership, which India announced at the 2010 Nuclear Security Summit held in Washington, DC in April. The Summit focused on how to better safeguard weapons-grade plutonium and uranium to prevent nuclear terrorism.
In working with India's Centre, the United States will give priority to best practices on the security of nuclear material and facilities, development of international nuclear security training curricula and programs and joint outreach on security issues to their respective nuclear industries.
In their Joint Declaration, the two leaders "reiterated their commitment to build strong India – U.S. civil nuclear energy cooperation through the participation of the U.S. nuclear energy firms in India on the basis of mutually acceptable technical and commercial terms and conditions that enable a viable tariff regime for electricity generated."
India will continue to work with U.S. companies seeking to enter the Indian nuclear energy sector. The two leaders "welcomed the commencement of negotiations and dialogue between the Indian operator and U.S. nuclear energy companies, and expressed hope for early commencement of commercial cooperation in the civil nuclear energy sector in India, which will stimulate economic growth and sustainable development and generate employment in both countries."
Out in Space
President Obama and Prime Minister Singh agreed to scale-up joint U.S.-India civil space collaboration, including space exploration, Earth observation, and scientific education, declaring, "The possibility of cooperation between the two nations in space, to advance scientific knowledge and human welfare, are without boundaries and limits."
They agreed to continue seeking ways to collaborate on future lunar missions, the International Space Station, human space flight and data sharing, and to reconvene the Civil Space Joint Working Group in early 2011.
In the morning, President Obama and First Lady Michelle Obama will travel to Jakarta, Indonesia, departing from Palam Air Force Base in New Delhi, and arriving at Halim International Airport in Jakarta, Indonesia.
Copyright Environment News Service (ENS) 2010. All rights reserved.
Environment News Service (ENS) © 2010 – 2012 All Rights Reserved.