Stakes High, Expectations Low as Climate Talks Open in Cancun
CANCUN, Mexico, November 29, 2010 (ENS) – The annual United Nations climate change conference begins today in Cancun with delegates from 191 governments negotiating long-term climate change cooperation.
The stakes are high and time is short, according to the UN body tasked with managing the world's response to global warming – a treaty known as the UN Framework Convention on Climate Change, UNFCCC.
Wildfires across western Russia in August 2010 cloak Moscow's Red Square in smoke. (Photo by Inna Korobskaya)
"The world has this year been confronted with a series of disasters that have illustrated the vulnerability of all humanity to extreme climate events. These include the devastating floods in Pakistan and in Niger, the wildfires in Russia, and the mudslides in China," the UNFCCC Secretariat says in a statement on the importance of these negotiations. "It is not possible to say with utmost scientific certainty that each of these are a direct climate change impact. But if they are anything to go by, then they give us a taste of the magnitude of what could come – and of what could come more frequently, and more intensely."
Talks in Cancun are proceeding on two separate tracks – the UN Framework Convention on Climate Change and the Kyoto Protocol to that convention, which limits 36 signatory industrialized nations to an average of 5.2 percent reduction below 1990 levels in the emission of six greenhouse gases.
The original deadline for completing negotiations on both these tracks was to have been last year's UN climate change conference in Copenhagen, but many issues remained unresolved – most stemming from differences between industrialized and developing countries on emissions limits and funding. As a result, the two working groups – one for each track – were given another year to finish their work and report to delegates at the Cancun conference.
The Copenhagen Accord, a voluntary agreement to limit greenhouse gas emissions, is all that emerged from last year's conference instead of a legally-binding set of emissions reductions to carry on after the Kyoto Protocol's first commitment period expires at the end of 2012.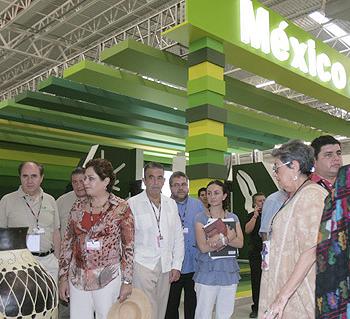 Mexico's Foreign Minister Patricia Espinosa, third from right, examines the preparations for the UN climate talks at the Moon Palace Hotel/Cancun Messe, November 28, 2010. (Photo courtesy Government of Mexico)
This year's goals are even more modest, and legally-binding emissions limits are not expected to come out of the Cancun conference.
Patricia Espinosa, Mexican foreign minister and president-designate of the Cancun conference, said that no country is stepping back from the voluntary emission reduction or limitation pledges it made at the Copenhagen conference. "?Each country has recognized that it will do what it can," she said.
But even if current pledges and plans to cut or limit emissions are implemented completely and on time, global emissions would still keep growing in the next 10 years.
"?In Mexico, we will show the world we are committed to take the next essential steps on climate change and that we are committed to the multilateral path as the only fair and effective route to resolve global problems,?" Espinosa said in October at the conclusion of preparatory climate talks in China.
The UN'?s top climate change official, UNFCCC Executive Secretary Christiana Figueres, says the climate change action that can be agreed in Cancun is about "turning ?small climate keys to unlock very big doors?" into a new level of climate action among rich and poor, business and consumers, governments and citizens.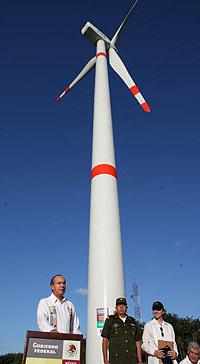 Mexico's President Felipe Calderon inaugurates Cancun wind turbine. (Photo courtesy Office of the President)
?"If climate financing and technology transfer make it possible to give thousands of villages efficient solar cookers and lights, not only do a nation?s entire carbon emissions drop, but children grow healthier, women work easier and families can talk, read and write into the evening," said Figueres. "?In the end, this is about real people being given the opportunity to take control of their future stability, security and sustainability."
Today, Mexico's President Felipe Calderon led the inauguration of the Cancun wind turbine in the municipality of Benito Juarez. The turbine will provide 3,000 megawatt-hours of clean energy during the UN climate conference and will prevent the annual production of 2,000 tons of CO2, equivalent to the annual emissions of hundreds of automobiles.
During the climate talks, there will be a waste recycling program and the greenhouse gases emitted as a result of the Mexican delegation's trips will be offset. A broad energy reconversion will be carried out, with hydroelectric and wind infrastructure and alternative energies such as biodiesel. Calderon said that as a result of these and other actions, by 2012, Mexico will be able to mitigate 50 million tons of CO2.
Ahead of the Cancun conference the World Bank approved a package of three initiatives totaling US$713 million to fund Mexico's efforts to green its economy. The initiatives focus on climate change public policies, efficient lighting and appliances, and a Gulf of Mexico coastal wetlands climate adaptation project
Led by the Federated States of Micronesia, low-lying island nations and other vulnerable countries are calling for governments to take fast action on the 50 percent of global warming that is caused by gases other than carbon dioxide, the most prevalent greenhouse gas.
Micronesia submitted a proposal last year to address these climate warmers – black carbon, methane, and tropospheric ozone – under the UN climate treaty. Micronesia re-submitted its proposal this year and it will be considered by at the Cancun meeting.
Micronesia also proposes phasing down hydrofluorocarbons, HFCs, the current substitute for substances that deplete the ozone layer. HFCs do not contribute to ozone depletion although they are potent greenhouse gases.
The scientific case for this strategy was set forth Saturday by Professor Veerabhadran Ramanathan, a professor of atmospheric physics at the Scripps Institution of Oceanography at the University of California, San Diego, and his colleague, Professor David Victor, author of the soon to be published book, "Global Warming Gridlock."
Writing in the "New York Times," Ramanathan and Victor acknowledge the importance of reducing CO2 emissions, but say the road ahead will be long, difficult, and expensive, and that "in the meantime, a fast-action plan is needed."
"The opportunity to make progress arises from the fact that global warming is caused by two separate types of pollution," write Ramanathan and Victor. "One is the long-term buildup of carbon dioxide, which can remain in the atmosphere for centuries."
"But carbon dioxide is not the only kind of pollution that contributes to global warming," write Ramanathan and Victor. "Other potent warming agents include three short-lived gases – methane, some hydrofluorocarbons and lower atmospheric ozone – and dark soot particles. The warming effect of these pollutants, which stay in the atmosphere for several days to about a decade, is already about 80 percent of the amount that carbon dioxide causes. The world could easily and quickly reduce these pollutants; the technology and regulatory systems needed to do so are already in place."
Currently HFC emissions are controlled by the Kyoto Protocol. Micronesia proposes to shift their control to the Montreal Protocol ozone treaty. The United States, Canada, and Mexico support this strategy through a separate, but similar, North American proposal.
The Washington, DC-based nonprofit Institute for Governance and Sustainable Development said today, "The Parties in Cancun can ensure success with this effort – and win a major climate prize of up to 100 billion tonnes of carbon dioxide-equivalent in mitigation – by directing the Montreal Protocol to take responsibility for production and use of HFCs."
"Fast action on HFCs and the other near-term climate warmers is essential for the survival of low-lying islands and other vulnerable states," said Andrew Yatilman, director of Micronesia's Office of Environment and Emergency Management. "This is the time for action and we can do it now, right here in Cancun."
Copyright Environment News Service (ENS) 2010. All rights reserved.