EPA Sued to Force Regulation of Lead-Based Ammunition, Fishing Gear
WASHINGTON, DC, November 29, 2010 (ENS) – Conservation and hunting groups have filed a lawsuit against the U.S. Environmental Protection Agency for failing to regulate toxic lead in ammunition and fishing gear. The groups complain that these pieces of lead poison and kill eagles, swans, cranes, loons, endangered California condors and other wildlife throughout the country.
Earlier this month, the EPA denied a formal petition from these groups to ban lead in fishing tackle. Earlier this fall the agency declared that it has no jurisdiction over lead in hunting ammunition and so could not address a petition from the groups to ban lead shot.
The plaintiff groups – the Center for Biological Diversity; Public Employees for Environmental Responsibility, PEER; and Project Gutpile, a hunters' organization – claim the EPA's definition of its jurisdiction was "incorrect."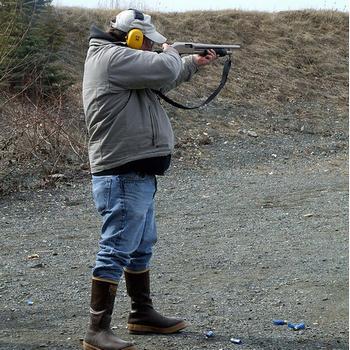 Hunter practices at the Ribbit Creek Shooting Range in Anchorage, Alaska (Photo by Travis)
The EPA asserted that shells and cartridges are excluded from the class of "chemical substances" covered by the Toxic Substances Control Act.
The groups argue that claim is contradicted by the legislative history of the Act, which they say "provides clear and specific authority to regulate hazardous chemical components of ammunition such as lead."
"The EPA has the ability to protect America's wildlife from ongoing preventable lead poisoning, but continues to shirk its responsibility," said Jeff Miller, conservation advocate with the nonprofit Center for Biological Diversity.
"The EPA has known for years it has the authority to regulate lead," said Miller. "Lead shot was eliminated in 1991 by federal regulation to address widespread lead poisoning of ducks and secondary poisoning of bald eagles. And in 1994, the EPA even proposed banning lead fishing weights that were being eaten by waterfowl."
In August, a coalition of groups formally petitioned the EPA to ban lead in bullets and shot for hunting and in fishing tackle under the Toxic Substances Control Act.
The petition referenced nearly 500 peer-reviewed scientific papers illustrating the widespread dangers of lead poisoning to scavengers that eat lead ammunition fragments in carcasses, and to waterfowl that ingest spent lead shot or lost lead fishing sinkers.
Since the original petition was filed, the groups say, more than 70 organizations in 27 states have voiced support for the lead ban, including those representing veterinarians, birders, hunters, zoologists, scientists, American Indians and physicians.
"Having hunted in California for 20 years I have seen firsthand lead poisoning impacts to wildlife from toxicity through lead ammunition," said Anthony Prieto, a hunter and cofounder of Project Gutpile, a hunters' group that provides educational resources for lead-free hunters and anglers.
"This is clearly not an anti-hunting initiative, it is about using less toxic materials for the sake of wildlife and our human health," said Prieto. "When I hunt, I want to make sure I kill only my target animal, and I want to use the least toxic ammunition possible since I will be feeding the game to my family."
The plaintiff groups point out that hunters and anglers in states that have restricted or banned lead shotgun ammunition or lead fishing gear have already made successful transitions to nontoxic alternatives, and fishing and hunting in those areas remains active. Alternatives continue to be developed, including the U.S. military's transition toward bullets made of non-lead materials.
"Over the past several decades Americans chose to get toxic lead out of our gasoline, paint, water pipes and other sources that were poisoning people. Now it's time to remove unnecessary lead from hunting and fishing sports that is needlessly poisoning fish and wildlife," said Karen Schambach of PEER. "Today's action is a step to safeguard wildlife and reduce human health risks posed by lead."
Copyright Environment News Service (ENS) 2010. All rights reserved.
© 2010 – 2012, Jim Crabtree. All rights reserved.