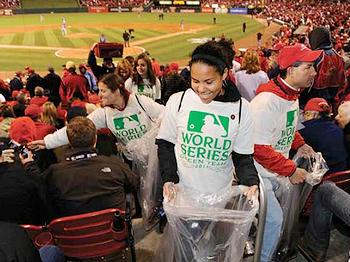 SEATTLE, Washington, September 5, 2012 (ENS) – When the second annual Green Sports Alliance Summit opens in Seattle today, some 400 sports executives and venue operators will each receive a fat new report on the greening of the $400 billion professional sports industry.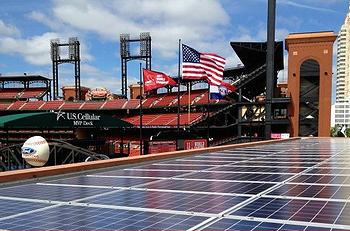 Compiled by the nonprofit Green Sports Alliance and the nonprofit Natural Resources Defense Council, which helped found the Alliance, the report features case studies of innovative greening initiatives from every major sports league across North America.
This major cultural shift has, over the past 10 years, transcended team and city allegiances and political parties to include more than 50 professional and collegiate teams, representing over 13 professional leagues and over 100 sports facilities now in the Green Sports Alliance, up from the six teams that founded the Alliance in 2011.
Entitled "Game Changer," the report is dedicated to actor-director Robert Redford as an NRDC Trustee and "father of the sports greening movement."
It features a preface by Major League Baseball Commissioner Bud Selig, who writes, "Environmental stewardship resonates with all of us who love baseball and seeing it played on green grass and under blue skies. As we strive to fulfill our social responsibilities, the national pastime will continue to protect our natural resources for future generations of baseball fans and set an example about which they can be proud."
Dr. Allen Hershkowitz, a senior scientist with NRDC and a co-author of report, told journalists on a teleconference today that the greening of professional sports is a major cultural shift that unites all sports and segments of society.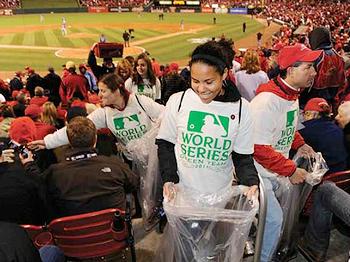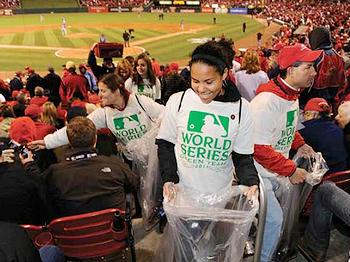 "Professional sports is a nonpartisan sector," Hershkowitz said. "Republicans, Democrats – sports is the great unifier. The fact is that all leagues, all commissioners have embraced environmental stewardship. I've been doing this work for 35 years and 10 years ago a preface by Baseball Commissioner Bud Selig would have been inconceivable – things have changed big time."
The report examines changes that leagues, teams and venues have made to operations and their supply chains since 2003, when the Philadelphia Eagles football team conducted the first green renovation of a professional sports stadium at Lincoln Financial Field.
The Natural Resources Defense Council served as a technical adviser on that first sports greening project and helped develop a wide-ranging greening initiative that went way beyond limiting carbon emissions.
Ten years later, the report shows, not only have millions of pounds of carbon emissions been avoided, millions of gallons of water have been saved, millions of pounds of paper products are being shifted toward recycled content or eliminated, and millions of pounds of uneaten food have been distributed to feed hungry people.
This year, Lincoln Financial Field will become the first stadium in the United States capable of generating 100 percent of its own energy through a mix of power from a generator that runs on natural gas and biodiesel, more than 11,000 solar panels and 14 micro wind-turbines.
Solar panels, wind turbines, recycling bins and composting programs, energy efficient LED lights and LEED certified venues – all these are making their appearances in sports stadiums and arenas across North America.
Even as sport as dependent on fossil fuels as auto racing is making changes. As the report points out, in August 2010, NASCAR's Pocono Raceway in Long Pond, Pennsylvania, became the largest solar-powered sports facility in the world. Pocono installed a 25-acre, 3-megawatt array in a former parking lot adjacent to the track. It consists of 40,000 American-made photovoltaic modules and is large enough to be seen from outer space.
The report's case studies show:
Of the 126 professional sports teams in the five major professional North American leagues, 38 teams have shifted to renewable energy for at least some of their operations, and 68 have energy efficiency programs.

All of the large sports concessionaires, that collectively feed tens of millions of people each year, have developed environmentally preferable menus for at least some of their offerings.

All Jewel events, including the World Series, the Super Bowl, the Stanley Cup playoffs, the NBA Playoffs and Finals, the MLS Cup, the US Open Tennis Championships and all of the league All-Star Games, now incorporate greening initiatives into their planning and operations.

All leagues educate their fans about environmental issues, in particular the need to recycle and to reduce energy and water use.
Martin Tull, executive director of the Green Sports Alliance, says the sports executives and facilities managers have embraced the greening of sports not only because it's the right thing to do but because it makes good business sense.
"We have not seen a lot of resistance," Tull told reporters today. "There are such obvious cost savings resulting from energy, water and waste audits. There has been little resistance and a lot of willingness to consider different strategies."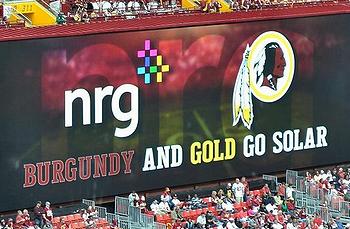 The challenges lie in building responsibility for these new initiatives into already huge work loads, he said.
Kathy Behrens, executive vice president for social responsibility and player programs with the National Basketball Association, told reporters, "This has been a great process for us and for our teams. Our teams have really learned from each other and from other leagues. We've fully embraced the notion that this is not one big change that needs to happen but many small things."
National Hockey League spokesperson Bernadette Mansour said the NHL Green initiative was announced at the 2010 Winter Classic and since then has sought the most energy efficient operations to reduce energy use and costs.
During the 2011-12 season, she said, NHL Green introduced Gallons for Goals, a pledge to restore 1,000 gallons of water to a critically dewatered river in Oregon for every goal scored during the regular season.
By season's end in April, working through the Bonneville Environmental Foundation's Water Restoration Certificate Program, Gallons for Goals had contributed more than 6.5 million gallons of water to replenish the Deschutes River.
By donating all untouched food to shelters, Mansour said the NHL has donated 220,000 meals to the needy, keeping this food out of landfills.
"We don't take any funding at all from any of the leagues, we're in this as their adviser," said Hershkowitz. In its advisory role, he said the NRDC has found "zero resistance" with leagues and teams.
"The big problem we have is finding cost-competitive environmentally sustainable products and services," he said.
"It's the built-in bias of the market that can be difficult," he said. "Four percent of GDP of the planet goes to support fossil fuels, so finding cheaper ways to recycle, to get recycled paper, better food, wind, solar and other renewable options is a real challenge."
"To their credit, the leagues have engaged in things cost them a little money, it helps prime and engage the market. What leagues and teams try to do is to work with existing vendors, cultivate exiting supply chains to join them," said Hershkowitz. "We're not looking to put anyone out of business, we're looking to help get ready for 21st century, to identify opportunities."
On Thursday, Hershkowitz will present a keynote address to the Green Sports Alliance Summit that will cover the report in detail, including 10 greening strategies that work.
On Thursday night, a gala event to benefit the Green Sports Alliance at Seattle's Safeco Field will celebrate Commissioner Selig's support and leadership in greening Major League Baseball by presenting him with an Environmental Leadership Award.
Copyright Environment News Service (ENS) 2012. All rights reserved.