South Carolina Publisher First to Use 100% Environmentally Certified Paper
MOUNT PLEASANT, South Carolina, February 17, 2010 (ENS) – The publisher of thousands of local and regional histories has become the country's first major book publisher to achieve the use of 100 percent Forest Stewardship Council certified paper across its entire book publishing program.
Arcadia Publishing, creators of the Images of America pictorial history books with distinctive sepia-colored covers, has more than 6,000 titles in print and will publish 700 new titles this year.
The company's average annual paper use, related to manufacturing books, is just over 400 tons.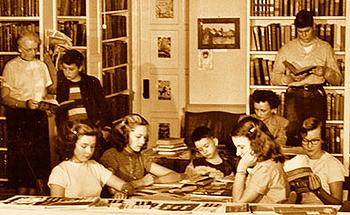 A photo of a library in Arcadia's trademark sepia style. (Photo courtesy Arcadia Publishing)
Arcadia's new releases and reprints now carry the accredited Forest Stewardship Council, FSC, label. Products using the FSC label are independently certified to assure consumers the paper comes from forests that are managed to meet the social, economic and ecological needs of present and future generations.
"Consistent with our commitment to help communities preserve history through local and regional history books, we have extended our efforts to improve the impact we have on our environment," said Arcadia Publishing CEO Richard Joseph.
Forest certification is a system of forest inspection plus a means of tracking timber and paper through a chain of custody, following the raw material through to the finished product.
This means forests, pulp providers, mills, merchants and printers must all obtain FSC certification in order for a published product to carry the FSC logo or label.
Customers who purchase FSC-certified paper and print products contribute to conservation, responsible management, and community level benefits for people living near the forests that provide FSC paper.

Logo of the Forest Stewardship Council
The FSC certification system is acknowledged to be far more rigorous than any other existing certification program and this demanding set of standards has resulted in wide support from major environmental groups. Greenpeace cites the FSC as "the only credible global certification system" and other environmental organizations supporting FSC include the National Wildlife Federation, The Nature Conservancy, Sierra Club, and World Wildlife Fund.
With the implementation of 100 percent FSC certified paper, Arcadia Publishing has surpassed the industry standards as identified in The Book Industry Treatise on Responsible Paper Use by 500 percent, and almost two years ahead of schedule.
The treaty, developed in 2006 by industry stakeholders and coordinated by the Green Press Initiative, calls for the publishing industry to aim to raise its use of FSC certified paper to a level of 20 percent by 2012.
Green Press Initiative Director Tyson Miller commends the company for its early success. "Arcadia Publishing's FSC achievement is quite an accomplishment and is a model for other publishers to consider and follow when it comes to supporting best practices in forest management," Miller said.
In addition to carrying FSC certification, each title prominently features a "Made in the USA" mark to highlight the company's commitment to American manufacturing.
All Arcadia books are manufactured in South Carolina on American-made paper that, on average, uses 10 percent recycled fiber, the majority of it made from postconsumer waste.
"We are proud our books are made right here in the USA," Joseph said. "Our books feature local history, are manufactured locally, and are written by local authors. Our focus is truly all about being local."
The FSC Mixed Sources chain-of-custody certification mark printed on Arcadia products has been granted to Arcadia's printer, Wentworth Printing of West Columbia, South Carolina, who adds it to Arcadia books.
Arcadia spokesperson PJ Norlander says, "The Forest Stewardship Council has also directly granted Arcadia Publishing a unique FSC identification code which allows us to promote our FSC-approved products."
Copyright Environment News Service (ENS) 2010. All rights reserved.