Obama Backs First New U.S. Nuclear Plant with $8.3 Billion
WASHINGTON, DC, February 16, 2010 (ENS) – President Barack Obama today announced that his administration is offering conditional commitments for a total of $8.33 billion in loan guarantees for the construction and operation of the first U.S. nuclear power plant to break ground in nearly three decades.
In Burke, Georgia, the two new 1,100 megawatt Westinghouse AP1000 nuclear reactors being constructed at the Alvin W. Vogtle Electric Generating Plant will supplement the two existing reactor units at the facility. As one part of the conditional loan guarantee deal, the U.S. Nuclear Regulatory Commission must determine if the AP1000 fulfills the regulatory requirements for a construction and operating license.
The Southern Company received an early site permit from the Nuclear Regulatory Commission last year and preliminary site work on the $14 billion project has begun. The two new nuclear generating units are expected to begin commercial operation in 2016 and 2017.
While the President said nuclear power is needed to avert the most disastrous effects of global warming, he also used his announcement to again urge Congress to pass legislation that will make utilities emitting the greenhouse gas carbon dioxide more costly to operate than clean energy generating stations.
Under that category Obama includes nuclear energy. "Those who champion the environmentment are opposed to nuclear power," Obama said, "but the fact remains that even though we have not broken ground on a nuclear plant in nearly three decades, nuclear power remains the largest source of power in the United States that produces no carbon pollution."
"To meet our growing energy needs and prevent the worst consequences of climate change, we need to increase our supply of nuclear power and today's announcement helps to move us down that path," Obama said.
"But energy leaders and experts recognize that as long as producing carbon pollution carries no cost, traditional plants that use fossil fuels will be more cost-effective than plants that use nuclear fuel. That is why we need comprehensive energy and climate legislation to create a system of incentives to make clean energy profitable," said Obama.
"What I hope this announcement underscores is both our commitment to meeting the energy challenge and our willingness to look at this challenge not as a partisan issue, but as a matter far more important than politics," Obama said.
"This is a significant step by the Obama Administration to restart our domestic nuclear industry, helping to create valuable long-term jobs and reduce our greenhouse gas emissions," Energy Secretary Steven Chu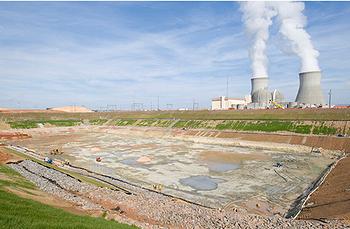 Plant Vogtle Unit 3 foundation excavation. Units 1 and 2 are in the background with water vapor rising from their cooling towers. (Photo courtesy Southern Company)
The announcement took place while the President visited a skills training facility jointly administered by IBEW Local 26 and local electrical contractors.
According to industry projections, the project will create some 3,500 onsite construction jobs. Once the nuclear reactors become operational, the project will create 800 permanent jobs.
President Edwin Hill of the International Brotherhood of Electrical Workers today said, "The loan guarantee for construction of a nuclear plant in Georgia is a prime example of what needs to be done to address the jobs crisis in our nation. The public and private sectors must work together. The jobs must go to people in the local areas so that their wages can be pumped back into the local community," said Hill. "And the fact that the project will help address our critical need for clean, reliable, safe energy is a major plus for the state of Georgia and by extension the entire country."
Project owners include Georgia Power Company, a Southern Company subsidiary; Oglethorpe Power Corporation; the Municipal Electric Authority of Georgia; and the City of Dalton, Georgia.
"We are honored by the administration's confidence in our ability to build the nation's first new nuclear plant in more than three decades," said Southern Company CEO David Ratcliffe. "It's an important endorsement in the role nuclear power must play in diversifying our nation's energy mix and helping to curb greenhouse gas emissions."
Anti-nuclear advocates point out that President Obama's present position on nuclear power contradicts Candidate Obama's campaign statements.
Michael Mariotte, executive director of Nuclear Information and Resource Service, a national organization based in Takoma Park, Maryland, called the announcement, "a repudiation of Obama's own campaign statements against subsidies for nuclear power, and the implementation of the worst energy policy excesses of the Bush administration and failed presidential candidate Sen. John McCain."
Candidate Obama told voters on December 30, 2007 that he opposed taxpayer subsidies for nuclear power as documented in video footage posted on You Tube.
During the election campaign, McCain called for construction of 45 new reactors in the U.S. by 2030. "Last time I checked," Mariotte said, "McCain lost the election. It's astonishing that his misguided and rejected energy policies live on. It is safe to say that no one voted for Obama in order to give taxpayer money to wealthy nuclear corporations."
In his announcement today, Obama anticipated these objections, saying, "There will be those who welcome this announcement and believe that it is long overdue. But there also will be those who strongly disagree. The same has been true for issues from offshore drilling to putting a price on carbon pollution."
"What I want to emphasize is this. Even when we have differences, we cannot allow those differences to prevent us from making progress. Our competitors are racing to create jobs," Obama said. "Japan and France have long invested heavily in the nuclear industry."
There are 56 nuclear reactors under construction around the world, 21 in China alone, six in South Korea, five in India, the President said. "The commitment of these countries is not just to generating jobs in these plants, it's to generating demand for expertise in new technologies."
"If we fail to invest in the technologies of tomorrow we will be importing those technologies instead of exporting them," warned Obama. "We will fall behind. Jobs will go overseas instead of in the United States, said Obama, and that's not a future I am willing to accept."
On the other side, said Obama, directing his remarks to Republican critics who may take aim at him for spending taxpayers' money on the loan guarantees, he said we must make sure the nuclear power industry is profitable.
The Energy Policy Act of 2005, passed during the Bush administration, authorized the Energy Department to issue loan guarantees for projects that avoid, reduce, or sequester air pollutants or anthropogenic emissions of greenhouse gases and employ new or significantly-improved technologies as compared to technologies in service in the United States at the time the guarantee is issued.
These are the first conditional commitments for loan guarantees to be offered by the DOE for a nuclear power facility since enactment of the 2005 law.
The Vogtle nuclear facility is eligible for loan guarantees because it reduces greenhouse gases and other pollutants.
Compared to a similar sized coal plant, the new Vogtle units will avoid greenhouse gas emissions each year amounting to: 16 million tons of carbon dioxide, 3,900 tons of nitrogen oxides, and 5,500 tons of sulfur dioxide.
Georgia's need for electricity is growing and is expected to increase by 30 percent over the next 15 years. When the new nuclear reactors come on line, they will provide reliable, base-load electricity capable of serving about 550,000 residences or 1.4 million people.
This is the fifth time that DOE has offered conditional commitments for a loan guarantee under The Energy Policy Act of 2005.
Other recipients of commitments for loan guarantees for innovative technology energy projects include Solyndra, Inc., a manufacturer of cylindrical solar photovoltaic panels; Nordic Windpower, USA, a maker of two-blade, one megawatt wind turbines; Beacon Power, an energy storage company; and Red River Environmental Products, an activated carbon manufacturing plant.
Copyright Environment News Service (ENS) 2010. All rights reserved.