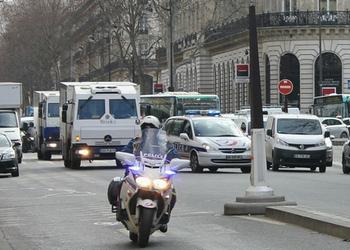 PARIS, France, March 18, 2014 (ENS) – In response to the thick blanket of smog that settled over Paris last week, Prime Minister Jean-Marc Ayrault limited city traffic on Monday to drivers with odd numbered license plates.
On Tuesday, only drivers with even numbered plates can use their vehicles.
Prime Minister Ayrault said he is aware of the difficulties that this may cause in the daily life of Parisians, but this extra step is necessary. The Prime Minister said he "trusts the spirit of responsibility and citizenship of each and everyone."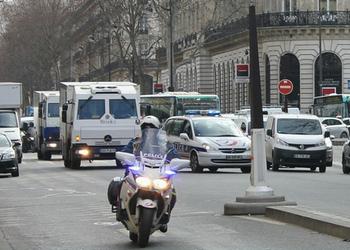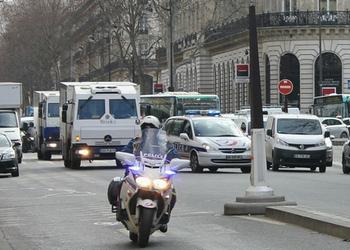 The restriction affects trucks over 3.5 tonnes, and all light vehicles, such as cars, scooters and motorcycles. Electric and hybrid cars are not affected, nor are vehicles powered by natural gas or liquefied petroleum gas.
Also exempted are cars carrying three or more people, police, fire, and emergency vehicles, as well as postal, money transport and garbage collection vehicles and those transporting perishable foods to markets, grocery stores, cafes and restaurants.
Other exemptions are extended to vehicles whose use is strictly necessary for the performance of professional activities such as taxis, press vehicles, motor coaches and school buses.
The Prime Minister's Office said that the 179 checkpoints set up by prefectural police "were positioned not to impede the flow of traffic and have caused no difficulty in movement." But drivers stuck in gridlocked traffic were not convinced.
While some drivers risked a fine of 22 to 75 euros, vehicle immobilization, or impoundment, by Monday noon only 27 offenders had their vehicles immobilized due to their non-cooperative behavior, authorities reported.
Officials also said 90 percent of vehicles in circulation in the capital were bearing an odd-numbered license plate.
Philippe Martin, minister of ecology, sustainable development and energy, said traffic volume Monday appeared to be in sharp decline.
On the four routes entering the Paris area – A6a, A6b, A14 and N118 – traffic was down about 25 to 30 percent during the morning rush, said Martin.
Parisians were allowed free access to public transportation over the weekend, including free rides on Paris's bike-sharing program, in an effort to reduce the smog.
In the Ile-de-France region, which includes Paris, officials measured 180 micrograms of particulate matter per cubic meter of air on Friday, far above the 80 micrograms per cubic meter maximum alert level.
A statement from the Prime Minister's office said the smog had thinned somewhat on Saturday, but a decision on whether to extend the traffic limiting measure will be made on Tuesday, when forecasters expect pollution levels to rise again.
The same measure was tried in 1997. At that time the Paris air quality monitoring body Airparif said it did improve air quality, although critics have taken issue with this assessment.
One critic of the current attempt says when a similar system was tried in Milan in the 1990s, people just drove each others' cars on the days they needed a odd or even number license plate, or bought a second car with the opposite number.
Another critic said when it was tried in Mexico City, people bought old, cheap second cars to drive on the days when their first cars were parked, but the older cars emitted even more pollution, making the smog problem worse.
The same odd-even license plate strategy has been used in Beijing. Just before the Beijing Olympic Games and again in October 2013, the Beijing Municipal Government issued an emergency-response orders requiring alternate driving days for cars with even-numbered and odd-numbered license plates because the city was enveloped in smog.
Copyright Environment News Service (ENS) 2014. All rights reserved.