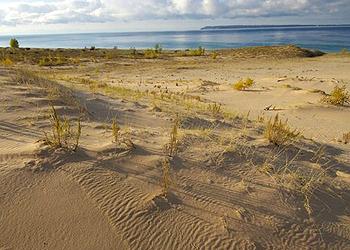 America's Newest Wilderness, WIPP Radiation Rumors, Efficient Commercial Cold  Storage, Pesticide in Nursing Homes, Court Lets Buffalo Roam, Colorado OKs GMO Ballot
Sleeping Bear Dunes National Lakeshore Declared Wilderness … Energy Dept: WIPP Radiation Rumors Not Founded … Commercial Fridges, Freezers to Be More Efficient … Guilty Plea: Pesticide Used Inside Georgia Nursing Homes … Montana Court Lets Buffalo Roam … Colorado Court Allows GMO Food Labeling Ballot
Sleeping Bear Dunes National Lakeshore Declared Wilderness
WASHINGTON, DC, March 18, 2014 (ENS) – President Barack Obama has signed into law a measure designating 32,557 acres of Sleeping Bear Dunes National Lakeshore in Michigan as wilderness, the first congressional designation under the Wilderness Act since 2009. It comes on the 50th anniversary of the Wilderness Act.
The 1964 Wilderness Act established the highest level of conservation protection for federal lands. It prohibits permanent roads and commercial enterprises, except commercial services that may provide for recreational or other purposes of the Wilderness Act. Wilderness areas do not allow motorized equipment, motor vehicles, mechanical transport, temporary roads, permanent structures or installation. Visitors can enjoy hiking, fishing, camping, and hunting.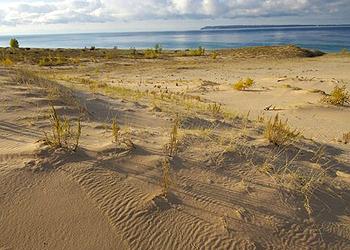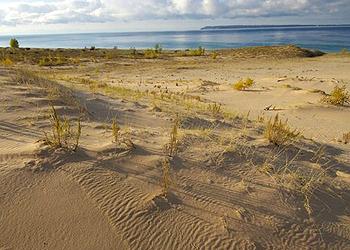 Secretary of the Interior Sally Jewell said, "President Obama and Congress have given the American people a priceless gift by ensuring that this extraordinary landscape with its towering sand dunes and bluffs will be preserved forever as wild and primitive."
"Hikers, anglers, paddlers and others who venture into this wilderness will find it just as the Ottawa and Chippewa tribes have for the past 3,000 years, a place of quiet solitude, spectacular views, and abundant wildlife," said Secretary Jewell.
"As we celebrate the 50th anniversary of the 1964 Wilderness Act this year, Sleeping Bear Dunes National Lakeshore is now our 50th national park with wilderness areas," said National Park Service Director Jonathan Jarvis. "Thanks to the commitment of local advocates and the Michigan congressional delegation, we can now improve our preservation efforts for this beautiful and significant national treasure."
The bill, S. 23, was sponsored by Michigan's two senators, Carl Levin and Debbie Stabenow, both Democrats. A companion bill was introduced in the House, H.R. 163, by Rep. Dan Benishek, a Republican.
"It is fitting that the bill to protect Michigan's Sleeping Bear Dunes is the first wilderness measure to be signed this year, the 50th anniversary of the Wilderness Act," said Mike Matz, director of U.S. public lands initiatives for The Pew Charitable Trusts.
"Just as that landmark legislation became law through the bipartisan efforts of Senator Hubert Humphrey, a Michigan Democrat, and Representative John Saylor, a Pennsylvania Republican, the Sleeping Bear Dunes act was championed by Republican Representative Dan Benishek and Democratic Senator Carl Levin. These Michigan legislators bridged the partisan divide in the interests of the local community. They've set a powerful example, and we hope this spirit of bipartisanship will help win approval for the rest of the nearly two-dozen measures now pending in Congress that would safeguard our wild landscapes."
Copyright Environment News Service (ENS) 2014. All rights reserved.
Energy Dept: WIPP Radiation Rumors Not Founded
CARLSBAD, New Mexico, March 18, 2014 (ENS) – The U.S. Department of Energy is assuring residents of New Mexico that a March 11 radiation leak at the Waste Isolation Pilot Plant is too small to be harmful to public health.
The Waste Isolation Pilot Plant, or WIPP, is a deep geological repository 26 miles east of Carlsbad. It stores transuranic, or low level, waste.
Transuranic waste consists of materials that have come in contact with radioactive substances such as plutonium and uranium, such as gloves, tools, rags and machinery used in the production of nuclear fuel and weapons.
Although much less potent than nuclear reactor byproducts, such as spent fuel, transuranic waste remains radioactive for 24,000 years.
Rising radiation levels have been measured in Carlsbad and around WIPP, yet Department of Energy officials say there is no proof the increasing levels are linked to the leak.
"An Internet rumor has been fueling concerns this week about the need to be prepared to evacuate southeastern New Mexico because of recent events at the Waste Isolation Pilot Plant. There is absolutely no basis for these rumors," the DOE's Carlsbad Field Office said in a statement Monday night.
"Monitoring conducted by Nuclear Waste Partnership of air, soil, water and vegetation are showing no radiation releases that would approach levels causing health concerns. Independent monitoring by the Carlsbad Environmental Monitoring and Research Center has reached similar conclusions," the DOE said.
"This is normal activity you would see even if WIPP had not been here," Carlsbad Environmental Monitoring and Research Center Director Russell Hardy told reporters. "If WIPP were three states away you would see this."
Hardy says the air filters in Carlsbad tested negative for the type of radiation that was leaked at the WIPP site. He blamed high wind speeds that caused natural radiation in soil to land on the monitoring filters.
But a series of incidents since early February have stoked public fears.
On February 5, a salt haul truck caught fire, causing an evacuation of WIPP's underground facility. Six workers were taken to hospital with smoke inhalation, and all were released by the next day. Lab tests after the fire showed no radiation release.
On February 15, authorities ordered workers to shelter in place at WIPP after air monitors detected unusually high radiation levels at 11:30pm the previous day. None of the facility's 139 workers were underground at the time of the incident, and none were exposed to radioactive contaminants. Later, trace amounts of airborne americum and plutonium particles were detected above ground, half mile from WIPP.
On February 26, Energy Department officials announced that 13 WIPP above-ground workers had tested positive for radiation exposure. Other employees are in process of being tested. Currently 182 employees continue to work above ground at WIPP.
Air sampling data from emission monitors at WIPP indicated that a "very small additional radiation release" occurred March 11, but with no expected health impacts to workers, the public or the environment, said Energy Department officials. Samples collected at the same monitoring station, both prior to and for 72 hours after this release, have indicated background levels.
New air data will be posted on Thursday of each week at: www.wipp.energy.gov. "Current data show that while occasional low level releases are anticipated, they are well below the standards designed to protect workers, the public and the environment," the Carlsbad Field Office said.
In a recent letter to New Mexico's senators, U.S. EPA Regional Administrator Ron Curry said that "initial field measurements combined with modeling of potential public exposures indicate that it is very unlikely that any exposures would approach regulatory limits or represent a public health concern."
New Mexico Environment Secretary Ryan Flynn told reporters, "Events like this simply should never occur. From the state's perspective, one event is far too many."
Copyright Environment News Service (ENS) 2014. All rights reserved.
Commercial Fridges, Freezers to Be More Efficient
WASHINGTON, DC, March 18, 2014 (ENS) – The Energy Department has announced new efficiency standards for commercial refrigeration equipment that will take effect in three years.
Commercial refrigerators, freezers and refrigerator-freezers are used to chill perishable products on display or in storage, including at grocery and convenience stores, restaurants and other food retail and food service establishments.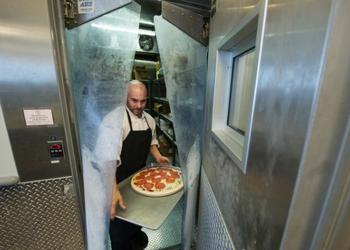 Since these products must be kept cold constantly, commercial refrigeration equipment operates 24 hours per day, 365 days per year.
A large grocery store refrigerator can consume up to 17,000 kilowatt-hours of power per year, while a large commercial freezer can use up to 38,000 kilowatt-hours of power per year.
The new efficiency standards established February 28 incorporate feedback from industry, consumer and environmental advocacy groups and other stakeholders.
They update the Energy Department's 2009 standards and will make the average commercial refrigeration unit about 30 percent more efficient, compared to the current standards.
"In our supermarkets and grocery stores, refrigeration can use almost 40 percent of total energy use – contributing a large portion of these businesses' utility bills. By improving the energy efficiency of commercial refrigeration equipment – like restaurant-size fridges or the deli case at your local grocery store – we can make our businesses more competitive, reduce greenhouse gas emissions and save money," said Energy Secretary Ernest Moniz.
Over the 30 years after they take effect, the new standards will help cut carbon pollution by about 142 million metric tons – equivalent to the annual electricity use of 14.3 million U.S. homes – and save businesses up to $11.7 billion on their energy bills, said Moniz.
During the Obama Administration, the Energy Department has finalized new efficiency standards for more than 30 household and commercial products, including dishwashers, refrigerators and water heaters.
Together these stricter standards are estimated to save consumers more than $400 billion and cut greenhouse gas emissions by 1.9 billion metric tons through 2030, according to the Energy Department.
Now the administration has set a new goal – efficiency standards for appliances and federal buildings set in President Obama's first and second terms combined will reduce carbon pollution by at least three billion metric tons in total by 2030.
The Energy Department says this equals nearly half the carbon pollution from the entire U.S. energy sector for one year.
Copyright Environment News Service (ENS) 2014. All rights reserved.
Guilty Plea: Pesticide Used Inside Georgia Nursing Homes
MACON, Georgia, March 18, 2014 (ENS) – An Alabama pesticide company owner pleaded guilty Friday in federal court in Macon to illegal application of pesticides in Georgia nursing homes. His employees routinely sprayed the pesticide Termidor indoors, contrary to the manufacturer's label instructions.
Steven A. Murray, 54, of Pelham, Alabama, owner of Bio-Tech Management Inc., admitted conspiracy, unlawful use of pesticides, false statements and mail fraud in connection with the misapplication of pesticides in the nursing homes.
According to the plea agreement, from October 2005 to June 2009, Murray and Bio-Tech provided monthly termite control services to nursing homes in Georgia by spraying the pesticide both inside and around their clients' facilities.
After the Georgia Department of Agriculture made inquiries regarding Bio-Tech's misuse of Termidor and other pesticides, Murray directed several of his Bio-Tech employees to change company service reports with the intent to obstruct an investigation.
"The defendants took advantage of some of our most vulnerable citizens by deliberately applying pesticides contrary to federal law in nursing homes around the state of Georgia," said Maureen O'Mara, special agent in charge of EPA's Criminal Enforcement Program in Georgia. "What is even more shameful is they then took steps to conceal it."
"These defendants misapplied potentially harmful pesticides around senior citizens and conspired to obstruct an investigation by state and federal law enforcement," said Acting Assistant Attorney General Robert Dreher of the Justice Department's Environment and Natural Resources Division.
"It is essential that companies and individuals who handle pesticides do so lawfully and honestly, and those that fail to do so will be held accountable under the law," he said.
"When our loved ones make the transition to a nursing home, the last thing any of us wants to worry about is whether our parents or grandparents are being subjected to improperly applied chemicals," said Michael J. Moore, U.S. Attorney for the Middle District of Georgia. "When Mr. Murray and his company used this pesticide like they did, they created a potentially harmful situation for the residents and another reason to worry for the residents' families."
Copyright Environment News Service (ENS) 2014. All rights reserved.
Montana Court Lets Buffalo Roam
HELENA, Montana, March 18, 2014 (ENS) – The Montana Supreme Court has affirmed the decision of a lower court that allows wild bison room to roam outside the northern boundary of Yellowstone National Park.
The ruling upholds a February 2012 decision by state agencies to allow bison seasonal access to their usual winter and early spring habitat outside the north boundary of the park in the Gardiner Basin area until May 1 of each year.
Park County had appealed the lower court ruling. The court ruled that Park County could not raise on appeal a claim they did not raise initially. Park County's appeal was dismissed.
The ruling rejects demands by some livestock producers and their allies to require aggressive hazing and slaughtering of bison that enter the Gardiner Basin area from Yellowstone National Park in the winter and early spring in search of food.
In two lawsuits filed in May 2011, the Park County Stockgrowers Association, Montana Farm Bureau Federation, and Park County, Montana sought to block implementation of the new policy and require state officials to adhere to outdated plans for bison hazing and slaughter.
Although the plaintiffs in the cases raised concerns about the potential for bison to infect cattle with brucellosis, the only two cattle ranchers operating year-round in the Gardiner Basin did not join the legal challenge.
"Today's state Supreme Court ruling represents a victory for all those who want to see wild bison as a living part of the Montana landscape," said Earthjustice attorney Tim Preso, who defended the bison policy in the case on behalf of the Bear Creek Council, Greater Yellowstone Coalition, and Natural Resources Defense Council.
"Now that the court has rejected claims requiring bison to be slaughtered at the park's boundaries, we can move forward to secure room for wild bison to roam outside of Yellowstone National Park over the long term," said Preso.
But the nonprofit advocacy group Buffalo Field Campaign said, "The Gardiner-area habitat expansion is not a solution to the serious challenges wild bison face in Montana, nor does it stop the slaughter. Mature bull bison will benefit. Mixed cow-calf family groups are not afforded the same tolerance."
"The new habitat available is seasonal, allowing bison to use portions of the Gardiner Basin for a few months. Hunting pressures have increased with this expanded habitat, and hazing of all wild bison in the Gardiner Basin will resume every spring," the Buffalo Field Campaign explained.
Because this is a state case, it does not stop Yellowstone National Park's capture and slaughter plans. Wild buffalo have barely been able to use the 75,000 acres of habitat that they have been granted, due to Yellowstone Park's buffalo capture and slaughter operations, and hunting just outside of Yellowstone's boundary, says the Buffalo Field Campaign.
Bison are the only native wildlife species still unnaturally confined to the political boundaries of Yellowstone National Park for any part of the year.
Copyright Environment News Service (ENS) 2014. All rights reserved.
Colorado Court Allows GMO Food Labeling Ballot
DENVER, Colorado, March 18, 2014 (ENS) – The Colorado State Supreme Court Thursday affirmed the title for Ballot Initiative #48 to label the presence of genetically modified foods, or GMOs, on food packaging.
The ruling rejects a challenge to the title of Right to Know Colorado's GMO ballot initiative by biotech, pesticide and grocery interests.
The Supreme Court ruling allows the grassroots Right to Know Colorado campaign to begin circulating petitions for signatures to place the initiative on the November 2014 ballot.
Colorado requires 86,105 valid signatures to be submitted by early August to place an initiative on the ballot, says Rick Ridder of Denver-based RBI Strategies and Research, political advisor to the Right to Know Colorado campaign.
The campaign plans to partner with local farmers, farmers markets, parents, faith-based organizations, natural, organic and non-GMO food retailers, and other health, sustainability and consumer advocacy organizations to gather the signatures needed.
"We are pleased that the state Supreme Court ruled in favor of the GMO labeling ballot title, and we look forward to bringing a GMO labeling initiative before the voters of Colorado this fall," said Larry Cooper, one of the proponents of the Right to Know Colorado initiative.
"Coloradans have the right to know what is in their food, and to make purchasing decisions for their families based on knowing whether their foods are genetically engineered, and we believe they will have that opportunity after November," he said.
Colorado joins more than two dozen other states, including Oregon, Arizona, Vermont, New Hampshire, New York and Pennsylvania, in calling for GMO labeling legislation.
But GMO ballot measures face a high hurdle that other states have failed to clear.
In 2012, California's Proposition 37 for labeling of GMO foods failed narrowly after the opposition spent over million dollars to defeat it, and Prop 522 in the state of Washington also failed by a narrow margin.
GMO labeling proponents in both states will try again this year.
In November 2012, the financial support for the pro-labeling groups weighed in at $8.7 million.
But support from Monsanto, Dupont, PepsiCo, the Grocery Manufacturer's Association, DOW Agrisciences, Bayer Cropscience, Syngenta, Kraft and Coca-Cola, among others filled the opposition's coffers with more than $45 million.
With no federal GMO labeling requirements in place in the United States, an estimated 80 percent of conventional processed foods contain ingredients derived from genetically engineered corn, soy, canola and sugar beets.
The national GMO labeling advocacy organization Just Label It says more than 90 percent of U.S. consumers surveyed want mandatory labeling of GMO foods.
At least  64 countries require labeling of genetically modified foods.
Copyright Environment News Service (ENS) 2014. All rights reserved.