Shipping Industry Open to Paying for Carbon Emissions
DURBAN, South Africa, December 2, 2011 (ENS) – The global shipping industry has joined with international nonprofit organizations to recommend that governments at the United Nations climate change conference in Durban give the International Maritime Organization clear guidance on reducing emissions of carbon dioxide from commercial shipping.
The international aid agency Oxfam, the global conservation organization WWF, and the International Chamber of Shipping, which represents 80 percent of the world's merchant fleet, today issued a joint call to delegates to recognize that placing a charge on carbon emissions by ships can help control climate change.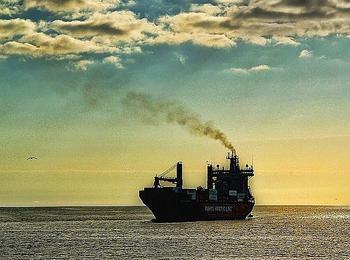 Cargo ship leaves a trail of smoke over Icelandic waters, May 2010. (Photo by Coldpix)
The International Maritime Organization is the UN agency with responsibility for the safety and security of shipping and the prevention of pollution by ships.
"The international shipping industry is firmly committed to reducing its CO2 emissions by 20 percent by 2020, with significant further reductions thereafter," said ICS Secretary General Peter Hinchliffe. "However, the Durban Climate Change Conference needs to give the International Maritime Organization a clear mandate to continue its vital work to help us deliver further emission reductions through the development of market-based measures."
The shipping industry hopes that governments at the conference will respond positively to the IMO's July agreement to adopt a package of technical measures to reduce CO2 emissions from the shipping industry.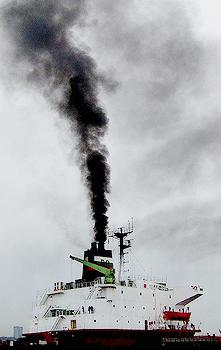 Cargo ship spews black smoke near Istanbul, Turkey, January 2010 (Photo by G. Koftis)
By 2030, these measures are expected to reduce ships' emissions by 25 to 30 percent compared to business as usual. To date, this is the first international agreement containing binding and mandatory measures to reduce CO2 emissions that has been agreed for an entire industrial sector.
Samantha Smith, leader of WWF's Global Climate and Energy Initiative, said, "We are very pleased that the shipping industry acknowledges its responsibility to play its part in further reducing greenhouse gas emissions. With around three percent of the world's total emissions, full participation of the shipping sector will help greatly towards keeping global warming below the two degree Celsius target agreed by governments. Putting a charge on carbon in the global shipping sector can have huge benefits in meeting our climate change objectives."
"We agree with shipowners that the best place to work out the details of how shipping's emissions can be tackled using market based measures will be at the International Maritime Organization, and that a strong political signal by political leaders in Durban showing their determination to make progress on this will help accelerate that process," said Smith.
Oxfam climate change policy advisor Tim Gore said, "We welcome the constructive engagement of the shipping industry in the search for solutions to the climate crisis. Industry and civil society actors agree that shipping emissions can be regulated in a way which is fair to developing countries and could help generate the resources they need to tackle climate change."
"It's vital that governments meeting this month at the UN climate talks in Durban give the signal needed to move such a deal forward in the International Maritime Organization."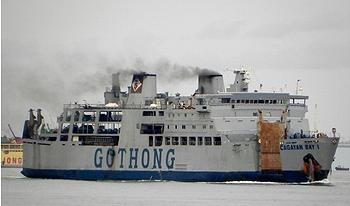 Ship lays a trail of smoke over Philippine waters, June 2010. (Photo by bo0ordz)
This includes the possibility that the IMO may adopt a compensation mechanism through which a share of any emissions-related revenues collected from international shipping could be directed to developing countries and provide a new source of funding to support their climate change efforts.
Such revenues could be directed through the annual US$100 billion Green Climate Fund, which was agreed at the 2010 UN climate conference in Canun and is being discussed by government representatives in Durban.
Hinchliffe said, "If governments decide that shipping should contribute to the UNFCCC Green Climate Fund, the industry can probably support this in principle as long as the details are agreed at the IMO, with the industry's clear preference for a market-based mechanism being a compensation fund linked to the fuel consumption of ships, rather than an emissions trading scheme."
But negotiations in Durban over setting up the Green Climate Fund were hampered by the U.S. rejection of a proposal on how to raise US$100 billion a year for developing countries to fight climate change.
The U.S. rejection, as well as with reservations from some other countries, broke the general consensus that the agreement for the Green Climate Fund, while still imperfect, could be adopted and operational soon after next year's UN climate negotiations in Qatar.
Copyright Environment News Service (ENS) 2011. All rights reserved.