Obama Catalyzes $4 Billion Worth of Building Energy Upgrades
WASHINGTON, DC, December 2, 2011 (ENS) – Buildings across the United States will get nearly $4 billion in combined federal and private sector energy upgrades over the next two years, President Barack Obama and former President Bill Clinton jointly announced today.
These investments will be made as part of the Better Buildings Initiative launched by President Obama in February to make America's buildings 20 percent more efficient over the next decade. The investments will save billions in energy costs, promote U.S. energy independence, and, according to independent estimates, create tens of thousands of jobs in the hard-hit construction sector.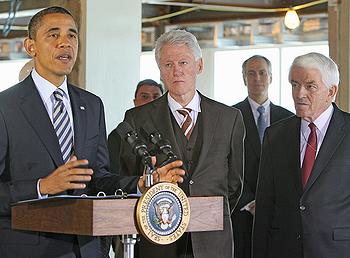 From left, President Barack Obama, former President Bill Clinton, U.S. Chamber of Commerce head Tom Donohue announce $4 billion in building energy upgrades. (Photo courtesy U.S. Chamber of Commerce)
"Upgrading the energy efficiency of America's buildings is one of the fastest, easiest, and cheapest ways to save money, cut down on harmful pollution, and create good jobs right now," said President Obama. "But we can't wait for Congress to act. So today, I'm directing all federal agencies to make at least $2 billion worth of energy efficiency upgrades over the next two years – at no up-front cost to the taxpayer."
The $4 billion investment announced today includes a $2 billion commitment, made through the issuance of a Presidential Memorandum, to energy upgrades of federal buildings using long term energy savings to pay for up-front costs, at no cost to taxpayers.
Today's Presidential Memorandum calls for fully implementing existing federal authority to utilize Energy Savings Performance Contracts, ESPC, in order to promote energy efficiency and create new jobs.
Under the ESPC program, new energy efficient equipment is installed at federal facilities at no up-front cost to the government. The cost of the improvements is paid for over time with energy costs saved on utility bills, and the private sector contractors guarantee the energy savings.
In addition to energy upgrades to federal buildings, 60 CEOs, mayors, university presidents, and labor leaders today committed to invest nearly $2 billion of private capital into energy efficiency projects. They pledged to upgrade energy performance by a minimum of 20 percent by 2020 in 1.6 billion square feet of office, industrial, municipal, hospital, university, community college and school buildings.
Last year, commercial buildings consumed roughly 20 percent of all the energy used by the U.S. economy.
President Clinton said, "Investments in building retrofits and energy efficiency can make a real difference in the American economy, by creating jobs, growing our industries, improving businesses' bottom lines, reducing our energy bills and consumption, and preserving our planet for future generations."
Today's announcement builds on a commitment made by 14 partners at the Clinton Global Initiative America meeting in June to make energy upgrades across 300 million square feet, and to invest $500 million in private sector financing in energy efficiency projects.
"I am proud the Clinton Foundation has been able to help develop and grow President Obama's Better Buildings Challenge, and that so many members of the Clinton Global Initiative have joined this Challenge. Working together, I am pleased the commitments to the BBC have grown from the initial $500 million and 300 million square feet that we announced in June at CGI America, to the $2 billion investment with over one billion square feet of retrofitted space that we are announcing today."
Both the U.S. Chamber of Commerce and organized labor are behind the Better Buildings Challenge, part of the Better Buildings Initiative.
The American Federation of Labor and Congress of Industrial Organizations, AFL-CIO, representing 57 unions, will undertake an energy-efficiency retrofit of its own Washington, DC headquarters to serve as a signature component of the Better Buildings Challenge.
In addition, the AFL-CIO will work with existing real estate-focused investment funds to invest $150 million of capital in energy efficient retrofits of commercial, multifamily, institutional and public buildings
AFL-CIO President Richard Trumka said today, "The Better Buildings Initiative has all the components to make a real difference. It will create profitable investment opportunities for worker pension funds, create badly needed good jobs, increase America's competitiveness around energy savings, and address the dangers of climate change."
The U.S. Chamber of Commerce praised the Obama administration for renewing the focus on energy efficiency. Chamber president and chief executive Thomas Donohue called the ESPC program, "a surefire way to create jobs and make our nation's federal buildings more energy efficient, all without using a penny of taxpayer money."
"Despite the benefits of ESPCs, the program has been grossly underutilized," Donohue said "We have urged lawmakers to address the impediments that are preventing federal agencies from taking advantage of the program. This $2 billion program is a small step toward creating jobs and increasing our energy security. What we need is a leap forward, and I hope we can build on the momentum and adopt more commonsense policies that will put Americans to work."
"Coupled with today's extraordinary private sector commitments of $2 billion to upgrade businesses, factories, and military housing, America is taking another big step towards the competitive, clean energy economy it will take to win the future," said President Obama.
Some of the largest U.S. corporations are participating in the Better Buildings Challenge.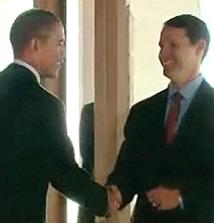 Transwestern chief Larry Heard welcomes President Barack Obama to 815 Connecticut Ave, December 2, 2011. (Photo courtesy Transwestern)
Obama and Clinton announced the new $4 billion in energy efficiency investments at 815 Connecticut Avenue in Washington, DC, an office building managed by Transwestern that is being retrofitted to increase its energy efficiency. The national, commercial real estate services, investment and development firm is committing 442 office buildings, totaling 78 million square feet of its managed portfolio to the Better Buildings Challenge.
Transwestern president and chief executive officer Larry Heard said today, "For us, there's a real business case for green. Optimized operations yield heightened financial performance, which enables our clients to maximize their returns. We are pleased to be recognized by the government and administration for our leadership in energy efficiency and sustainability."
The manufacturing company 3M aims to reduce energy use an additional 25 percent by 2015 in 37 million square feet of building space. 3M says it will "maintain a focus on transparency around a capital set aside for energy efficiency projects, and highlight an innovative recognition program that rewards top performing plants."
The aluminum company Alcoa has made a commitment of improving energy efficiency by 25 percent across 30 million square feet of industrial plant space in 30 plants by the year 2020.
Alcoa will showcase a $21 million investment in an expansion of its Barberton, Ohio facility with a new 35,000 square foot building to produce new wheels from re-melted and scrap aluminum, the first plant of its kind in North America.
As a Better Building Challenge Partner, Ascension Health has committed to a 20 percent reduction in energy use by 2020 across 30 million square feet of acute care hospitals and related facilities.
CBRE, the world's largest commercial real estate services firm, has committed to an average 20 percent energy reduction target by 2020 across an initial portfolio of 25 million square feet of buildings nationwide. CBRE will provide resource and training support to its management staff, implement no cost and low cost opportunities to increase operating efficiencies and encourage capital funding from clients to perform equipment and retrofit upgrades.
HEI Hotels & Resorts located in Norwalk, Connecticut is a hospitality owner and operator of upscale and luxury hotels, including Marriott, Renaissance, Westin, Le Meridien, Sheraton, "W", Hilton, Embassy Suites and Crowne Plaza. As part of their participation in the Better Buildings Challenge, HEI has committed to reducing the energy use in its 10 million square feet of building space 20 percent by 2020.
Jones Lang LaSalle, the real estate services and investment management firm, is committing to improve energy efficiency at large properties totaling 98 million square feet across its U.S. portfolio, to achieve a 20 percent energy reduction by 2020.
Nissan North America has committed to reducing energy usage in its three U.S. auto plants 25 percent by 2020, affecting 12 million square feet of plant space as part of the Better Buildings Challenge.
Prologis, a global provider of industrial real estate, has made it "a key priority" to work with its U.S. customers to reduce energy consumption in 100 million square feet by 20 percent by 2020.
RREEF Real Estate, the real estate investment management business of Deutsche Bank's Asset Management division, today announced its participation in the Better Buildings Challenge with a commitment to reduce the energy consumption across a portfolio of at least five million square feet of U.S. commercial office buildings by 20 percent by 2020.
"Our participation in this important initiative underscores RREEF Real Estate's commitment to sustainability," said Pierre Cherki, global head of RREEF Real Estate. "We fundamentally believe that our efforts will deliver long-term value to the investments we manage for our clients."
Walgreens, the nation's largest drugstore chain, is committing to reducing energy use by 20 percent by 2020 across its portfolio of 125 million square feet through its partnership in the Better Buildings Challenge. With 7,700 drugstores in all 50 states, the District of Columbia and Puerto Rico, Walgreens will reduce its energy consumption and carbon footprint through investment in energy-efficient technologies, installation of energy management systems in thousands of locations and solar power installations at more than 130 locations.
Universities on board include: Delaware State University; Michigan State University; University of California, Irvine; University of Hawaii at Manoa and the University of Utah.
Cities and states also have joined the Better Buildings Initiative, including the city of Denver, the state of Minnesota and the state of Iowa.
The nation's capital, Washington, DC, is committing to reduce energy consumption in over 90 million square feet of city and privately held buildings in the downtown core by at least 20 percent by 2020. The DowntownDC Business Improvement District and the DowntownDC ecoDistrict have accepted the Better Buildings Challenge in partnership with the District of Columbia and Mayor Vincent Gray. The District's Sustainable Energy Utility is a one-stop shop for energy efficiency solutions, resources and energy efficiency financing tools targeted to commercial building owners.
Copyright Environment News Service (ENS) 2011. All rights reserved.