Shell Abandons Plans for Summer 2011 Drilling Off Alaska Coast
ANCHORAGE, Alaska, February 4, 2011 (ENS) – Due to a complex permitting situation that is still unresolved, Shell Oil has abandoned its plan to drill in Alaska's Beaufort Sea in the summer of 2011, deferring any drilling there to the summer of 2012.
"This is not an environmental issue," said Pete Slaiby, vice president for Shell Alaska, in media briefing about Shell's drilling decision on Thursday. "We have made significant and voluntary capital improvements in the air emissions technology we have applied to the entire [drilling] program that will allow us to have almost no material impact on the Arctic air shed."
"It is an issue of processing a permit application in a timely way," said Slaiby. "We have been in this process, trying to achieve an air permit, now for five years."
But environmental and indigenous groups who have been fighting Shell's drilling plan in the courts since 2007 contend that Shell's drilling is an environmental issue.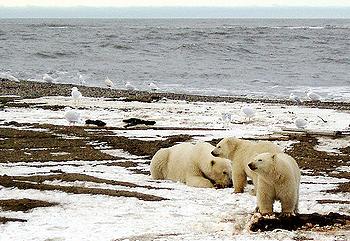 Polar bear mother and cubs on the shore of the Arctic National Wildlife Refuge overlooking the Beaufort Sea. (Photo by P. Burns)
The drilling was planned for waters just offshore the Arctic National Wildlife Refuge and directly in areas used by endangered bowhead whale for migration, feeding and resting. The proposed drilling threatened to harm wildlife and coastal Alaska Native communities that depend on the ocean to sustain their unique subsistence culture, said attorney Erik Grafe with the nonprofit law firm Earthjustice.
"Shell was still required to obtain a number of authorizations before it could have drilled in 2011," said Grafe. "It required an authorized exploration plan and consideration of revisions to its oil spill plan from the Department of Interior, permits from the National Marine Fisheries Service and the US Fish and Wildlife Service to incidentally harass marine mammals, and air and water discharge permits from EPA, to name a few."
"We need to apply the lessons from the Gulf before we decide whether to drill in Arctic," said Grafe. "Shell's plans were ill conceived from their inception because there is no way to clean up an offshore oil spill in the Arctic Ocean."
In 2009, following a lawsuit and appeal over Shell's earlier attempt to obtain air permits for drilling on the Arctic Outer Continental Shelf, Shell again applied for permits to drill in the Chukchi Sea and Beaufort Sea in the summer of 2010.
The EPA issued those permits in April 2010, the same month that BP's Deepwater Horizon oil rig exploded and sank in the Gulf of Mexico, unleashing the biggest offshore oil spill in U.S. history.
The Native Village of Point Hope and eight environmental organizations appealed the permit approval to the federal Environmental Appeals Board, a panel of judges with jurisdiction over the EPA.
At this point in the permitting process, on December 30, 2010, the Environmental Appeals Board sent Shell's Beaufort Sea air quality permit back to the EPA, for changes.
The Board ruled that the EPA's definition of a stationary emissions source was flawed and said the permit should have been framed to take account of a new rule for the emissions of nitrogen oxides. But the ruling did not include all claims raised by the appeal of the EPA permit.
On January 21, the EPA filed a petition with the Board, requesting clarification of its ruling and asking for a ruling on all issues in the appeal or exclusion of the unresolved claims from the remand.
The EPA also requested a ruling on whether or not any appeal of the revised permit should be heard in federal court, or before the Board.
Environmentalists are declaring a temporary victory.
Sierra Club Lands Protection Program Director Athan Manuel said, "Shell Oil's decision to abandon its proposal to drill in Alaska's Arctic seas this year is a victory for worker safety and the environment. The BP disaster in the Gulf of Mexico – the largest oil spill in our nation's history – is a stark reminder of the dangers that come with the risky business of drilling."
"In the uncharted and largely unknown conditions of the Arctic and with limited capacity to respond to spills in harsh conditions, the Arctic should not be an option for corporate polluters who are already reaping in massive profits," said Manuel. "The cold truth is there is no way to clean up an Arctic spill."
Shell has emphasized that Arctic drilling would be in shallower water than BP's Macondo well, and that the risk of a spill is minimal.
The company said it plans to position a second drilling ship in Alaska as a safety precaution, to have it ready to drill a relief well if necessary in case of a blowout.
But Grafe of Earthjustice says that even if there is no spill, the environment would suffer from Beaufort and Chukchi Sea drilling. "Shell's 514-foot-long drill ship and an armada of support vessels and aircraft would patrol both seas, emitting tons of pollutants, including heat-trapping gases and black carbon, into the air, and thousands of barrels of waste into the Arctic Ocean."
Secretary of the Interior Ken Salazar has suspended applications for drilling permits on the Arctic Outer Continental Shelf and has announced no schedule for lifting the suspension.
Copyright Environment News Service (ENS) 2011. All rights reserved.