Militants Kidnap WWF-India Tiger Census Volunteers
GUWAHATI, Assam, India, February 7, 2011 (ENS) – Armed and masked militants have abducted six young volunteers, including three women, working with WWF-India on a tiger census in Manas National Park in the Himalayan foothills on the border of India and Bhutan.
The volunteers were carrying out field monitoring for the All India Tiger Estimation Project in the park's Ultapani area, some 200 kilometers west of Guwahati when the abduction occurred Sunday afternoon.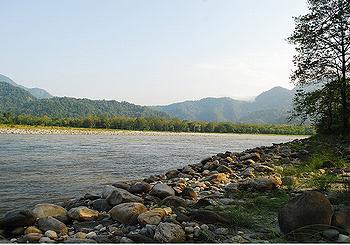 Tiger reserve in Manas National Park (Photo by WildSunny)
"They were accompanied by members of a local wildlife NGO, but the militants segregated the group and whisked them away at gunpoint," said a police spokesperson.
Police are hunting for the perpetrators, and WWF-India is working closely with the government authorities at different levels to trace the missing volunteers.
Dr. Anupam Sarmah, WWF India's senior coordinator in Assam, is representing the global conservation organization in talks with the authorities. Other senior members of WWF-India are also present and are monitoring the situation, the group said.
"We have also been informed that the volunteers are safe," WWF-India said, adding, "The Bodoland Territorial Council and the state government authorities are working to resolve this crisis."
"A group of about 20 armed militants kidnapped them while they were carrying out tiger and elephant counting and monitoring exercises inside Manas National Park," Kampa Borgoyary, deputy chief of the Bodoland Territorial Council told the "Hindustan Times."
The newspaper gave the names of the abducted WWF volunteers as: Saiyad Naushad Jaman, Pranjit Kumar Saikia, Tarali Goswami, Gautam Kishore Sharma, Srabana Goswami and Pallabi Chakraborty.
The NGO community in Assam has appealed for the safe and immediate release of the volunteers.
In a statement issued Sunday the NGOs said, "These volunteers are innocent students from our own native state and educational institutions. The NGOs hope that good sense will prevail and the volunteers will be immediately released unharmed in order to enable the civil society organizations and their workers to contribute towards nature conservation – especially for the communities living in and around the forested areas."
Manas park is a tiger reserve and is inhabited by 22 of the 41 endangered wildlife species listed under India's Wildlife Act, including the Indian rhinoceros and Indian elephant.
The UNESCO World Heritage Committee proclaimed Manas National Park to be a World Heritage Site in 1985, but it was placed on the list of World Heritage in Danger in 1992 after tribal militants gained control of the park.
Copyright Environment News Service (ENS) 2011. All rights reserved.