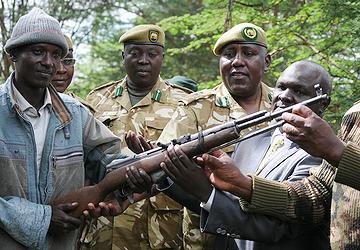 ISIOLO, Kenya, December 31, 2013 (ENS) – A self-confessed serial poacher in Kenya's world-renowned Lewa Downs Conservancy has surrendered and given himself up to the authorities in Isiolo County.
Keleshi Parkusaa, 39, surrendered a gun and 10 rounds of ammunition at a public forum on Monday. The forum was organized by the nonprofit conservancy and the Kenya Wildlife Service and was witnessed by elders from the Samburu community, Isiolo County administrators and the police.
Parkusaa, a former employee of Lewa Downs Conservancy, told a hushed audience how he organized the killing of wildlife even when he was employed to protect them for three years. "While working here, I used to director fellow poachers on where to locate rhinos in the conservancy and would derail fellow game scouts to the opposite direction," he told the attentive crowd.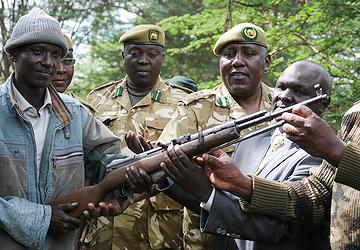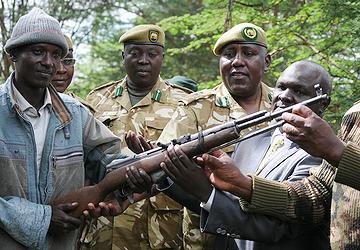 His latest slaughter was on December 12, when he and his two accomplices used their illegally acquired gun to shoot dead a huge rhino in the conservancy.
Ian Craig, a shareholder of the conservancy and a member of KWS Board of Trustees, termed the killing "most unfortunate," noting the felled rhino was the biggest the 30-year-old conservancy has ever had.
Spanning 61,000 acres, Lewa Downs Conservancy is inhabited by more than 11 percent of Kenya's black rhino population, over 14 percent of Kenya's white rhino population and the world's largest single population of Grevy's zebra.
Poachers have killed seven rhinos in the conservancy this year.
The reformed poacher confessed of having been personally engaged in the killing of two rhinos with his four accomplices.
"We sold the horn of one of the rhinos and each of us got Sh300,000, but this only helped to ruin my life," he said.
The management of the conservancy was suspicious of Parkusaa, and he was once arrested and charged at an Isiolo court for suspected poaching. He was released on bail with elders from his community assisting him to raise the bond. The case is still pending in court and he has since been fired.
"Sometimes buyers of contraband wildlife products get them from us promising to pay later but never show up," a pensive Parkusaa said. The father of four said the buyers are from all nationalities, including Asians, Europeans and Africans.
An elder from Parkusaa's Samburu community Karumba Ole Melinyo said old men will perform rituals to "cleanse" their wayward son and advise him on alternative sources of income like livestock rearing.
Kenya Wildlife Service Senior Assistant Director Robert Muasya said the reformed poacher's case will be considered with a view to pardoning him and urged community elders to encourage more poachers to come forward and publicly denounce their illegal activities.
He said Kenya has lost 60 rhinos to poachers this year and appealed to community leaders to join hands with the Kenya Wildlife Service to apprehend them.
Muasya expressed optimism that with the new Wildlife Conservation and Management Bill, 2013 now passed into law, the punitive penalties spelled out will deter would-be poachers.
Copyright Environment News Service (ENS) 2013. All rights reserved.
© 2013, News Editor. All rights reserved.