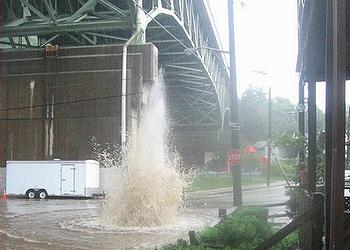 WASHINGTON, DC, March 1, 2013 (ENS) – Air and water quality, national parks and surrounding communities, and clean energy development will be hard hit by across-the-board spending cuts in the federal budget that took effect today.
President Barack Obama and Congressional leaders came out of a White House meeting this morning without resolution to the budget impasse, known in Washington as the sequester. Each side blames the other, but regardless of who is to blame, the sequester means painful cuts to natural resource and environment services across the country.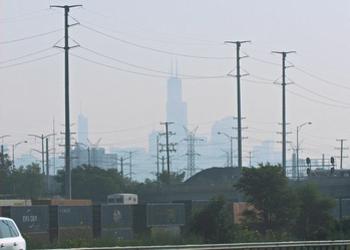 Under the Budget Control Act of 2011, the sequester requires budget cuts of $1.2 trillion over 10 years. The first round of cuts will be about $85.3 billion for the fiscal year ending September 30.
Frances Beinecke, president of the nonprofit Natural Resources Defense Council, said, "This is not political theater. The budget cuts are real and they are going to hit home. They strike at the core of essential health and environmental programs that many Americans depend upon."
"Take the air we breathe," Beinecke said. "The Environmental Protection Agency has said it will have to cut back on air pollution monitoring. As a result, local officials will have a harder time warning senior citizens and asthma sufferers about bad air quality days, and parents and coaches will have a tougher time knowing if it is safe for children to play outside."
Some 40 percent of the U.S. EPA's total budget is redirected to the states through programs such as the clean water and drinking water state revolving funds and grants issued under the Clean Air Act.
As a result, local drinking water quality and wastewaster management will suffer, warns Wenonah Hauter, executive director of the nonprofit Food & Water Watch.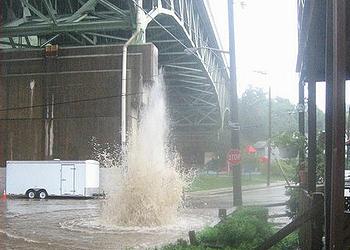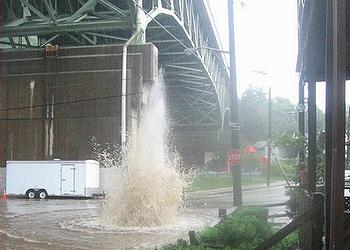 Municipal water supplies, already underfunded to the tune of about $30 billion a year, will lose millions more. "With the sequestration, the State Revolving Funds, the most common mechanism through which communities receive federal support for their drinking and wastewater systems, could be cut by about six percent, or $135 million, says Hauter, citing figures from the Associated General Contractors of America.
"The consequences of inadequate funding for our essential drinking and wastewater systems would be nothing short of tragic," Hauter said today. "Perhaps the policymakers currently locking political horns over the federal budget would be quicker to avert the sequestration if they anticipated the water main breaks, tainted drinking water and sewage overflows that could afflict communities when austerity measures hit."
Secretary of the Interior Ken Salazar told reporters that the public should expect reduced hours and services not only at America's 398 national parks but also at the 561 national wildlife refuges and over 268 public land units.
"The sequester threatens to derail all the 398 economic engines that are our national parks," Salazar said.
National Parks continued to be important to the economies of local communities, with visitors generating $30.1 billion in economic activity and supporting 252,000 jobs nationwide in 2011, according to a peer-reviewed report released this week by the National Park Service.
The statistics for 2011 are based on the spending of nearly 279 million national park visitors; more than one third of that total spending, or $13 billion, went directly into communities within 60 miles of a park. The numbers are on par with previous years.
Park professionals and nonprofit advocates say the upcoming $110 million cut to the National Park Service budget will not only be devastating to the parks themselves, but to the businesses and communities that rely on them to drive sales, and to families that rely on national parks as affordable and inspiring destinations.
In a letter addressed to President Obama and Congress, businesses emphasized how reducing park budgets kills jobs. Kirk Hoessle, local business owner of Alaska Wildland Adventures said, "Congress needs to understand that my business suffers when Denali National Park suffers from cuts. Not only do we need to keep park roads and visitor centers open, but we need to make sure visitors have a great experience."
National Park Service Director John Jarvis says the spending cuts will mean reduced hours of operation for visitor centers, shorter seasons, and closing campgrounds, hiking trails, and other recreational areas when there is insufficient staff to ensure the protection of visitors, staff and resources.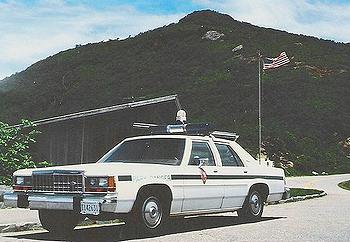 The National Park Service will be forced to impose a hiring freeze; the thousands of seasonal workers usually hired each year will not be hired in 2013.
Jarvis said, "We are taking essentially a full year cut in the second half of this year – we have to absorb the five percent cut. We have asked each park to identify what they will have to do."
Blue Ridge Parkway would cut 21 seasonal interpretive ranger programs, which would result in the closure of 50 percent of its visitor center-contact stations at the country's most-visited national park. By eliminating these seven stations, an 80 mile distance will be put in between each open facility.
Great Smoky Mountains National Park will close five campgrounds, affecting local businesses.
Luke Hyde, owner of the Calhoun Country Inn near Great Smoky Mountains National Park in Bryson City, North Carolina, said, "The basic truth is that gateway community businesses depend on our national parks being open and properly funded. Our economy depends on their economy."
At Mammoth Cave National Park in Kentucky, public tours will not take place, affecting hundreds of thousands of visitors to nearby cities such as Asheville, North Carolina.
The Gettysburg National Military Park will be closed for part of this year, affecting many people who would have come to mark 2013 as the 150th anniversary of the Battle of Gettysburg, Jarvis said.
Gettysburg National Military Park must eliminate 20 percent of its Student Education Programs during the spring, which will impact 2,400 students.
In the West, Yellowstone and Glacier National Parks will delay plowing the snow off roads to open those parks. Jarvis says that will severely impact local towns such as Jackson Hole. "Their season can mean as much as a $1 million per day to the local economy," he said.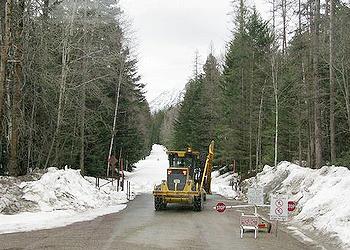 Glacier National Park's Going-to-the-Sun Road would delay its reopening by two weeks, affecting an estimated 2,000 people per day. In previous instances, closure of the road has resulted to $1 million in lost revenue daily, to surrounding communities and concessions.
In Washington state, Mount Rainier National Park must permanently close its Ohanapecosh Visitor Center, affecting 60,000-85,000 visitors.
"It's alarming that this very avoidable threat could become a reality. From Yellowstone to Cape Cod, the Grand Canyon and Great Smoky Mountains, our national heritage and local economies are at risk," said Tom Kiernan, president of the nonprofit National Parks Conservation Association.
Secretary Salazar warned that many other service provided by the Department of the Interior will be affected by the budget cuts.
"The DOI faces a perfect storm of impact because we do so much during the summer," Salazar told reporters. "Our ability to fight fires, maintenance, education, support of the hunting and fishing world will all be impacted."
Cuts will affect the DOI's permitting of oil and gas development in the Gulf of Mexico and Alaska where 525 permit applications are under review, as well as the construction of pipelines. "The Fish and Wildlife Service plays a consulting role, these processes will be slowed down," Salazar said.
Salazar says the sequester cut happened so quickly that there has not been time to plan for them properly. "This requires us to make those cuts in ways that are not well thought through," he said.
The states will be hard hit by the sequester's effect on DOE spending. Giving examples, Salazar said, "We have withheld money that would otherwise have gone out to the states – $50 million to Colorado, $60 million to Wyoming – because we want to comply with the law."
The Energy Department's Office of Renewable Energy and Energy Efficiency would not be able to continue much of its work, Energy Secretary Steven Chu wrote in a February 1 letter to Senator Barbara Mikulski, the Maryland Democrat who chairs the Senate Appropriations Committee.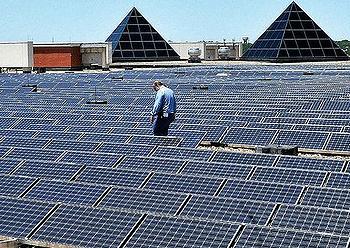 Chu said the sequester would "decelerate the nation's transition into a clean energy economy, and could weaken efforts to become more energy independent and energy secure."
"A reduction in funding would slow growth down the significant advances made in making solar energy cost-competitive with conventional forms of electricity generation, as well as cut funding for solar industry job training that is targeted at military veterans and provided to 261 community colleges," wrote Secretary Chu.
"In addition, a cut to the Department's Vehicle Technologies Program would delay the program's efforts to leapfrog the current technologies in critical areas of advanced vehicles, batteries, and lightweight materials, slowing American development of cleaner and more efficient vehicles as affordable as today's vehicles," wrote Chu.
"Reducing the cost of manufacturing these clean energy technologies is a key goal of the Administration's efforts and sequestration would negatively impact our Advanced Manufacturing program by delaying initiation of 2-3 industrial research and development project co-investments for at least a year or requiring shutting down a Manufacturing Demonstration Facility for 6-8 months," he wrote.
Cuts under the sequester will reduce by more than a thousand the number of homes that would be weatherized for low income families in FY 2013, wrote Chu, and 1,200 skilled weatherization professionals would be thrown out of work.
Copyright Environment News Service (ENS) 2013. All rights reserved.