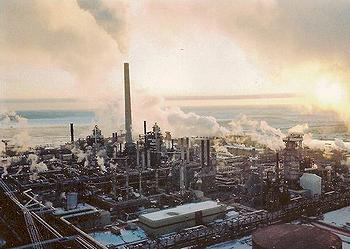 WASHINGTON, DC, March 4, 2013 (ENS) – The controversial Keystone XL pipeline would "not likely result in significant adverse environmental effects," and "no substantive change in global greenhouse gas emissions" the U.S. State Department said late Friday in a new Environmental Impact Statement. Scientists and environmental groups disagree with that assessment.
"Keystone XL, if the public were to allow our well-oiled government to shepherd it into existence, would be the first step down the wrong road, perpetuating our addiction to dirty fossil fuels, moving to ever dirtier ones," warned Dr. James Hansen on Friday. Hansen directs the NASA Goddard Institute for Space Studies in New York City and is adjunct professor of Earth Sciences at Columbia University's Earth Institute.
"To say that say the tar sands have little climate impact is an absurdity," said Hansen. "The total carbon in tar sands exceeds that in all oil burned in human history, and if the pipeline is built ways will be found to extract more and more of it, burning fossil fuels during the extraction and destroying the local environment."
With scientific studies, statements and by offering himself for arrest at climate action demonstrations, Hansen has attempted to draw attention to the danger of passing climate tipping points that he says would produce "irreversible climate impacts that would yield a different planet from the one on which civilization developed."
"We stand now at a fork in the road as supplies of conventional easily-extracted oil and gas dwindle: will we accept the dirtiest of fuels at public expense or will we choose the path to clean energy?" he asked Friday. "The public must demand that the government begin serving the public's interest, not the fossil fuel industry's interest."
The State Department's draft Supplemental Environmental Impact Statement covers the northern portion of the proposed Keystone XL pipeline – a new 36-inch-diameter, 875-mile pipeline infrastructure project across parts of Montana, South Dakota, and Nebraska. An additional 329 miles of pipeline in Canada were evaluated by the Canadian government.
Keystone XL would allow delivery of up to 830,000 barrels per day of crude oil from Alberta, Canada, and the Bakken Shale Formation in the United States to Steele City, Nebraska for onward delivery to Cushing, Oklahoma, and refineries in the Gulf Coast area.
The oil from the Alberta tar sands is produced as a viscous material, known as raw bitumen, that has the consistency of soft asphalt. Bitumen cannot be transported by pipeline on its own, it must be diluted with naphtha or natural gas condensate to make a thinner liquid called dilbit; or it must be partially refined to a medium weight crude oil called synthetic crude that can be used as the diluent to create a product called synbit.
The proposed Keystone XL pipeline would carry either dilbit, synbit, or both, as well as synthetic crude oil and light crude oil produced from the Bakken shale that underlies parts of Montana and North Dakota and the Canadian province of Saskachewan.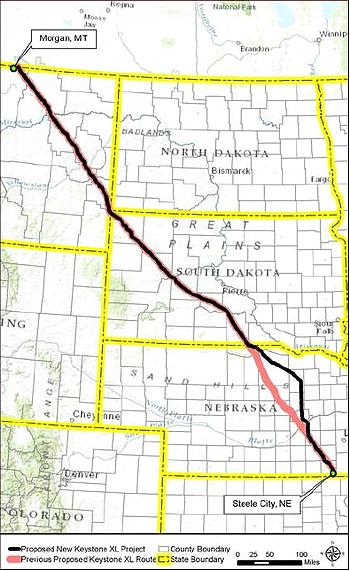 Alberta-based TransCanada Keystone Pipeline, LP has applied for a Presidential Permit which, if granted, would authorize the proposed pipeline to cross the United States-Canadian border.
Previously, Keystone submitted an application for the same border crossing, but with a pipeline route that went through the Sand Hills Region of Nebraska, where an aquifer that provides water to much of the Midwest lies close to the surface.
The State Department issued an Environmental Impact Statement for that route in August 2011.
In November 2011, the State Department determined that more information about alternative routes in Nebraska that would avoid the Sand Hills Region was needed to evaluate the application.
In late December 2011, Congress adopted a payroll bill that require the President to decide on the Presidential Permit within 60 days. That deadline did not allow sufficient time to prepare an environmental review of an alternative route through Nebraska, so the Presidential Permit was denied.
On May 4, 2012, Keystone filed a Presidential Permit application for a new Keystone XL Project with a new route that is 21 miles longer to avoid Nebraska's Sand Hills Region and terminates at Steele City, Nebraska, making it 509 miles shorter than the project analyzed in 2011.
The SEIS released Friday includes a review of the new Nebraska route. It has been approved by the state.
There are 2,537 wells within one mile of the proposed pipeline, including 39 public water supply wells and 20 private wells within 100 feet of the pipeline right of way. Most of these wells are in Nebraska. Those wells "may be affected by a petroleum release" from the pipeline, the State Department warns in its SEIS.
Meanwhile, in February 2012, Keystone decided to go ahead with the portion of the Keystone XL project from Cushing, Oklahoma to the Gulf Coast area, which does not require a Presidential Permit because it does not cross an international border.
The overall proposed project is estimated to cost about $3.3 billion in the United States. If permitted, it could begin operation as early as 2015, depending on the necessary permits, approvals, and authorizations.
In completing the draft Supplemental EIS, the State Department took into consideration the comments contained in more than 400,000 e-mails, letters, and other communications submitted throughout the scoping process by public citizens, government agencies, tribal governments, and interested nongovernmental organizations as well as over one million e-mails, letters, and other communications submitted to the department during its consideration of the previous Keystone XL application.
Environmental groups are worried that extracting and burning oil from the tar sands could release as much as 240 gigatons of the greenhouse gas carbon dioxide into the atmosphere — one-half of the carbon budget some scientists estimate is left before the planet warms an additional two degrees Celsius.
Bill McKibben, founder of the climate action group 350.org, named for the atmospheric concentration of greenhouse gases that scientists say is safe for the climate, has organized anti-pipeline demonstrations in Washington, DC and elsewhere that have, in total, attracted hundreds of thousands of people.
He told ENS Friday that the SEIS has only made him "more determined" to fight the Keystone XL pipeline.
"These people are not going away; 350.org has sent out a note asking people to show up for nonviolent civil disobedience in May. We can't walk away at this point," said McKibben, who is a scholar in residence in Environmental Studies at Vermont's Middlebury College. He is author of "The End of Nature" (1989), the first book for a general audience about global warming.
He said the State Department analysis ignores the existing effects of climate change. "It comes after the last year of record heat, the Atlantic Ocean flowing into the New York City subway system, droughts so deep they caused the worst harvests seen in decade."
"Mother Nature filed her public testimony but the State Department paid no attention to it. They're examining the Keystone XL pipeline in a vacuum," warned McKibben. "That's why we have presidents so bureaucracies don't make decisions on their own."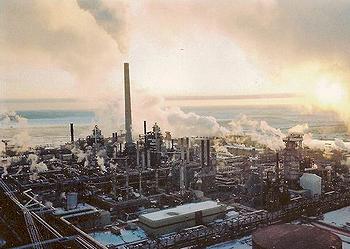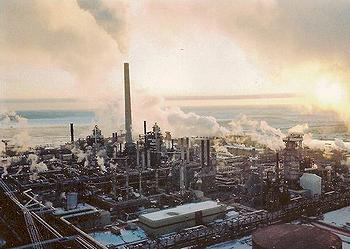 One of the environmentalists' criticisms is that approval of the pipeline would support development of the Alberta tar sands, which use massive amounts of water for oil extraction and add tons of greenhouse gases to the atmosphere every year.
The SEIS notes that the completed pipeline would emit annual CO2 emissions equivalent to 626,000 passenger cars or 398,000 homes.
The State Department analysis also acknowledges that tar sands crudes are more greenhouse gas-intensive than the other heavy crudes they would replace or displace in U.S. refineries, and emit an estimated 17 percent more greenhouse gases, GHGs, on a life-cycle basis than the average barrel of crude oil refined in the United States in 2005.
"If the proposed Project were to induce growth in the rate of extraction in the oil sands, then it could cause GHG emissions greater than just its direct emissions," states the SEIS.
But the SEIS concludes that if the Keystone XL pipeline is rejected, the tar sands oil would reach the same Gulf Coast markets via other proposed new and expanded pipelines and transport by rail tanker and ship tanker.
"… approval or denial of the proposed Project is unlikely to have a substantial impact on the rate of development in the oil sands, or on the amount of heavy crude oil refined in the Gulf Coast area," the SEIS states.
Sierra Club Executive Director Michael Brune called the State Department's analysis on this point, "inaccurate" and "devastating cynical."
"If we were to follow their reasoning, why would anyone work to reduce coal plants, or replace fracked gas, or coal from mountains that have been blown apart, why would anyone take strong action on climate change," said Brune, referring to Sierra Club campaigns.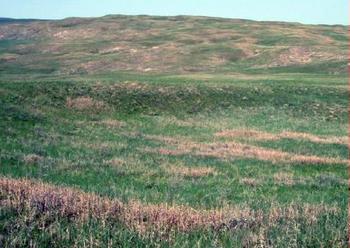 The State Departments' analysis does express concern about the pipeline's potential to erode topsoil. "Nearly half of the proposed Project route would cross soils characterized as highly erodible to either wind or water, and comments on the 2011 Final EIS expressed concern about the proposed Project's effects on erodible soils. Many of the stages of construction – notably clearing, trenching, and spoil storage – could potentially increase soil erosion. Such erosion, in turn, could result in loss of valuable topsoil from its original location."
If approved, Keystone XL would impact fresh water streams and endangered species along its route.
"The proposed Project would impact waterbodies across the states of Montana, South Dakota, and Nebraska. The proposed Project route would avoid surface water whenever possible; however, the proposed Project route would still cross approximately 1,073 waterbodies, including 56 perennial rivers and streams, as well as approximately 25 miles of mapped floodplains," according to the SEIS.
Construction of the proposed project could result in temporary and permanent impacts such as stream sedimentation and change in stream channel shape and stability.
The U.S. Fish and Wildlife Service has identified 13 federally protected or candidate species that could be impacted by the pipeline: 11 federally-listed threatened or endangered species and two candidate species for listing as threatened or endangered.
Whooping cranes could be impacted by collisions with power lines associated with the proposed project, the SEIS says. The majority of the proposed pipeline route crosses the central flyway whooping crane migration corridor in South Dakota and Nebraska, and the Rainwater Basin in south central Nebraska provides whooping crane migration habitat.
The greater sage-grouse is a federal candidate species under the Endangered Species Act, a Bureau of Land Management sensitive species, and a species of conservation concern in Montana and South Dakota. Some 190 miles of the proposed pipeline route would cross areas with greater sage-grouse habitat in Montana.
About 50 miles of the proposed route in Nebraska would affect the habitat of the endangered American burying beetle; while 43 miles in South Dakota would affect suitable habitat for the species.
The pipeline route would also affect two orchids that grow in Nebraska – the western prairie fringed orchid, federally listed as threatened, and the small white lady's slipper, a type of perennial orchid. Both species are state-listed as threatened in Nebraska.
Environmentalists still hope that President Obama will hear their concerns and deny Keystone XL a Presidential Permit.
"We don't think there's any sign the White House has put its fingerprint on this analysis," said Brune. "This SEIS does make the President's job more difficult. We believe he is sincere in his commitment to fight climate change. He has made it a top priority, but this SEIS doesn't get us any closer to this goal."
Russ Girling, TransCanada's president and chief executive officer, said the company "welcomes" the new draft SEIS. "No one has a stronger interest than TransCanada does in making sure that Keystone XL operates safely, and more than four years of exhaustive study and environmental review show the care and attention we have placed on ensuring this is the safest oil pipeline built to date in the United States."
Copyright Environment News Service (ENS) 2013. All rights reserved.