Rise in Childhood Cancers Parallels Toxic Chemical Proliferation
WASHINGTON, DC, January 26, 2011 (ENS) – Bipartisan legislation was introduced in Congress today to help communities determine whether there is a connection between clusters of cancer, birth defects and other diseases, and contaminants in the surrounding environment.
Senator Barbara Boxer, a California Democrat who chairs the Environment and Public Works Committee, introduced the bill with Senator Mike Crapo, an Idaho Republican and cancer survivor.
Senator Boxer said, "Whenever there is an unusual increase in disease within in a community, those families deserve to know that the federal government's top scientists and experts are accessible and available to help, especially when the health and safety of children are at risk."
"As a two-time cancer survivor, I know that cancer can come from many sources," said Senator Crapo. "Through increasing federal agency coordination and accountability and providing more resources to affected communities, families will have more information and tools to maintain health and well-being."
The bill would authorize federal agencies to form partnerships with states and academic institutions to investigate and help address disease clusters.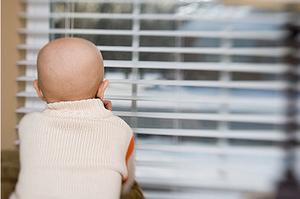 Incidences of childhood cancer are increasing across the United States. (Photo by Mathew Crawford)
A coalition representing more than 11 million Americans is urging Congress to do more, specifically to update the 1976 Toxic Substances Control Act without delay.
The Safer Chemicals, Healthy Families coalition warned today in a teleconference that cancer in American children has increased since 1975, while exposure to toxic chemicals has also intensified.
Environmental public health expert Dr. Richard Clapp told reporters on the call, "The incidence of childhood cancers has unequivocally been going up for last 20 years, at about a one percent increase per year."
"We know a lot more than we did in 1975 about the causes of childhood cancers. One compenent is environmental chemical exposures, which produce damage at the cellular level," said Dr. Clapp, professor emeritus of environmental health at Boston University School of Public Health, who served as director of the Massachusetts Cancer Registry from 1980-1989.
"Mortality has been going down because some treatments are more effective, and fewer people are dying at a childhood age from the cancer they were originally diagnosed with," said Dr. Clapp, but he emphasized that there are many more known carcinogens in the environment now that there were in 1975.
The International Agency for Research on Cancer, a part of the World Health Organization, this year looked at over 900 chemicals and identified 107 that are known to cause cancer, said Dr. Clapp. "In 1975 there were about a dozen things known to cause cancer in humans."
As incidences of childhood leukemia and brain cancer have increased, Dr. Clapp pointed to exposure to chlorinated solvents such as trichlorethelyene and carbon tetrachloride in drinking water as a factor in childhood cancer clusters found in Woburn, Massachusetts and Tom's River, New Jersey.
Chlorinated solvents are used for a wide variety of commercial and industrial purposes, including degreasers, cleaning solutions, paint thinners, pesticides, resins and glues.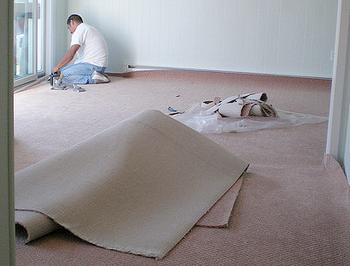 New carpets contain toluene, benzene, styrene, formaldehyde, acetone and other chemicals that are known carcinogens. (Photo by Barbara Mowery)
These are only some of the 80,000 chemicals have been produced in the United States to create commonly-used products, which include known carcinogens such as asbestos, formaldehyde, lead, cadmium, and vinyl chloride, with virtually no government oversight, warns the Safer Chemicals, Healthy Families coalition.
Last year the President's Cancer Panel report provided confirmation that exposure to toxic chemicals is an important and under-recognized risk factor for cancer, and recommended that the government take immediate action to reverse this trend. The Panel advised Congress to reform the Toxic Substances Control Act, commenting that this law is "the most egregious example of ineffective regulation of chemical contaminants" and noting that weaknesses in the law have constrained the U.S. Environmental Protection Agency from being able to properly regulate known and suspected carcinogens.
"We see cancers increasing and other diseases in kids to be increasing, and we know some of this increase is due to the increase in chemicals," said Sean Palfrey, MD, professor of clinical pediatrics and public health at Boston University.
"We can eat them or drink, breathe them, and absorb them through our skin. They harm the blood cells related to leukemia or brain cells and show up years later," said Dr. Palfrey.
"Cigarettes are related to cancer, so is radiation from natural sources and from radiation therapies used to treat the very cancers we are trying to cure, chemicals in food, in our houses, environmental chemicals," he said. "These chemicals are not changing human genetics but are handing down chemicals that can affect the genetic functions of mothers and children."
Dr. Palfrey said doctors are worried that some of the chemicals being released into the environment are untested in adult humans and in even more vulnerable children. "People like myself have been tested to see if we have them in our blood and urine – and sure enough we do," he said.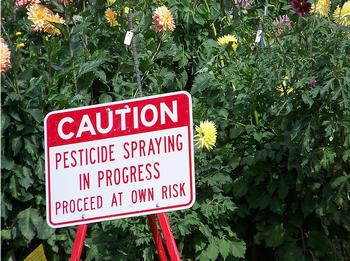 Pesticide warning sign at Manito Park in Spokane, Washington (Photo by jetsandzeppelins)
"The problem is we are putting so many new chemicals out into our children's environment, and our bodies have never seen these things before. Our bodies don't know how to protect themselves, so our bodies store them, and then when woman gets pregnant those stored chemicals may be released circulated to fetal blood or breast milk," Dr. Palfrey explained.
There are things people can do to limit their chemical exposure. Dr. Palfrey advises people to wash all produce, eat local organic produce, not use pesticides in homes and gardens, and to ask doctors if that CT scan, which subjects patients to radiation, is really necessary.
Dr. Palfrey, who has been medical director of the Boston Lead Poisoning Prevention Program, advises that renovating a house may stir up asbestos or lead, and he advises people not to buy or rent near high voltage power lines, which emit electro-magnetic frequencies.
The two doctors and Andy Igrejas, national campaign director of Safer Chemicals, Healthy Families, are among those advocating for legislation that helps prevent chemical exposure. They are urging the EPA, the U.S. Food and Drug Administration and the Consumer Product Safety Commission to take a close look at chemicals being put into the environment.
"We should have full information on all chemicals on the market," said Christine Brouwer, who founded Mira's Movement in 2008 after her daughter, Mira, died at the age of four from complications of treatment for brain cancer. The organization supports and advocates on behalf of children with cancer and their families.
"I believe Mira's brain cancer was caused by toxic chemical exposure," Brouwer told reporters on the call.
"There are so many possible multiple sources of exposure," she said, "baby products, bath products, household products. Lindane is used to treat lice, parents put it on their childrens' heads. Do they know it causes cancer?"
In 2009, nine chemicals, including lindane, were added to a list of toxic substances that are to be eliminated under the Stockholm Convention, an international treaty.
"In Europe, the burden of proof of safety lies with the chemical companies, said Brouwer, "while here the company's right to make a profit is paramount."
New types of tumors are emerging due to exposure to new chemicals, Brouwer said. "Most people believe the government regulates chemicals, but it doesn't," she said, urging Congress to quickly reform the Toxic Substances Control Act.
Copyright Environment News Service (ENS) 2011. All rights reserved.