New Mexico Governor Loses Bid to Overturn Greenhouse Gas Cap
SANTA FE, New Mexico, January 26, 2011 (ENS) – The New Mexico Supreme Court handed environmental groups a victory today in their unanimous ruling that Governor Susana Martinez violated the state Constitution when she prevented a rule establishing a statewide cap on greenhouse gas emissions from being published as codified state law.
The environmental group New Energy Economy sued Martinez, claiming the newly elected governor improperly requested the state's records administrator to delay publishing the rule.
Chief Justice Charles Daniels said state law is clear – once regulations are filed, the records administrator "does not second guess" their intent.
The ruling orders the state records administrator to post the regulations in the next issue of rules publications. The court's ruling also applies to a separate but similar lawsuit on dairy regulations passed by the Water Quality Control Commission in December 2010.
"This is a tremendous and deserved victory for the administration of justice in New Mexico," said Bruce Frederick, staff attorney of the New Mexico Environmental Law Center, the nonprofit law firm that brought the two lawsuits against the governor for its clients, New Energy Economy and Amigos Bravos. "The ruling ensures that our regulations will continue to be developed in a public and open process, and be protected from revision through secret, backroom deals."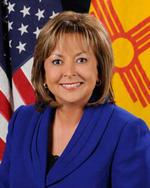 New Mexico Governor Susana Martinez (Photo courtesy Office of the Governor)
Governor Martinez, a Republican who took office on January 1, 2011, follows Governor Bill Richardson, a Democrat who was widely hailed as a champion of environmental protection.
On December 6, 2010, in the final days of the Richardson administration, the New Mexico Environment Improvement Board, adopted New Energy Economy's rules to reduce greenhouse gas emissions by three percent per year from 2010 levels, with a goal to reduce emissions 25 percent below 1990 levels by 2020.
New Energy Economy said in a statement today, "This rule enables effective and efficient carbon pollution reduction that will foster clean energy job creation and prosperity for New Mexico's families and communities. This breakthrough achievement provides a practical model for national climate change policy and economic renewal."
Indicating her "bold" new direction for New Mexico, on January 4 Governor Martinez removed all the members of the Environmental Improvement Board for helping create an "anti-business environment."
"The EIB moved forward with the cap-and-trade regulatory program after state lawmakers rejected the proposal during the legislative process," she said then in a statement.
"Unfortunately, the majority of EIB members have made it clear that they are more interested in advancing political ideology than implementing common-sense policies that balance economic growth with responsible stewardship in New Mexico," Martinez said.
On her first day in office, Martinez had halted "all proposed and pending regulations," which includes the cap-and-trade regulation. To rescind those rules, the new members of the EIB, which will be appointed by Martinez, will have to hold new public hearings and allow for public comment.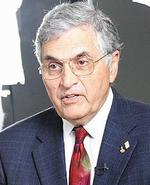 Harrison Schmitt (Photo by Debbie McCallum courtesy NASA)
Martinez' new direction for New Mexico is illustrated by her choice of Harrison "Jack" Schmitt to head the Energy, Minerals and Natural Resources Department, which oversees environmental issues.
A former U.S. Senator and Apollo 17 astronaut who walked on the Moon, Schmitt has said he believes that some leaders of the environmental movement are communists.
As reported by Matthew Reichbach today in the "New Mexico Independent," while appearing on "Infowars," the Alex Jones radio show, on July 31, 2009, Schmitt said, "I think that there are individuals, [Obama science advisor John] Holdren apparently among them, a very large number who have taken the – shall we say captured – the environmental movement and turned it into what was previously considered the communist movement."
Holdren is director of the White House Office of Science and Technology Policy. He was previously Teresa and John Heinz Professor of Environmental Policy at the Kennedy School of Government at Harvard University, and director of the Woods Hole Research Center. Holdren was elected president of the American Association for the Advancement of Science, 2006-2007, and served as board chairman in 2007-2008.
Later in the interview, Schmitt expanded on the communist theme, saying, "I think the whole trend really began with the fall of the Soviet Union. Because the great champion of the opponents of liberty, namely communism, had to find some other place to go and they basically went into the environmental movement."
"That's not to say there aren't some major and significant environmental issues, particularly at the local level, but they converted environmental activism to a political movement and some would say a religious movement," Schmitt said on air.
Schmitt has stated repeatedly that he does not believe man-made global warming exists and says the government pressures scientists to support its existence.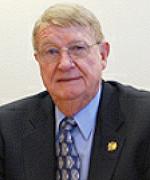 F. David Martin (Photo courtesy NMIMT)
Schmitt must be confirmed by the state Senate, where Democrats are in the majority.
Also up for Senate confirmation is Governor Martinez' choice of petroleum engineer F. David Martin for secretary of the environment.
Martin currently serves as an adjunct associate professor at the New Mexico Institute of Mining and Technology. After working for the Calgon Corp. for 15 years, Martin worked for 20 years at the Petroleum Recovery Research Center, serving as the director from 1987 to 1996.
In 1990, Martin was appointed by Governor Garrey Carruthers to coordinate policy between the state of New Mexico and the United States Department of Energy.
Upon his nomination, Martin said, "Without question, our state's natural beauty must be kept intact for future generations. I look forward to working with Governor Martinez to implement common-sense policies that keep New Mexico beautiful and protect our environment while allowing for responsible development of our vast natural resources."
"My goals are the governor's goals," said Martin. "Our mission is to provide the highest quality life through a safe, clean and healthy environment. We want to have policies and procedures in place that will ensure that our children and grandchildren will have the same thing."
Copyright Environment News Service (ENS) 2011. All rights reserved.
Environment News Service (ENS) © 2011 – 2012 All Rights Reserved.