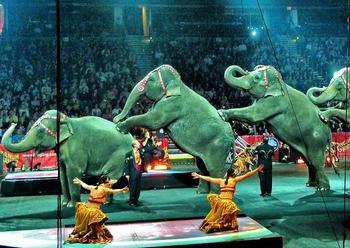 PALMETTO, Florida, January 15, 2017 (ENS) – "The Greatest Show on Earth," the Ringling Bros. and Barnum & Bailey® circus, is closing. The famous circus will hold its final performances in May of this year says its owner, Feld Entertainment.
Ringling Bros. ticket sales had been declining, but following the transition of the elephants off the road last year, the company saw a dramatic drop in ticket sales. This, coupled with high operating costs, made the circus an unsustainable business for the company.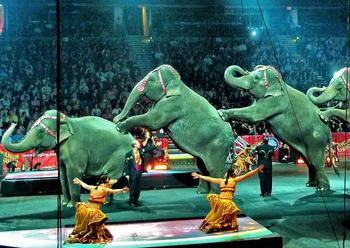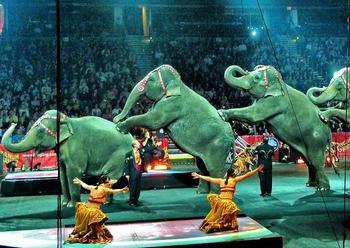 Last May all of the Asian elephants from the traveling circus units were moved to a permanent home at the Ringling Bros. Center for Elephant Conservation in Florida. They joined the rest of the Ringling Bros. herd of Asian elephants, for a total of 42 elephants at the Conservation Center.
Ringling Bros. and Barnum & Bailey® Presents Circus XTREME will conclude its tour at the Dunkin' Donuts Center in Providence, Rhode Island on May 7; and Ringling Bros. and Barnum & Bailey® Presents Out Of This World will conclude its tour at the Nassau Veterans Memorial Coliseum in Uniondale, New York, on May 21.
Feld Entertainment's portfolio includes Marvel Universe LIVE!, Monster Jam, Monster Energy Supercross and Disney On Ice, among other shows. The company recently announced a new partnership to produce live tours of Sesame Street and expanded television coverage for the 2017 Monster Energy Supercross races.
But for Kenneth Feld, chairman and CEO of Feld Entertainment, who served as the producer of Ringling Bros. and Barnum & Bailey, the circus was the heart of the business.
"Ringling Bros. and Barnum & Bailey was the original property on which we built Feld Entertainment into a global producer of live entertainment over the past 50 years," said Feld, calling the circus an "inspiration."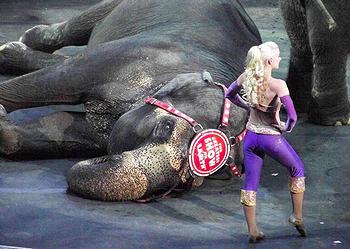 "We learned from the circus, and applied those learnings to our other productions," he said. "Without Ringling Bros., we wouldn't have the vibrant live entertainment company that we have today. Ringling Bros. will always be part of Feld Entertainment, and its spirit will live on in every production and project we do."
"We are grateful to the hundreds of millions of fans who have experienced Ringling Bros. over the years. Between now and May, we will give them one last chance to experience the joy and wonder of Ringling Bros." Complete details on the remaining Ringling Bros. performances can be found online at: Ringling.com.
Animal welfare organizations are relieved that the circus is closing.
Jan Creamer, president of Animal Defenders International, said, "After decades of exposing the suffering of animals in circuses behind the scenes, we are pleased to hear that Ringlings has finally bowed to public opinion – it was a mistake for them not to see the trend away from animal shows to human-only performances over a decade ago. Circuses can survive without the animal performances."
"Modern audiences now have many entertainment options and do not want to see shows where animals are made to suffer for a few minutes of entertainment," said Creamer.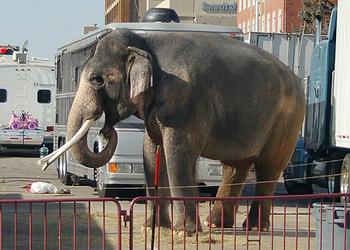 Studies of the use of wild animals in traveling circuses show that in the circumstances of a traveling show, circuses cannot meet the needs of wild animals. Animals are confined in small spaces, deprived of physical and social needs, spending excessive amounts of time tied or chained up, shut in transporters and unable to move around.
The abnormal repetitive behaviors seen in circus animals, rocking, swaying and pacing, indicate that they are under stress and not coping well with their environment.
ADI's video evidence has shown how these animals are forced to perform tricks through physical violence, fear and intimidation.
"After decades of exposing the cramped, barren conditions with long periods of time tied up and chained with no freedom of movement and a brutal training culture, ADI believes that public opinion has ended the suffering," said Creamer.
ADI has led the campaign to expose the suffering and educate people around the world, providing video evidence, prosecutions and expert reviews.
Thirty-four nations have taken action to end traveling circus performances. Across 27 U.S. states, 66 jurisdictions have either banned or restricted the use of wild animals in traveling shows, due to concerns about public safety and animal welfare.
Copyright Environment News Service (ENS) 2017. All rights reserved.