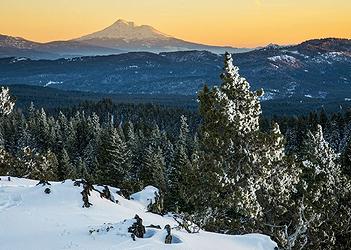 WASHINGTON, DC, January 16, 2017 (ENS) – President Barack Obama Friday expanded the Cascade-Siskiyou National Monument in southwestern Oregon and Northern California, and added six new units to the California Coastal National Monument to protect biodiversity, cultural resources and vital wildlife habitat.
The 48,000-acre expansion of the Cascade-Siskiyou National Monument builds upon the original monument's goal to protect the area's extraordinary biodiversity. Located in southwestern Oregon and established in 2000, Cascade-Siskiyou was the first monument designated solely for the preservation of its biodiversity.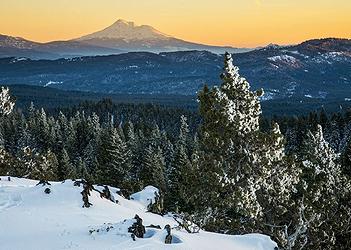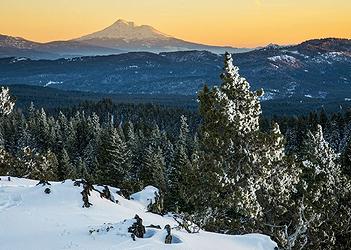 An ecological wonder, the monument hosts a variety of rare and endemic plant and animal species, and represents a rich mosaic of forests, grasslands, shrub lands, and wet meadows at the convergence of three mountain ranges.
Several years ago, local scientists sounded the alarm that in the face of mounting external pressures including encroaching development and climate change, the original monument boundary was too small to sustain the diverse array of species that it was established to protect.
The expansion, which includes a 5,000-acre extension into California, will provide vital habitat connectivity, watershed protection, and landscape-scale resilience to fire, insects and disease, invasive species, drought, or floods – events likely to be worsened by climate change.
"The BLM manages some of the nation's wildest and most sacred landscapes, including more than 800 areas that have been protected through congressional and presidential action. We're proud to be charged with stewarding these incredible lands for future generations, including today's additions to the Cascade-Siskiyou National Monument and the California Coastal National Monument," said Bureau of Land Management Director Neil Kornze.
"The BLM looks forward to continuing and expanding our work with local communities to ensure successful management of these special places," he said.
In October, Deputy Secretary of the Interior Michael Connor attended a public meeting on the proposed expansion hosted by U.S. Senator Jeff Merkley, an Oregon Democrat, in Ashland, Oregon.
In addition to Senator Merkley's leadership, Senator Ron Wyden, a second Oregon Democrat, and then-Senator Barbara Boxer a California Democrat, have written in support of the expansion along with a wide array of state and local elected officials, local scientists, area businesses, and numerous conservation groups.
Senators Wyden and Merkley introduced legislation in 2015 that would have protected most of the areas in the expansion.
The California Coastal National Monument expansion, totaling 6,200 acres, will protect six spectacular places on the California coast.
The monument was originally established in 2000 to protect marine wildlife habitat just offshore of California's iconic coastline. In 2014, President Obama expanded the monument to include Point Arena-Stornetta, its first onshore unit.
Friday's expansion preserves important habitat for coastal plants and animals, and protects cultural sites that provide insight into the people who lived along the California coast thousands of years ago. Many of the new units of the monument are culturally and spiritually important to local tribes.
Clouds and sunset reflect in a lagoon of ocean waters with scattered rocks poking out of the water.
California Coastal National Monument. Photo by Bob Wick, Bureau of Land Management.
These new units include: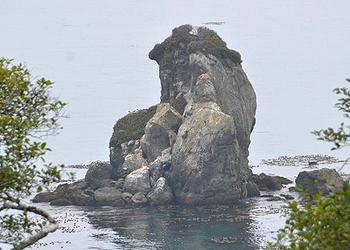 Trinidad Head, a promontory jutting off the coast of Humboldt County, a historic lighthouse sits atop sheer cliffs overlooking crashing waves and rugged rocks.
Waluplh-Lighthouse Ranch, just south of Trinidad Head, has spectacular panoramic views of the Pacific Ocean, Eel River Delta, and the south spit of Humboldt Bay.
Thirteen miles south, the Lost Coast Headlands include rolling hills and eroding bluffs, punctuated by freshwater creeks, ponds, and pockets of forest.
Cotoni-Coast Dairies in Santa Cruz County extends from the steep slopes of the Santa Cruz Mountains to marine terraces overlooking the Pacific Ocean. At 5,800 acres, it encompasses archaeological sites, riparian and wetland habitats, coastal prairie grasslands, and woodlands that include stands of coast redwood.
Piedras Blancas in San Luis Obispo County hosts a historic lighthouse overlooking the site's namesake white coastal rocks, and a colony of massive elephant seals.
Orange County Rocks and Islands just off the coast of Orange County experiences crashing waves, unique geology, and an abundance of marine-dependent wildlife including pelicans and seals.
Both monument expansions will be managed by the Bureau of Land Management, which also manages the existing monuments.
Copyright Environment News Service (ENS) 2017. All rights reserved.