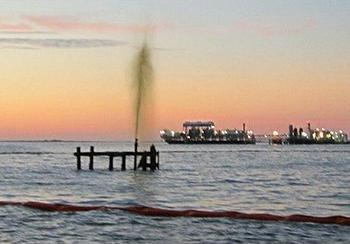 NEW ORLEANS, Louisiana, February 28, 2013 (ENS) – Response crews have stopped oil spewing into the Gulf of Mexico from an inactive oil and gas well that was struck by a crew boat Tuesday night.
The U.S. Coast Guard says responders with Wild Well Control secured the CM-183 wellhead leak in Lake Grande Ecaille Bay nine miles southwest of Port Sulphur at 3:12 pm, Thursday.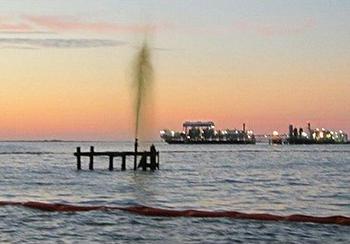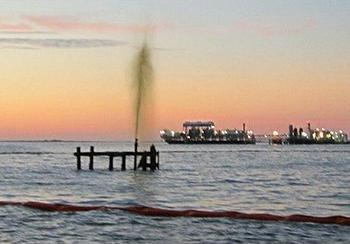 Responders were able to secure the well owned by Swift Energy Co. of Houston, Texas shortly after the arrival of a specialized equipment barge, while crews continue cleanup operations.
Response crews have recovered more than 1,200 gallons of oily-water mixture from the shallow waters of the bay and have deployed 4,880 feet of boom around the wellhead and sensitive areas.
Additional containment and skimming equipment was deployed to protect nearby marshlands.
Oyster beds near the site of the leak have been closed indefinitely by the state Department of Health and Hospitals and Louisiana Wildlife and Fisheries. The bay also is inhabited by a variety of fish including largemouth bass, crappie and bluegill.
The estimated maximum potential discharge from the wellhead was fewer than 1,260 gallons of crude oil and 1,134 gallons of oily water per day, the Coast Guard said.
Responding to the incident were four air boats, four barge boats, two skimming vessels, a Clean Gulf Associates fast response vessel and a tank barge, which will continue skimming and boom deploying operations.
Contracted airplane crews will conduct additional overflights of the impacted area, said the Coast Guard.
Coast Guard watchstanders initially received a report that the 42-foot crewboat Sea Raider allided with the Swift Energy-owned CM-186 wellhead Tuesday evening. Nobody was injured on the crewboat Sea Raider, also owned by Swift.
The Coast Guard Gulf Strike Team has been deployed and is on scene helping oversee cleanup operations. There are more than 40 personnel responding to this incident.
"Our primary objectives, as we continue this response, are to ensure the safety of response personnel and the public, secure the source of the discharge," said Lt. Cmdr. Lushan Hannah, the incident commander for the operation.
"We will continue to maintain effective containment of recoverable liquids, continually assess the incident's potential, as well as identify and protect areas that are environmentally sensitive and areas with historical or cultural significance," Hannah said.
The Coast Guard is working with federal, state and local agencies, which include Louisiana Oil Spill Coordinators Office, Louisiana Department of Environmental Quality, Louisiana Department of Wildlife and Fisheries, Louisiana Department of Natural Resources and Plaquemines Parish, as well as the responsible party, Swift Energy, to secure the well and contain and clean up any oil that is leaking.
Swift Energy reports the wellhead was shut down and became inactive in January 2008.
The Coast Guard is investigating the cause of the incident.
Copyright Environment News Service (ENS) 2013. All rights reserved.
© 2013, News Editor. All rights reserved.