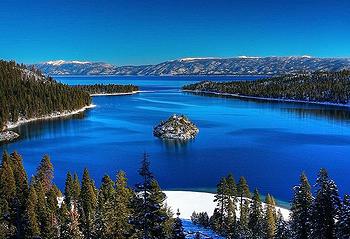 STATELINE, Nevada, August 14, 2012 (ENS) – Clarity in Lake Tahoe has stabilized after the years of cloudiness that threatened the lake's attractiveness to millions of visitors from around the world, politicians and business people heard Monday at the annual Lake Tahoe Summit, but new threats abound.
The lake, which straddles the California and Nevada border, is threatened by erosion, invasive species like quagga mussels, climate change and overcrowded, fire-prone forest conditions.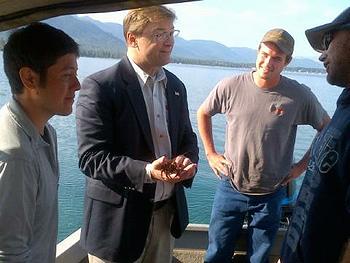 The largest alpine lake in North America, Lake Tahoe in the Sierra Nevada mountain range is a major tourist attraction, hosting ski resorts, summer outdoor recreation, and large casinos on the Nevada site of the border.
But tourism has slowed as the lake's environment has deteriorated, with urban runoff clouding its famously clear waters. Today, the lake's clarity continues to decrease, although the rate of decrease is slowing.
Out of concern for the lake's environment, the annual conference was initiated in 1997 by then President Bill Clinton and Vice President Al Gore.
This year's meeting at Edgewood Tahoe was hosted by U.S. Senator Dean Heller, a Nevada Republican.
"This year's focus was investing in the future of Lake Tahoe through public-private partnerships, which will be critical to the long-term environmental health of the Tahoe Basin," said Senator Heller. "I look forward to working with all of the stakeholders in the future to ensure the continued protection of Lake Tahoe – one of the most spectacular places on Earth."
U.S. Senator Dianne Feinstein, a California Democrat, has attended every Lake Tahoe Summit since 1997. "Each year the Tahoe Summit provides an opportunity to energize stakeholders and concentrate our efforts on restoring and protecting the Tahoe Basin. I think we accomplished those objectives this year," she said Monday.
"I believe we're moving in the right direction by focusing on the joint goals of passing the Lake Tahoe Restoration Act and building on existing public-private partnerships," Feinstein said. "We must allocate limited funds on the most cost-effective projects to help the lake, and I look forward to continuing to work with my partners to achieve that."
"Today's Lake Tahoe Summit continues the strong partnership between Nevada and California to preserve the Lake," said Nevada Governor Brian Sandoval, a Republican. "I am pleased that as a result of work begun at last year's Summit, real progress has been made toward an updated regional plan, which will provide the roadmap for success in reaching environmental and economic goals."
Sandoval recalled going to Lake Tahoe as part of 4H activities when he was a child. He praised the cooperative efforts between Nevada and California to save Lake Tahoe and said efforts are being made to lessen the impact of fires at the lake.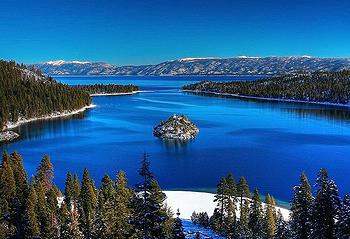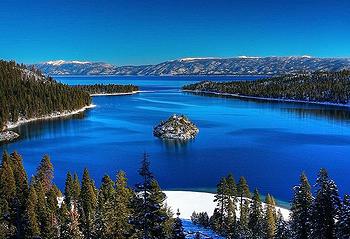 "This year's summit reminds us that the health of the Lake is dependent on what we do on the land," said California Governor Jerry Brown, a Democrat. "After years of debate, California and Nevada are finally getting their act together. The prospects for Lake Tahoe are bright."
Governor Brown used the occasion of the Lake Tahoe Summit to launch a new fact-based website about climate change. Climate Change: Just The Facts documents the dangerous effects of global warming and calls on those who still deny its existence to "face the facts." The site debunks the claims of climate change deniers and documents the serious impact of climate change on California's economy, environment and public health and on Lake Tahoe.

"Global warming's impact on Lake Tahoe is well documented," said Governor Brown. "It is just one example of how, after decades of pumping greenhouse gases into the atmosphere, humanity is getting dangerously close to the point of no return. Those who still deny global warming's existence should wake up and honestly face the facts."
In 2010, scientists at NASA's Jet Propulsion Laboratory confirmed that over the last 25 years, the world's largest lakes, including Lake Tahoe, have been steadily warming, some by as much as four degrees Fahrenheit, seven times faster than air temperatures have risen over the same period.
That same year, researchers at University of California, Davis studied the impacts of climate change on the Lake Tahoe basin and concluded that there will be a continuing shift from snowfall to rain, earlier snowmelt and more runoff; an increase in drought severity, especially toward the end of the century; and an increase in flood magnitude in the middle third of the century.
In 2008, a UC Davis study predicted that climate change will irreversibly alter water circulation in Lake Tahoe, radically changing the conditions for plants and fish in the lake.
Governor Brown advocates for limiting climate change by increasing investment in renewable energy, efficiency and reduced dependency on fossil fuels. Last year, he signed legislation to increase California's use of renewable energy to 33 percent by 2020.
Copyright Environment News Service (ENS) 2012. All rights reserved.