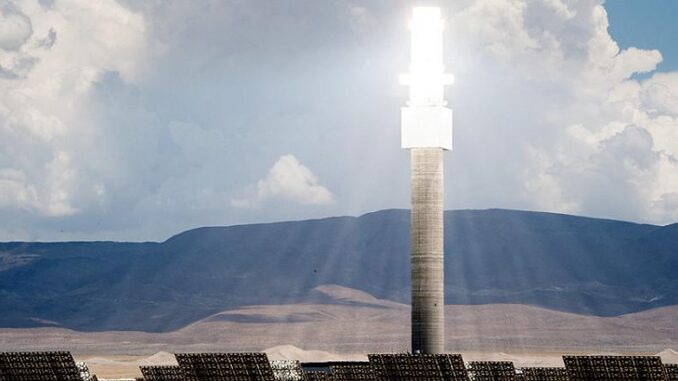 WASHINGTON, DC, August 1, 2023 (ENS) – "The mix of solar, wind and other renewables is now comfortably out-producing both coal and nuclear power," concludes Ken Bossong, executive director of the nonprofit Sun Day Campaign's from his office in Takoma Park, Maryland, a suburb of Washington, DC.
Bossong, a veteran renewable energy campaigner, reached this surprising conclusion after reviewing data just released by the U.S. Energy Information Administration, EIA.
The lower costs of solar technology, governmental support policies, and increasing demand for renewable energy have stimulated demand.
Growth in new solar capacity has been most dramatic. For the first five months of 2023, solar provided 5.5 percent of total U.S. electrical generation.
In May, solar hit a record-high 7.3 percent share of total U.S. electrical generation, approaching that of hydropower, which generates 8.3 percent of the U.S. total.
All renewables combined generated 26.0 percent, over a quarter, of the nation's total electrical generation, up from 25.6 percent a year earlier. The renewables easily out-produced coal and nuclear generation, Bossong said.
For the first five months of 2023, the combination of solar power plus wind energy surpassed coal's share of 14.6 percent as electrical generation by burning coal dropped by 28.7 percent, explained Bossong.
Solar power's share of the United States' electrical generation not only set a new monthly record in May, solar set a record for the first five months of the year according to data just released by the U.S. Energy Information Administration.
The latest issue of EIA's "Electric Power Monthly" report, with data through May 31, shows that in the first five months of this year, electrical generation by solar, including small-scale distributed systems such as rooftop solar, grew by 11.8 percent, compared to the same period in 2022.
This growth was driven in large part by growth in "estimated" small-scale rooftop solar photovoltaic panels whose output increased by 25.6 percent and accounted for nearly a third of total solar production.
"Solar's march to dominance among renewable energy sources continues unabated having surpassed electrical generation by biomass and geothermal and closing in on hydropower," Bossong said.
In the month of May 2023, solar electrical output was 16.3 percent higher than a year earlier, propelled by a 27.6 percent increase in small-scale solar. Bossong advises that the solar industry is growing at a substantially faster rate than any other energy source.
This solar growth trend had been building since the beginning of this year when solar was 3.5 percent of total generation in January. It rose to 4.4 percent in February, 5.5 percent in March, and 7.1 percent in April.
For the first five months of 2023, solar and wind together provided 17.7 percent of total U.S. electrical generation – up from 17.0 percent for the same period a year earlier.
Bossong said electrical generation by the mix of all types of renewables exceeded that provided by nuclear power by more than a third (36.6 percent). Nuclear output fell by 0.6 percent in the same time period, he said.
The mix of renewables generated more power than U.S. nuclear facilities notwithstanding declines in generation by substances usually thought of as renewables: wood + biomass (down 7.6 percent ), hydropower (down 7.1 percent), and geothermal power (down 1.8 percent), the EIA reports.
The Propulsive Growth of Solar
More than half of new U.S. electric-generating capacity in 2023 will be solar, the U.S. Energy Information Administration projected in February.
Developers plan to add 54.5 gigawatts (GW) of new utility-scale electric-generating capacity to the U.S. power grid in 2023, according to the EIA's Preliminary Monthly Electric Generator Inventory. More than half of this capacity (54 percent) will be solar power, followed by battery storage (17 percent) the EIA forecast in a statementf.
U.S. utility-scale solar capacity has been rising rapidly since 2010. Despite its upward trend over the past decade, additions of utility-scale solar capacity declined by 23 percent in 2022 compared with 2021 as the result of supply chain disruptions and other pandemic-related challenges.
The EIA expects that some of those delayed 2022 projects will begin operating in 2023, when developers plan to install 29.1 GW of solar power in the United States.
If all of this capacity comes online as planned, 2023 will have the most new utility-scale solar capacity added in a single year, more than doubling the current record, which stands at 13.4 GW in 2021.
In 2023, the most new solar capacity, by far, will be in Texas (7.7 GW) and California (4.2 GW), together accounting for 41 percent of planned new solar capacity.
As the Wind Blows the Power Flows
U.S. battery storage capacity has grown rapidly over the past couple of years. In 2023, U.S. battery capacity will likely more than double, the EIA projects. Developers have reported plans to add 9.4 GW of battery storage to the 8.8 GW of existing battery storage capacity.
Battery storage systems are increasingly installed with wind and solar power projects because wind and solar are intermittent sources of generation. They only produce electricity when the wind is blowing or the sun is shining. Batteries can store excess electricity from wind and solar generators for later use. In 2023, the EIA expects 71 percent of the new battery storage capacity will be in California and Texas, states with powerful solar and wind capacity.
In 2023, developers plan to add 6.0 GW of utility-scale wind capacity. Annual U.S. wind capacity additions have begun to slow, following record additions of more than 14 GW in both 2020 and 2021.
This year, the most wind capacity will be added in Texas, at 2.0 GW. The only offshore wind capacity expected to come online this year is a 130.0 MW offshore windfarm in off Long Island, New York called South Fork Wind.
Two new nuclear reactors at the Vogtle nuclear power plant in Georgia are scheduled to come online in 2023, several years later than originally planned. The reactors, with a combined 2.2 GW of capacity, are the first new nuclear units built in the United States in more than 30 years.
The Sun Shines on Public Land
Across the 245 million acres of public land it manages, the U.S. Bureau of Land Management has prioritized a combined total of roughly 870,000 acres for solar energy development within its land use plans.
Under a scenario where 8.5 acres is needed to generate one megawatt of electricity from photovoltaic solar panels, these prioritized areas could support more than 100 gigawatts of electricity, enough to power more than 29 million homes. In addition to the prioritized areas, the BLM maintains more than 19 million additional acres as open for potential solar development.
Featured image: Over 10,000 tracking heliostats focus solar energy at the receiver on the 640 foot power tower at the Crescent Dunes Solar Thermal Facility, owned by SolarReserve. The facility provides more than 500,000 megawatt hours of electricity a year, available day or night through molten salt storage. July 23, 2017, Tonapah, Nevada (Photo by Dennis Schroeder courtesy National Renewable Energy Lab)
© 2023, News Editor. All rights reserved.