Relief Well Intercepts Damaged BP Oil Well in the Gulf of Mexico
HOUSTON, Texas, September 16, 2010 (ENS) – BP engineers today succeeded in intercepting the damaged Deepwater Horizon oil well with a relief well they have been drilling since May 2.
The interception – nearly 3.5 miles below the sea floor and an additional mile below the surface of the Gulf of Mexico – will allow the final cement seal to be pumped into the damaged well from the bottom, finally killing it.
While the well is known to the general public as the Deepwater Horizon well after the oil rig leased by BP that exploded April 20, in the industry it is known as the Macondo well because it is drilled in the Macondo oil field.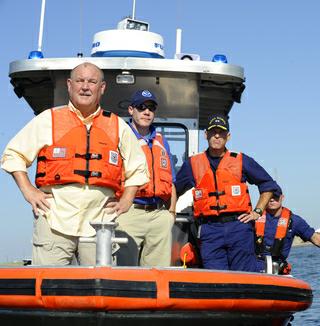 From left: National Incident Commander Admiral Thad Allen, NOAA scientist Sam Walker, Head of NOAA Corps., Coast Guard Admiral John Bailey inspect spill response operations at Grande Isle, Louisiana, September 14, 2010. (Photo courtesy USCG)
National Incident Commander Admiral Thad Allen tonight confirmed the interception, saying, "Through a combination of sensors embedded in the drilling equipment and sophisticated instrumentation that is capable of sensing distance to the well casing, BP engineers and the federal science team have concluded that the Development Driller III relief well has intersected the Macondo well."
"This determination was made based on a loss of drilling fluids that indicated communication had been established beyond the relief well, the pressure exerted against the drill bit as it came in contact with the well casing and, finally, an increase in pressure in the choke line of the Macondo well blow out preventer," said Admiral Allen.
"While each of these indicators taken separately would not necessarily be conclusive, the aggregate data available supports the conclusion that the two wells are joined," he said.
"It is also important to note," said the admiral, "that none of the measurements supported a scenario where the annulus of the well is in communication with the [oil] reservoir." If that were the case, pressure increases during the bottom kill operation could pose a risk of more leaking oil.
"Accordingly," said Admiral Allen, "we intend to proceed with preparation to cement the annulus and complete the bottom kill of the well."
Killing this well is expected to finally put an end to the possibility that it could leak any more oil into the Gulf of Mexico.
The Deepwater Horizon explosion set off an 87 day oil spill that gushed 4.1 million barrels into the gulf about 50 miles southeast of the Mississippi Delta. An additional 800,000 barrels were captured by BP and either flared off or taken to shore for refining.
The largest spill in U.S. history, it fouled beaches and wildlife habitat from Texas to Florida, closed more than one-third of the entire gulf to fishing and ruined the Gulf Coast as a tourist attraction. Thousands of people were thrown out of work and more than 2,000 oil spill responders were sickened on the job.
After several unsuccessful attempts, BP capped the well on July 15 and no new oil has leaked into the gulf since.
To date, 62,983 claims have been opened through the Gulf Coast Claims Facility, the independent agency administered by Kenneth Feinberg which was formed in June as part of an agreement between BP and the Obama administration. The GCCF has disbursed more than $156.9 million.
In addition, more than 150,000 claims filed were filed and $395 million disbursed through the BP claims process.
BP has agreed to place a total of $20 billion in an escrow account to cover its costs related to the spill.
The Small Business Administration has approved 312 economic injury assistance loans to date, totaling more than $27 million for small businesses on the Gulf Coast impacted by the BP oil spill.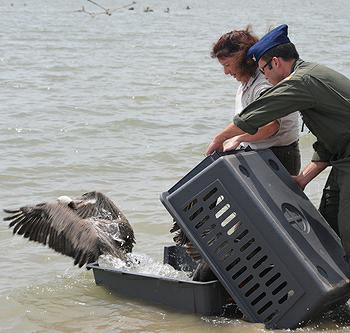 Coast Guard Lieutenant Richard Szoka assists U.S. Fish and Wildlife Service Veterinarian Sharon Taylor to release two brown pelicans into San Antonio Bay, June 23, 2010. (Photo courtesy USCG)
The administration has authorized the deployment of 17,500 National Guard troops from Gulf Coast states to respond to this crisis; currently, 1,001 are active.
Approximately 25,800 personnel are currently responding to protect the shoreline and wildlife and clean up coastlines.
More than 2,700 vessels are currently responding on site, including skimmers, tugs, barges, and recovery vessels to assist in containment and cleanup efforts in addition to dozens of aircraft, remotely operated vehicles, and multiple mobile offshore drilling units.
Some 691,000 feet of containment boom and 9.66 million feet of sorbent boom have been deployed to contain the spill.
Approximately 109 miles of Gulf Coast shoreline is currently experiencing moderate to heavy oil impacts – 98 miles in Louisiana, nine miles in Mississippi and two miles in Florida.
Some 494 miles of shoreline are experiencing light to trace oil impacts – 232 miles in Louisiana, 88 miles in Mississippi, 59 miles in Alabama, and 115 miles in Florida.
These numbers reflect a daily snapshot so that planning and field operations can more quickly respond to new impacts; they do not include cumulative impacts to date, or shoreline that has already been cleared.
From the Houma, Louisiana Incident Command Post, 23 people and 19 vessels have been deployed for wildlife reconnaissance and recovery operations. From the Mobile, Alabama Incident Command Post, 43 people and six vessels participated in reconnaissance and wildlife rescue and recovery missions. To report oiled wildlife, call 866-557-1401.
To date, the administration has utilized assets and skills from numerous foreign countries and international organizations as part of the response, including: Argentina, Belgium, Canada, China, Estonia, France, Germany, Greece, Ireland, Japan, Kenya, Mexico, Netherlands, Norway, Qatar, Russia, Spain, Sweden, Taiwan, Tunisia, United Arab Emirates, United Kingdom, the United Nations' International Maritime Organization, the European Union's Monitoring and Information Centre, and the European Maritime Safety Agency.
Copyright Environment News Service (ENS) 2010. All rights reserved.
Environment News Service (ENS) © 2010 – 2012 All Rights Reserved.