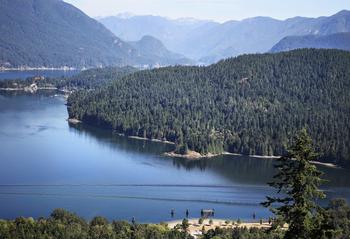 BURNABY, British Columbia, Canada, November 23, 2014 (ENS) – An 11-year-old girl was among those arrested Sunday as a crowd protested survey work by the Texas-based Kinder Morgan company for a tar sands pipeline expansion through the Vancouver suburb of Burnaby.
In late October, Canada's National Energy Board granted Kinder Morgan access to begin work on their TransMountain tar sands pipeline expansion project in a designated conservation area on Burnaby Mountain.
In response, community members have established a camp and prevented Kinder Morgan from accessing the site. They have been slapped with a C$5.6 million dollar lawsuit by Kinder Morgan and are facing an injunction from the company.
This week the Royal Canadian Mounted Police, RCMP, has arrested 53 people arrested for interfering with Kinder Morgan's survey work on the mountain.
Twenty-four Burnaby Mountain caretakers and supporters were taken into custody Thursday, as police moved in to remove a long-standing protest presence against Kinder Morgan's pipeline survey crews.
Civil disobedience continued Saturday on Burnaby Mountain, where 16 more protesters were arrested after crossing the police line.
Arrests include:
– Sut-lut, a First Nations elder who started the sacred fire at the protest site
– Kaleb Morrison and Erin Flegg, who have been at the site for months
– Adam Gold, a named defendant in Kinder Morgan's injunction and civil law suit
– A tree sitter who has been camped out on top of the Borehole 2 drill site
– Tamo Campos, grandson of famous environmentalist and broadcaster David Suzuki
Fourteen of those arrested have been released on civil contempt charges, the rest remain in custody.
Kinder Morgan crews, escorted by RCMP, are at the clearing and have begun work. The Burnaby Mountain caretakers are calling for an ongoing presence at the mountain, as well at the RCMP detachment at 6355 Deer Lake Avenue.
"We are sending a clear message that the pipeline will not be built on unceded lands without the consent of Indigenous nations and the approval of all those who love these lands," the group gathered has declared.
Kinder Morgan's TransMountain Pipeline, TMPL, mainline ends at the Burnaby terminal on British Columbia's Pacific coast. It receives both crude oil and refined products for temporary storage and distribution through separate pipelines to local terminals, a refinery and the Westridge marine terminal. The Burnaby terminal has 13 storage tanks with an overall volume of 1.6 million barrels.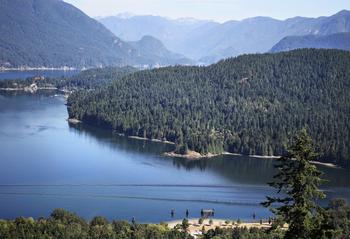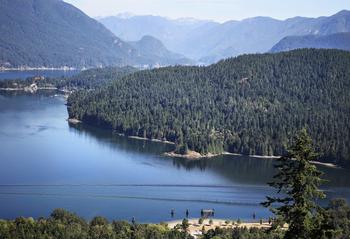 The pipeline would mean an expansion of Alberta crude shipped to the British Columbia coast from approximately 300,000 barrels/day to as much as 900,000 barrels/day, with the new capacity focused on export.
The civil disobedience began on September 3, when people re-occupied Skwxwúmesh traditional lands on whichKinder Morgan, has two proposed drill sites
Protesters say the drill sites and pipeline would desecrate these unceded lands and waters. "Their interest lies solely within the profit they will gain from this project; they have no interest for the well-being of communities and ecosystems that they will never be a part of," indigenous protesters said in a statement.
"On November 20th, under colonial law, indigenous people and their settler allies were dispossessed from this land once more; the police used their discretion and instead of protecting the people against a multi-billion dollar corporation, with some of the worst environmental-social records in the world, criminalized them using brute force."
Burnaby Mountain is a low, forested mountain rising 1,214 feet, overlooking the upper arms of Burrard Inlet. It is the location of Simon Fraser University, the Discovery Park research community, and the System Control Tower of BC Hydro and a new complex of residential and commercial development.
In November 1995, the Province of British Columbia and Simon Fraser University reached an agreement to transfer 330 hectares of university land to the City of Burnaby for inclusion into Burnaby Mountain Conservation Area. It is this land that is at issue today.
Eoin Madden of the nonprofit Wilderness Committee offered a history of the Burnaby Mountain Conservation Area in a November 6 article in "The Georgia Straight" newspaper.
"The very land upon which they are making their stand is a precious place, set aside for conservation after decades of hard work by the community," wrote Madden. "Back in 1972, dedicated neighbour John Clarke noticed the rampant level of development on Burnaby Mountain and volunteered his time for a year to petition for its preservation. In 1973, the City of Burnaby agreed with him and would-be developers were driven from the area."
In a 1996 referendum, the voters of Burnaby opted to merge over 300 hectares of additional land from Simon Fraser University into the park, creating a forested conservation area of 576 hectares.
"When the Texans announced they wanted a giant new tar sands pipeline alongside their existing one, the community asked, 'Where, exactly?'" wrote Madden.
During the environmental review process by the National Energy Board, residents and local officials were not told about the most likely route. The NEB refused hundreds the right to participate.
On October 29, citizens filed suit with Federal Court of Appeals challenging restrictions on the National Energy Board hearings into the proposed Kinder Morgan pipeline.
The plaintiffs contend that, following sweeping legislation introduced two years ago by the federal government, the National Energy Board Act has unduly restricted public comment on pipeline proposals and is unconstitutional.
They are also challenging National Energy Board rules which prevent any discussion of climate change and the implications of expanding tar sands development at the upcoming hearings for Kinder Morgan's proposed TransMountain Expansion Project.
"The Harper government seems to be bending over backwards to help these pipeline companies push through these unpopular tar sands export projects with less public scrutiny and participation," said Ben West, Tar Sands Campaign Director with the nonprofit ForestEthics Advocacy.
This case is one of several court cases related to this controversial project. Legal challenges to the review process have also been filed by the Tsleil-Waututh First Nation, whose traditional territories and waters of Burrard Inlet are where Kinder Morgan's export terminal is located.
The City of Burnaby has also filed a federal Court challenge to the NEB's ruling that Kinder Morgan can proceed with surveying work on Burnaby Mountain along the proposed pipeline route.
"Not only have they limited public participation into the NEB process but the scope of the review is far too narrow," said co-plaintiff Dr. Lynne Quarmby, a professor of molecular biology and biochemistry at Simon Fraser University. "Climate impacts of this vast expansion of fossil fuel export are not even being considered, which in itself makes a full environmental assessment impossible."
"This challenge is about basic democratic rights for citizens affected by these pipeline proposals," explained John Vissers, a co-plaintiff who was denied intervenor status at the NEB even though his family home and property is next to the Kinder Morgan tank farm in Abbotsford, British Columbia.
"Those of us lucky enough to participate have been denied the right to cross-examine Kinder Morgan," wrote Madden. "The NEB has also barred questions about climate change impacts from the process altogether, and overruled Burnaby bylaws protecting the park in favour of the company's bid to cut down trees and bore holes."
Copyright Environment News Service (ENS) 2014. All rights reserved.